ЗНАКОМСТВА
КРАСОТА
ЗДОРОВЬЕ
ТУРИЗМ
АВТОНОВОСТИ
НОВОСТИ СПОРТА
Vladivostoktsev invited to a paintball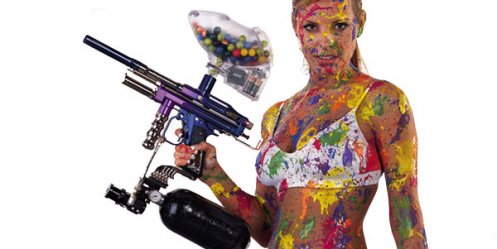 In the coming Friday, May 10 in Vladivostok City Cup will be played paintball.
Competitions are held Coastal Paintball Federation with the support of Vladivostok Administration and personally mayor Igor Pushkarev.
"At a specially prepared site best sports teams of Vladivostok in a tense struggle to find out who this time will be the strongest , - Said event organizer Andrew Devils. - Sea of adrenaline and emotion storm off not only the participants, but also fans of the competition."
Competitions will be held in the stadium of the school number 35 (St. 2nd Poselkovaya, 51 district Zmeinki). According to preliminary data, the victory is ready to compete against seven teams.
The draw for teams will begin at 9:00. Start of the first qualifying games will be given at 10:00.
All are invited. Admission is free!
Further information can be found at paintball club.
22-05-2013, 20:20, eng news
Tenants' Ninth shop "is unlikely to have assumed that the Russian rock star to be so straightforward......

1-07-2013, 11:46, eng news
Today, 1 July, the weather in Primorye define the front sections. In the edge of light rain in places, fog in places thunderstorms. Southern wind of умеренный.Температура air 1732 C. In Vladivostok...

26-08-2013, 16:00, eng news
In the south of the Far East, there is still erratic weather patterns. The rains are short, sometimes a local nature and are linked with the development of convective clouds. So, on Saturday Primorye...

7-09-2013, 19:40, eng news
The Election Commission of Vladivostok approved the final list of candidates for the city and gave the go-ahead to print ballots. To date, Vladivostok 453610 voters. For them printed 440000 ballots -...

26-08-2013, 16:18, eng news
The largest enterprises - producers of milk and dairy products from Vladivostok, Ussuriysk, Arsenyev, Artem, stones and other cities of Primorye - the festival will present the best samples of their...

2-03-2013, 10:05, eng news
Nicholas Sheremetyeva seen and the day after his departure from home, but to his family, he did not return......

6-09-2013, 18:32, eng news
Internet technologies provide access to social assistance anywhere in the Maritime Provinces. The portal can be electronically adjusted statements on measures of social support, and them in Primorye...

19-03-2013, 07:06, eng news
To save small schools in rural areas of Primorye will use distance learning......

28-08-2013, 02:02, eng news
Major tanker group of companies "Sovcomflot" "SCF Yenisei" August 62013 came from Murmansk in the Arctic voyage on the Northern Sea Route, the press service of the SCF. Class ship Ice-1A (Arc4)...
13-05-2013, 19:20, eng news
Prior to the V-Rox remained exactly 100 days, and from 22 to 25 August Vladivostok is happy to accept all the participants and guests of this music festival on the shores of the Sea of Japan...