ЗНАКОМСТВА
КРАСОТА
ЗДОРОВЬЕ
ТУРИЗМ
АВТОНОВОСТИ
НОВОСТИ СПОРТА
In the squares of Vladivostok will play brass bands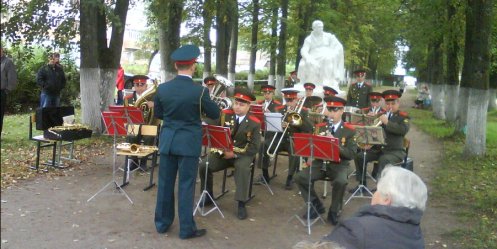 On the eve of the Victory Day celebrations in the city squares will play brass bands.
Recall that the Mayor Igor Pushkarev ordered the creation for veterans, residents and guests of Vladivostok emotional pre-holiday atmosphere.
So from 7 to 9 May in parks Sukhanov, and the admiral's Freemen situation is not typical of everyday city life. These squares will play brass bands that perform songs of the war years and dance tunes. Complement the surroundings of young men dressed in uniforms of the Great Patriotic War.
Organizers invite residents and guests of Vladivostok on the performance of brass bands 7 8 and 9 from 17 to 19 hours.

21-03-2013, 10:54, eng news
All students of first, second class and third graders are taught partly in the province on the new standards. The share of teachers who in due course in the higher category - above the target......

17-09-2013, 09:01, eng news
To the 53 million rubles allocated from the reserve fund affected region, added about 1 million rubles from the Pension Fund of Russia. Additional financial aid will receive about 200 Primorye. These...

18-03-2013, 11:35, eng news
The head of Vladivostok Igor Pushkarev handed honorary awards to Primorye Russian Federal Drug Control Service Management......

21-08-2013, 13:45, eng news
From Moscow to Khabarovsk two Il-76 Russian Ministry of Emergency Situations delivered to the regional capital of the camp for up to 125 people, as well as 200 beds and 25 rescuers, RIA «VladNews» in...
10-07-2013, 14:33, eng news
Work is carried out mainly at night, when the volume of traffic subsides. As the chief of section MUPV "Roads Vladivostok" Refat Galagan, previously on the subject was held milling old pavement,...
6-06-2013, 11:30, eng news
The Investigative Committee in Primorsky Krai checks into the death of a teenager born in 1995. A teenager died after drinking alcohol surrogate Man's body was found in an apartment in the village of...

17-09-2013, 13:57, eng news
Vladivostok will be one of the cities of Russia, where the Olympic Flame will visit. Olympic Torch Relay "Sochi 2014" preceding the Games will be held in the seaside capital in November. Primorye...

6-05-2013, 13:20, eng news
Today, the expert council will identify the most relevant ideas for the city......

30-08-2013, 18:05, eng news
Flood situation in the Khabarovsk region remains tense. As at 1200 local time on August 302013 the water level reached 773 cm, told RIA «VladNews» in the press service of the Russian Emergencies...

19-09-2013, 12:54, eng news
The monument to the Governor-General Nikolai Amur Grodekovo establish a border village of Primorsky Krai. The event is held on the central square of the village on September 22 in honor of the 170th...