ЗНАКОМСТВА
КРАСОТА
ЗДОРОВЬЕ
ТУРИЗМ
АВТОНОВОСТИ
НОВОСТИ СПОРТА
In the squares of Vladivostok will play brass bands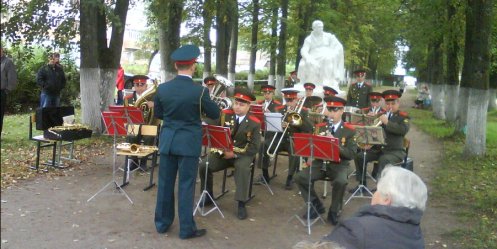 On the eve of the Victory Day celebrations in the city squares will play brass bands.
Recall that the Mayor Igor Pushkarev ordered the creation for veterans, residents and guests of Vladivostok emotional pre-holiday atmosphere.
So from 7 to 9 May in parks Sukhanov, and the admiral's Freemen situation is not typical of everyday city life. These squares will play brass bands that perform songs of the war years and dance tunes. Complement the surroundings of young men dressed in uniforms of the Great Patriotic War.
Organizers invite residents and guests of Vladivostok on the performance of brass bands 7 8 and 9 from 17 to 19 hours.
21-06-2013, 17:46, eng news
Prosecutor's inspection in respect of activities of territorial administration of Rosimuschestvo in the Primorsky Krai, revealed numerous violations in the field of privatization. As reported by the...

15-04-2013, 19:00, eng news
A number of important social legislation to be considered people's choices......

29-08-2013, 22:45, eng news
"People's headquarters city of Vladivostok" appealed to the citizens, "elections will be held on September 8 the mayor of Vladivostok. This is a momentous occasion for all of us, that will determine...
14-05-2013, 12:20, eng news
Today in the Maritime State Museum named after VK Arsenyev will be a meeting of the Historical Club "Bohai State and its study in Russia."......

23-04-2013, 16:10, eng news
The original gift was presented regional authorities to all residents of Vladivostok. The bridge across the Golden Horn will be closed, and the free pass - open......
18-06-2013, 09:45, eng news
Teachers and students congratulated the head of Vladivostok Igor Pushkarev. - Dear professors, teachers, students! Looking at you I understand how wise was the decision to establish a Vladivostok...

30-04-2013, 17:00, eng news
Mayor Igor Pushkarev received a delegation of the Japanese Parliament, headed by the Minister Kunio Hatoyama. (PHOTOS)......

20-09-2013, 01:39, eng news
Moscow Center for Continuous Mathematical Education with information support of the Group of RIA Novosti and the Teachers' newspaper "with the assistance of the Ministry of Education and Science of...

27-05-2013, 12:30, eng news
On Sunday, about 10:00 pm the fire department Dalnegorsk was reported that the burning apartment in a five-storey house on the street May Day. Extinguished cigarette - the cause of a fire in...
6-05-2013, 10:20, eng news
Since 1992 this is the twelfth visit to Vladivostok, French sailors and the sixth set at the main base of the Pacific Fleet frigate "Vendemiaire."......