ЗНАКОМСТВА
КРАСОТА
ЗДОРОВЬЕ
ТУРИЗМ
АВТОНОВОСТИ
НОВОСТИ СПОРТА
"Arguments and Facts - Primorje" and radio "Lemma" will be treated to Vladivostok "Soldier's porridge"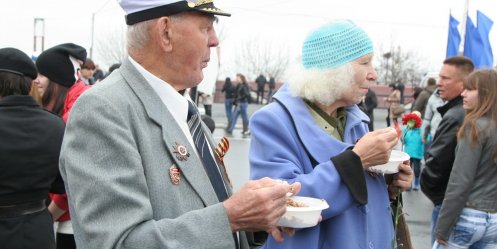 Popular media will make a delicious contribution to the celebration of the 68th anniversary of the Great Victory.
May 9 square Fighters for Soviet Power "AIF-Primorye" and radio "Lemma" hold a rally "Soldier's porridge," the townspeople have grown fond during last year's May celebrations.
All visitors will be free to enjoy the traditional soldier's porridge and sweet tea from this field kitchen. For veterans provided another nice addition to the treat victorious: right on the square, they will be able to subscribe free of charge to the newspaper "Arguments and Facts".
Partner shares issued network of shops "People's Kitchen." Try the "Soldier's porridge" will be immediately after the parade (approximately - with 11:30).
At the same time, work will begin on the square dance floor in a retro style, well-organized radio "Lemma" and the weekly "Arguments and Facts - Primorye." Here you can hear the popular melodies of the thirties and forties, performed by a professional accordionist, dance with the actors in military uniforms from World War II to win gifts from "Sovcombank."
Read more about the idea creative director told Radio "Lemma" Elena Redkina:
- Victory Day - it's probably the only holiday that is still able to unite the entire country. 9 May we all rejoice together celebrate together remember their grandfathers and great-grandfathers So we decided on this wonderful day to arrange something that would unite and to please people of all generations, from babies to our esteemed veterans. Opted for the familiar Vladivostok action "Soldier's porridge" and the dance floor in a retro style. Thanks to partners who have supported our ideas, thanks to the administration of Vladivostok, which has given us the opportunity to become full participants in the citywide celebrations Everybody is in our field kitchen with a "soldier's porridge," and on our retro dance floor. Let us feast, dance and celebrate the holiday favorite.

16-04-2013, 17:11, eng news
Previously convicted of Primorsky Territory resident arrested on suspicion of robbery. Recidivist in Primorye robbing elderly 82-year-old woman, a resident of the village Smolyaninovo, told the...

24-03-2013, 07:43, eng news
March 27-31 at the cinema "Ocean" in the Far East for the first time the festival will be held independent American cinema KINOFEUS......

28-03-2013, 13:00, eng news
On gradsovet developer promised residents - on Dalzavodskoy, 31 will be built building is not more than three stories. (PHOTOS)......
22-06-2013, 22:02, eng news
В Кемеровской области начались выплаты материальной помощи пострадавшим от землетрясения. По 5 тысяч рублей получили уже более 300 человек.  Пострадавшие от землетрясения в Кемерово получают...

29-03-2013, 13:00, eng news
The action was attended by almost every other drug control officer in Vladivostok. In total during the campaign outbound division GBUZ "KSPK" managed to collect 22 liters of blood......

29-03-2013, 08:00, eng news
DPRK's actions were taken a few hours after the U.S. through joint exercises with South Korea has mobilized strategic bomber B-2 capable, including the delivery of nuclear weapons......
24-06-2013, 17:17, eng news
More than four thousand people have applied to participate in флэшмобе «I love Vladivostok», which will take place on the Golden bridge on July 7 at 12 hours. Participants will need to line up in the...

11-09-2013, 12:01, eng news
Vladimir Miklushevsky September 10 in Moscow, co-chairman of "Vnesheconombank" Vladimir Dmitriev signed a joint action plan for the integrated development of the region. The project will last for 5...

23-08-2013, 22:17, eng news
In two cases, moped riders were in a state of intoxication. In the border area on the highway Grodekovo - Boguslavka - Nesterovka 39-year-old man, driving a moped YAMAHA Jock drunk, lost control and...
4-06-2013, 13:12, eng news
Сущствуют in nature individuals that all the time, for unknown reasons, something to feel sorry for others. Money to lend, the time to spend on someone's problems, and sometimes even smile at someone...