ЗНАКОМСТВА
КРАСОТА
ЗДОРОВЬЕ
ТУРИЗМ
АВТОНОВОСТИ
НОВОСТИ СПОРТА
Among the guests of Vladivostok Boat Show will compete for tickets to Saipan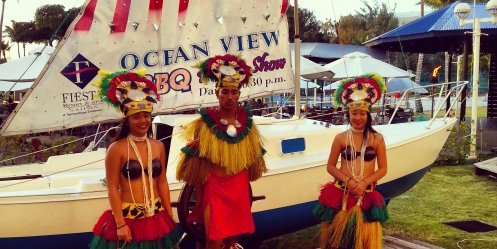 From 17 to 19 May at the Yacht Club "7ft an exhibition of yachts and boats Vladivostok Boat Show. Partner company giving away two certificates for a free flight to Saipan economy class during the period from May 20 to August 31.

.

According to a partner of the exhibition, "that's not all, we also want to play a certificate for a tour of Saipan and a certificate for a transfer to the island of Managaha. To use such a nice bonus, too, can be up to 31 August in "Air charter DV" ".

Organizers also promise to play the certificates to the restaurant" Old Captain "and souvenirs Vladivostok Boat Show. To take part in the draw, you need to buy a ticket to the exhibition and to lower the coveted ticket for a drawing machine. By happy accident and will determine the winners.

Exposition held for the fifth consecutive year and is popular with residents and visitors alike. success, says director the organizing committee of Vladivostok Boat Show Tatiana Osokina, primarily in the fact that "We do not just show boats, which in itself attracts amateur and professional activities, but also show program for everyone, including for children "

Prior to the exhibition, which will be held from 17 to 19 May, is two weeks, and the preparation for it is well underway. Traditionally, the venue serves Yacht Club" 7 feet ".

.

For more information about drawing certificates can be viewed on official site of Vladivostok Boat Show
13-06-2013, 17:02, eng news
From 9 to 12 June in the province of Gangwon-to South Korea held a major international event - the exhibition trade and investment GTI. The countries - participants of the exhibition GTI except the...

9-07-2013, 23:01, eng news
Day in the continental areas of the amount of cloud cover was low, so there was a high background temperature +27 +32 o C, in the north-eastern edge of the thermometer rose to +34 o C. On the coast...
21-06-2013, 13:00, eng news
Today, June 21 weather in Primorye defines the field of low atmospheric pressure. In the edge of a small, moderate rain in places. In some areas of the storm. Wind South, South-West...

15-04-2013, 19:11, eng news
Today weather conditions in the territory of Primorye defines the field of low atmospheric pressure. Cyclone in the Khabarovsk Territory became sedentary pressure systems and slowly filled. Does not...
18-09-2013, 15:22, eng news
Preventive operations "resort" was launched on the territory of Primorye June 1 and runs until October 1. However, now we summarize the work of the police officers involved in the operation in the...

18-07-2013, 17:00, eng news
July 17 at 13 hours 01 minutes to control fire, it was reported that the burning shop in the street Makovsky, 210 in Vladivostok. In Vladivostok, the store burned to immediately eliminate the fire...
26-06-2013, 12:02, eng news
First normal person will get a chance to touch directly to the creative process, the Real life of the Museum, to see the way of waves occurs movement of the river, as the efforts of the team...
24-05-2013, 12:20, eng news
The girl has never had a driver's license, but that does not stop her from getting into the car with a broken door and sit next to a 6-year-old child......

28-05-2013, 11:20, eng news
In Primorye, a thousand people now account for 11 donors. This is less than in the Khabarovsk Territory and Moscow (14 donors). ......

12-08-2013, 16:30, eng news
After 5 minutes of the fire came first fire department. By the time the burned detached trailer. Having started fighting, at 06 hours and 37 minutes the fire was contained, in 07 hours and 20 minutes...