ЗНАКОМСТВА
КРАСОТА
ЗДОРОВЬЕ
ТУРИЗМ
АВТОНОВОСТИ
НОВОСТИ СПОРТА
Among the guests of Vladivostok Boat Show will compete for tickets to Saipan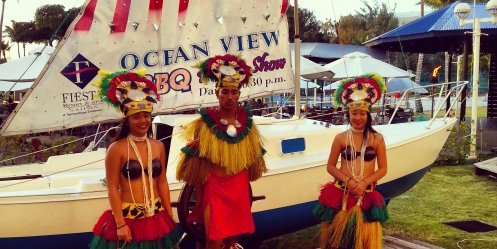 From 17 to 19 May at the Yacht Club "7ft an exhibition of yachts and boats Vladivostok Boat Show. Partner company giving away two certificates for a free flight to Saipan economy class during the period from May 20 to August 31.

.

According to a partner of the exhibition, "that's not all, we also want to play a certificate for a tour of Saipan and a certificate for a transfer to the island of Managaha. To use such a nice bonus, too, can be up to 31 August in "Air charter DV" ".

Organizers also promise to play the certificates to the restaurant" Old Captain "and souvenirs Vladivostok Boat Show. To take part in the draw, you need to buy a ticket to the exhibition and to lower the coveted ticket for a drawing machine. By happy accident and will determine the winners.

Exposition held for the fifth consecutive year and is popular with residents and visitors alike. success, says director the organizing committee of Vladivostok Boat Show Tatiana Osokina, primarily in the fact that "We do not just show boats, which in itself attracts amateur and professional activities, but also show program for everyone, including for children "

Prior to the exhibition, which will be held from 17 to 19 May, is two weeks, and the preparation for it is well underway. Traditionally, the venue serves Yacht Club" 7 feet ".

.

For more information about drawing certificates can be viewed on official site of Vladivostok Boat Show

27-03-2013, 09:50, eng news
"Mad to live easy": a group of "Pilot" presents a new concert in Vladivostok. Spectators waiting for surprises......

24-04-2013, 09:10, eng news
The region with periodic rain. Wind South, South-West is strong. Temperatures of -5 +8 ° C, daytime +4 +15 ° C......
14-06-2013, 12:02, eng news
Following the meeting, the Protocol was signed, according to which, it is planned to create a unified dispatch center with the participation of specialists from the JV "РасонКонТранс" and ЖТК...
7-05-2013, 11:20, eng news
The prosecution authorities adopted measures aimed at limiting the free file-sharing network users access to data extremist materials......

2-07-2013, 16:16, eng news
Мужчину признали виновным в совершении преступления, предусмотренного п. «б» ч. 4 ст. 132 УК РФ (насильственные действия сексуального характера). Следствием и судом установлено, что в июле 2012 года...

20-08-2013, 14:03, eng news
Interestingly, in the list of causes that led to the decline of the city that was once the flagship of the U.S. auto industry, not the least is given the influx of African Americans from the poorest...

22-07-2013, 12:15, eng news
In Shkotovsky district of the region under the wheels of the car «Mazda Famili» killed 48-year-old man. The driver at impact, fled the scene. The accident occurred at p.Podyapolsk on the street....

11-09-2013, 18:30, eng news
Today at 9:00 am for 40 minutes was stopped in traffic on Far Eastern suburbs of Vladivostok. Traffic on the railway stopped because of vandals reason is that unknown attackers damaged the railway...

9-04-2013, 14:00, eng news
Nakhodka prosecutors, examining correctional school - boarding school for children with disabilities, found numerous violations of fire safety rules. In a boarding school for children found numerous...

24-04-2013, 19:10, eng news
Modern coal terminal will be built in the Bay Area Sukhodil Shkotovsky. The total investment in the project will amount to 18 billion rubles......