ЗНАКОМСТВА
КРАСОТА
ЗДОРОВЬЕ
ТУРИЗМ
АВТОНОВОСТИ
НОВОСТИ СПОРТА
Among the guests of Vladivostok Boat Show will compete for tickets to Saipan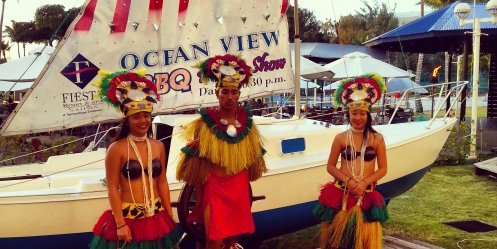 From 17 to 19 May at the Yacht Club "7ft an exhibition of yachts and boats Vladivostok Boat Show. Partner company giving away two certificates for a free flight to Saipan economy class during the period from May 20 to August 31.

.

According to a partner of the exhibition, "that's not all, we also want to play a certificate for a tour of Saipan and a certificate for a transfer to the island of Managaha. To use such a nice bonus, too, can be up to 31 August in "Air charter DV" ".

Organizers also promise to play the certificates to the restaurant" Old Captain "and souvenirs Vladivostok Boat Show. To take part in the draw, you need to buy a ticket to the exhibition and to lower the coveted ticket for a drawing machine. By happy accident and will determine the winners.

Exposition held for the fifth consecutive year and is popular with residents and visitors alike. success, says director the organizing committee of Vladivostok Boat Show Tatiana Osokina, primarily in the fact that "We do not just show boats, which in itself attracts amateur and professional activities, but also show program for everyone, including for children "

Prior to the exhibition, which will be held from 17 to 19 May, is two weeks, and the preparation for it is well underway. Traditionally, the venue serves Yacht Club" 7 feet ".

.

For more information about drawing certificates can be viewed on official site of Vladivostok Boat Show
25-06-2013, 17:01, eng news
In Nadezhda district accident occurred, resulting in the death of 16-year old teenager . A young man without the permission of the father sat behind the wheel of a car «Suzuki Escudo» and went for a...
16-04-2013, 19:20, eng news
Large concert "Barbariki" held on 26 May in the "Fesco Hall"......

22-04-2013, 17:10, eng news
This year the Mayor Igor Pushkarev ordered for budget funds to establish children's playgrounds in the 30 yards......

19-08-2013, 12:18, eng news
Chapter Minvostokrazvitiya Russia on August 16 held a workshop on the development of electric power, which discussed the future development of the electricity industry of the Far East and the Baikal...

16-03-2013, 09:07, eng news
A brief overview of the traditional performances on tour that we please all ages, talents and callings......
28-06-2013, 12:01, eng news
Meeting with the Togliatti «Mega-Lada» ended in a draw 45:45. Race started with breakthrough «Mega-Lada», Vladivostok riders up to the eighth check in almost did not lag behind and managed to reverse...

22-04-2013, 16:10, eng news
The festival will be attended by representatives of employers and local manufacturers who hold consultations on career counseling and temporary employment of teenagers and young adults......
26-06-2013, 12:02, eng news
The meeting was attended by mayor Igor Pushkarev, the Chairman of the Vladivostok city Duma Elena Novitskaya, representatives of the Legislative Assembly of Primorsky Krai, the city Duma, the...

9-08-2013, 17:15, eng news
In addition, the already delivered pedestal of the monument for the future - there is a bust of the famous female captain. Author - Timur Nesterovich. Now the sculptor completed the creation of the...

14-05-2013, 09:20, eng news
Austrians performed 36 shots on goal against Russia. Russian hockey players threw on goal only 18 times......