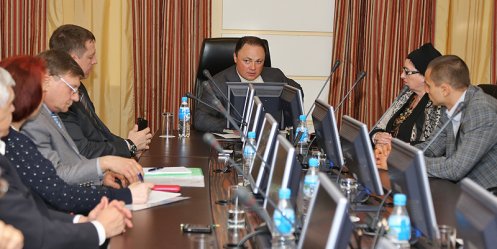 Photo: Press-service of the Vladivostok

Mayor Igor Pushkarev, met with representatives of the Popular Front in the Primorye and its leader Roman Titkov.

In his work, Igor Pushkarev relies on the people who care about the future of the city. And the People's Front - an association of people of different views and approaches, together discussing and finding solutions to many current problems. Among the members of the Popular Front - the Federation of Independent Trade Unions, Young Guard "United Russia", the public organization of small and medium-sized businesses "Support of Russia", "Transport Workers Union of Russia" and others.

In an interview with Roman Titkov Igor Pushkarev said that the main indicator of the city administration, is the dynamics of the population of the city.

"Statistics show that in the 90 years the population of Vladivostok is constantly decreasing. By 2009 the population of the city has decreased by about 70000. But since 2009 we have been able to refract the situation and increase the population to 21000" , - Said Igor Pushkarev.

These indicators has been achieved through the systematic work of the city government for the construction of new kindergartens and schools, repair hospitals and clinics, the creation of new housing and roads, improvement of the city. For example, the number of places for children in kindergartens in five years increased by 5000. Street lighting was at times bigger - if in 2008 there were 3000 working lights, but now their - about 34 thousand. Over the past 5 years renovated house in 1200 nearly every third house in Vladivostok. Revived municipal transport fleet which now make up the most modern passenger buses MAN - the best in Europe.

"Beijing is changing for the better and it shows , - Said Roman Titkov - Town runs a good manager who knows what he does, and understands how should develop Vladivostok. Needs to be given the opportunity to continue their work."

In the completion of the call participants thanked Igor Pushkarev for a two-hour conversation and expressed their willingness to support the incumbent head of the city in the next elections.