ЗНАКОМСТВА
КРАСОТА
ЗДОРОВЬЕ
ТУРИЗМ
АВТОНОВОСТИ
НОВОСТИ СПОРТА
Undefeated Fedor Emelianenko will arrive in Vladivostok in September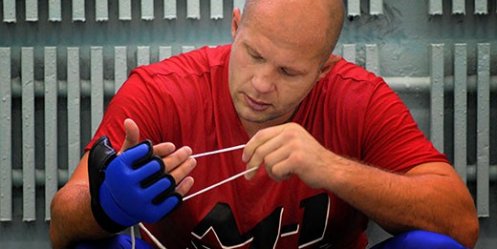 Four-time world champion in MMA Heavyweight Pride FC, a two-time - according to RINGS, a three-time - according to WAMMA Fedor Emelianenko will be a guest of the Russian Cup in Mixed Martial Arts MMA, which will be held in Vladivostok from September 11 to 15.
As the president of the federation seaside MMA Denis Grigoriev, the Cup of Russia on the MMA will take place in the sports complex "Olympian" and will bring together more than 70 athletes from all over Russia.
Among them are men - bronze medalists regional competitions, as well as athletes who will take third place in the Championship in Chelyabinsk, Russia.
"The probability that Emelianenko will fly to Vladivostok - 100%. Maybe Fedor will hold in Vladivostok and even the coaching seminar" - Said Grigoriev.
As part of the Cup of Russia also plans to hold a tournament, "Asia-Russia," where four fights will be held according to the rules of professional MMA. This tournament will be invited athletes from China and Korea.
6-06-2013, 13:15, eng news
As informs a site www.sports.ru, a former defender of the team of the Vladivostok «Luch-Energia» Mikhail Рекуданов, who played for the team in 2004 was on Russia's wanted for murder. According to...

24-05-2013, 18:20, eng news
Through such activities, in 2012 the new avenues and squares appeared in various cities of Primorye, Magadan, Khabarovsk, the Republic of Sakha (Yakutia) and Sakhalin. (PHOTOS)......
26-06-2013, 12:03, eng news
Director of the work - a guest from the close of Japan, which in addition to its world-wide fame, bears the name of the great кинотворца Akira Kurosawa, though is not a relative. Kiyoshi Kurosawa...
26-03-2013, 15:51, eng news
The duty of the police in Vladivostok last night it was reported that the street Ovchinnikov, 12 third entrance about a man in a jogging suit and flak jacket with wires in his hands scares passersby....
12-06-2013, 12:15, eng news
In most of the continental regions of Primorye June 7 established in summer hot weather - light-wind air is heated to +25 +33 oC. The average daily air temperature is above historical averages for...

13-07-2013, 19:03, eng news
In the Ministry of Internal Affairs of Russia in Vladivostok Mr. senior duty officer received a report of a separate battalion of Russian Ministry of Internal Affairs and the convoy in the city of...

20-08-2013, 13:46, eng news
On Wednesday, August 21 kicks off in Vladivostok Vladivostok 8th Biennale of Visual Arts, which will be held in the regional center from August 21 to September 1. As part of the Biennale will be...

17-09-2013, 12:39, eng news
Over the past day in the Primorsky Territory there were 18 fires. Died there, one person was injured. In fighting the fire attended by 100 people, using 31 pieces of equipment. Again burned car in...

12-07-2013, 20:16, eng news
In May, the district court of Vladivostok Pervorechenskij convicted a former bailiff under the Criminal Code of the Russian Federation "misappropriation" and "fraud." The bailiff found guilty of...

20-03-2013, 06:38, eng news
Vladivostok completed the investigation of a criminal case against a man suspected of murdering and stealing a car......