ЗНАКОМСТВА
КРАСОТА
ЗДОРОВЬЕ
ТУРИЗМ
АВТОНОВОСТИ
НОВОСТИ СПОРТА
Undefeated Fedor Emelianenko will arrive in Vladivostok in September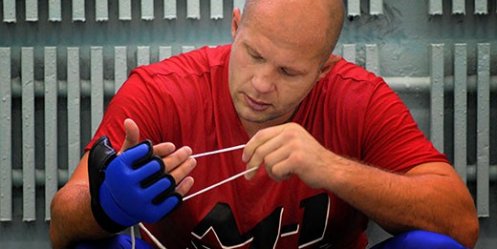 Four-time world champion in MMA Heavyweight Pride FC, a two-time - according to RINGS, a three-time - according to WAMMA Fedor Emelianenko will be a guest of the Russian Cup in Mixed Martial Arts MMA, which will be held in Vladivostok from September 11 to 15.
As the president of the federation seaside MMA Denis Grigoriev, the Cup of Russia on the MMA will take place in the sports complex "Olympian" and will bring together more than 70 athletes from all over Russia.
Among them are men - bronze medalists regional competitions, as well as athletes who will take third place in the Championship in Chelyabinsk, Russia.
"The probability that Emelianenko will fly to Vladivostok - 100%. Maybe Fedor will hold in Vladivostok and even the coaching seminar" - Said Grigoriev.
As part of the Cup of Russia also plans to hold a tournament, "Asia-Russia," where four fights will be held according to the rules of professional MMA. This tournament will be invited athletes from China and Korea.

24-07-2013, 22:00, eng news
In Vladivostok diocese runs a series of events to celebrate the 1025th anniversary of the Baptism of Rus. As RIA «VladNews» the press service of the Vladivostok diocese, the diocesan program of...
4-06-2013, 15:30, eng news
A patient with drug treatment for the disease indicated reward was to be "clean and healthy"......

20-07-2013, 11:48, eng news
As a result of listening to the jury selected three artists: Soloists Seaside Opera and Ballet Makarchuk Tatiana and Alexei Kostiuk, as well as singer Christina Shkil from Khabarovsk. All finalists...
10-05-2013, 13:20, eng news
Zhang Yimou is one of the most famous film directors and producers in China. It became popular, including in the West, thanks to films such as "House of Flying Daggers", "The Way Home", "Hero" and...

15-07-2013, 14:48, eng news
Workers have already installed the metal poles for fencing, now works on the installation of wooden boards. Ahead - painted boards, installation of mesh fencing and other work. According to experts,...

21-09-2013, 10:47, eng news
The region without precipitation. Wind northwest 13 umerennyy.Temperatura air 24 ° C. In Vladivostok, partly cloudy, no precipitation. Wind northwest moderate. Air temperature 18 20 ° C. The water...

29-04-2013, 18:00, eng news
Social network group called Mummy Troll www.ikra.tv cease to exist in its present form......

21-07-2013, 23:45, eng news
Vladivostok over about two days raging powerful cyclone from China. As expected, he brought heavy rainfall and strong winds. Due to incessant rainfall in the reservoir Bogatinskogo started dumping...
25-07-2013, 15:00, eng news
July 25 at 02 hours and 40 minutes to the Center for Crisis Management received a message from the head of the district Terneysky that as a result of the passage of the cyclone and heavy rainfall,...

11-07-2013, 17:48, eng news
On Saturday, July 13 White Bear, Bunny and Leopard will take part in sports and incendiary dance performance, which will begin at 12:00 at the Sports waterfront, next to the fountain, then moved to...