ЗНАКОМСТВА
КРАСОТА
ЗДОРОВЬЕ
ТУРИЗМ
АВТОНОВОСТИ
НОВОСТИ СПОРТА
Night rehearsal of the Victory Parade was held in Vladivostok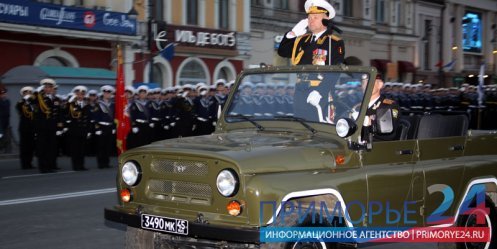 Photo: IA "Primore24"

May 4 on the main street of Vladivostok was held the night rehearsal of the Victory Parade.

In the course of it worked coherence personnel parade calculations znamennyh groups and honor. The troops of the garrison commander of the fleet rehearsed greeting, a ritual genuflection, pass in review and other elements of the parade.

In training attended military equipment to be provided anti-aircraft missile complexes "Wasp" and the S-300 self-propelled "Redoubt" different combat guns and other combat vehicles.

Victory parade in Vladivostok on May 92013 in the street Svetlanskaya in 10 hours.

2-03-2013, 02:35, eng news
The concert - arias from operas by Russian composers, songs, the choir......

22-04-2013, 12:10, eng news
Traditionally, the main themes of the two-hour marathon of questions and answers will be the work of public transport, improvement of the city, the daily life of Vladivostok, as well as the upcoming...

27-03-2013, 12:50, eng news
At the meeting of the Commission were invited leaders of 28 companies that are in arrears to the land tax, low pay......

14-07-2013, 15:30, eng news
In the second round match of the wards Alexander Grigoryan lost at home Yaroslavl "Saturn" with a score of 0:1. Rock for the hosts goal was scored at the end of the first half: a superb strike from...

20-03-2013, 05:30, eng news
Sailors recalled the promise President - retrofitting submarines, to create conditions for military families. (PHOTOS)......

10-07-2013, 14:31, eng news
46-year-old head of the firm, who was in Operative Intelligence detained by the Department of Economic Security and Anti Corruption city police. Employees of the department of economic security and...

13-04-2013, 12:10, eng news
On Friday, April 12 the governor of Primorsky Krai Vladimir Miklushevsky met with Chairman of the National Policy of the National Assembly of the Republic of Korea, Kim Jong-Hoon. Vladimir...
24-05-2013, 10:30, eng news
May 23 from the central square of Vladivostok started Vladivostok-Moscow rally under the slogan "For each threshold - a good way! . " Rally "to every doorstep - a good way!" 9563 kilometers...

3-08-2013, 15:17, eng news
Discovery opens a season of international competition from the twin cities. During August, the city district will visit the sports delegations of Maizuru and Otaru. Pupils Nakhodka and Maizuru...

24-05-2013, 14:30, eng news
May 23 in the Kirov district police received a report that one of the villages 19-year-old man tried to rape his 10-year-old cousin. 19-year-old rapist arrested in Maritime Police officers arrived at...