ЗНАКОМСТВА
КРАСОТА
ЗДОРОВЬЕ
ТУРИЗМ
АВТОНОВОСТИ
НОВОСТИ СПОРТА
Night rehearsal of the Victory Parade was held in Vladivostok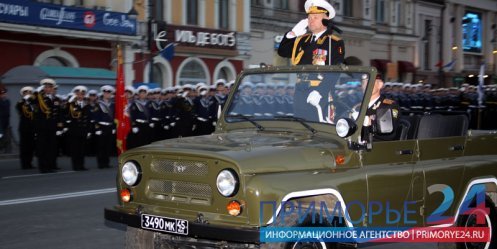 Photo: IA "Primore24"

May 4 on the main street of Vladivostok was held the night rehearsal of the Victory Parade.

In the course of it worked coherence personnel parade calculations znamennyh groups and honor. The troops of the garrison commander of the fleet rehearsed greeting, a ritual genuflection, pass in review and other elements of the parade.

In training attended military equipment to be provided anti-aircraft missile complexes "Wasp" and the S-300 self-propelled "Redoubt" different combat guns and other combat vehicles.

Victory parade in Vladivostok on May 92013 in the street Svetlanskaya in 10 hours.

9-09-2013, 13:30, eng news
International Day of Beauty is celebrated today, September 9. Participation in the events dedicated to this holiday, and will take maternity hospital number 3 Vladivostok. Celebration will be held at...

8-09-2013, 19:30, eng news
In the duty of the Department of Internal Affairs of Russia Khankaysky area, it was reported that in the village Komissarovo house caught fire and there were victims. Arrived on the scene...

30-07-2013, 18:45, eng news
In the five residents of Khabarovsk Krai in Primorye prosecuted. According to the police beating of a train prosecuted repeatedly tried, unemployed men from 24 to 30 years, being drunk on July 28 of...

17-05-2013, 13:30, eng news
Primorsky Territory Governor Vladimir Miklushevsky today, May 17 assessed the planning and tactical training to curb terrorist activities in the province. In Primorye completed counterterrorism...

6-08-2013, 21:02, eng news
Since 2014 reduced the rate of insurance premiums for payers of the self-employed, which include individual entrepreneurs, lawyers, notaries, the head of the peasant (farm), and other individuals who...

28-07-2013, 16:16, eng news
Russian Prime Minister Dmitry Medvedev signed a government resolution amending the Rules of the Road Federation. Decree provides for the introduction of a new term "park (parking lot)," the relevant...

15-03-2013, 09:44, eng news
From March 17 it stops executing ferry route "Vladivostok - about. Russian (Pospelovo). "......

17-05-2013, 09:20, eng news
The young man, having lost control of the road, hit a curb right then moped crashed into a tree. In a blow mopedist received a serious head injury, was taken to the intensive care unit, but an hour...
17-06-2013, 19:31, eng news
Criminal logging in those districts of Primorye, which is traditionally considered «forest» is a business, which employs hundreds of people. Only often the «black» loggers worked out the whole...

1-03-2013, 06:30, eng news
City residents complain that the ascending and descending, leading to the bridge, it is difficult to overcome even the four-wheel drive vehicles......