ЗНАКОМСТВА
КРАСОТА
ЗДОРОВЬЕ
ТУРИЗМ
АВТОНОВОСТИ
НОВОСТИ СПОРТА
Traffic on Ocean Avenue will be closed to Vladivostok on the Easter procession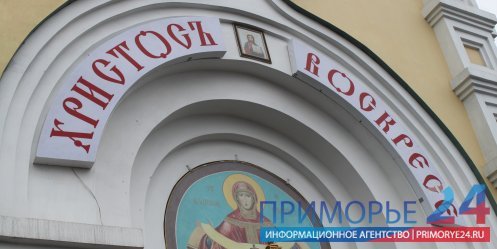 Happy Easter will take place on May 5 procession and prayer service at the central square of Vladivostok. At 12 o'clock, the clergy and the faithful will be the Pokrovsky Cathedral to the square, where a prayer service will be perfect, Metropolitan Benjamin addressed the audience with a sermon, the faithful will be giving away a symbol of Easter joy - dyed eggs. Traffic on Ocean Avenue will be closed from 12:00 to 12:30.
With the support of the city administration, in honor of the Easter holiday performances by the creative teams, will be held festivities.
Evening of May 5 at 1700 - The Great Easter Vespers at the Cathedral of the Intercession.
11-03-2013, 08:44, eng news
Development Priorities of the Far East region in terms of environmental safety will be discussed in Minvostokrazvitiya Russia on March 13......

7-03-2013, 04:20, eng news
Police in Primorye are checking on the fact of fatal accidents......

4-03-2013, 09:30, eng news
The program of the regional final is a great show with the participation of the Ukrainian team "Heroes Platforms" amazing freestyle show, fun contests for the audience, the band support......
10-06-2013, 11:45, eng news
Vladivostok garrison military court sentenced a sailor on contract Khurshed Valiev. Employee warship "Admiral Panteleev" extorted 50000 rubles from his colleague. Sailor-extortionist in Primorye go...

28-04-2013, 12:00, eng news
The body of the murdered, who was an employee of Maritime Police, was found last night in the suburbs of Vladivostok......

12-04-2013, 13:00, eng news
"Mail of Russia" attaches great importance to the modernization of the mail service and strives to maintain access to the mail service in rural areas, to the social role of the Russian Post was not...

16-09-2013, 21:11, eng news
At the courthouse in the October district of Primorsky Krai was detained a woman who planned to smuggle into the conference room on the disc circular saw and a chain. The woman wanted to attend the...

2-08-2013, 19:46, eng news
In the seaside town of Dalnegorsk eve of the cyclone was able to restore the interrupted message with the settlement of the bond. Water in Dalnegorsk threatens country sites However, many housing...

10-09-2013, 15:51, eng news
Highly non-trivial way decided to divorce her husband hateful resident Kavalerovsky district - she stated that her husband had raped her 8-year-old daughter. As the correspondent of RIA «VladNews»...
21-04-2013, 08:30, eng news
Items are located at: ul. Russian, 64 str. Svetlanskaya 37......