ЗНАКОМСТВА
КРАСОТА
ЗДОРОВЬЕ
ТУРИЗМ
АВТОНОВОСТИ
НОВОСТИ СПОРТА
Large spruce planted the head of Vladivostok Igor Pushkarev near Funicular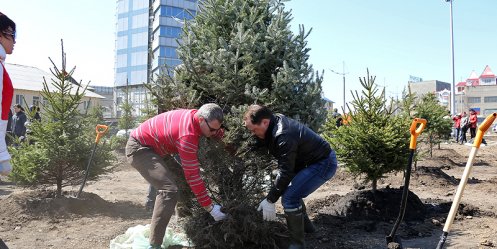 Photo: Press-service of the Vladivostok

New green area with lots of trees appeared today in the Peak Tram (leaving from the bridge on a one-way Nekrasovskaya).

Today, April 27 at a city-wide clean-Mayor Igor Pushkarev worked in different parts of Vladivostok. In the morning the Mayor together with officials to clean up the park Landmine town, and then landed a big beautiful eat in the Peak Tram. 50 large-sized fluffy trees planted for today only.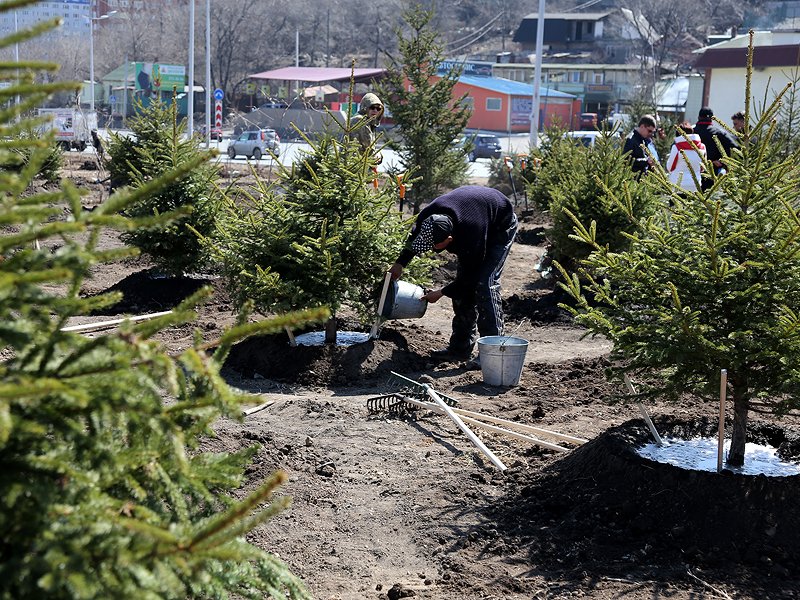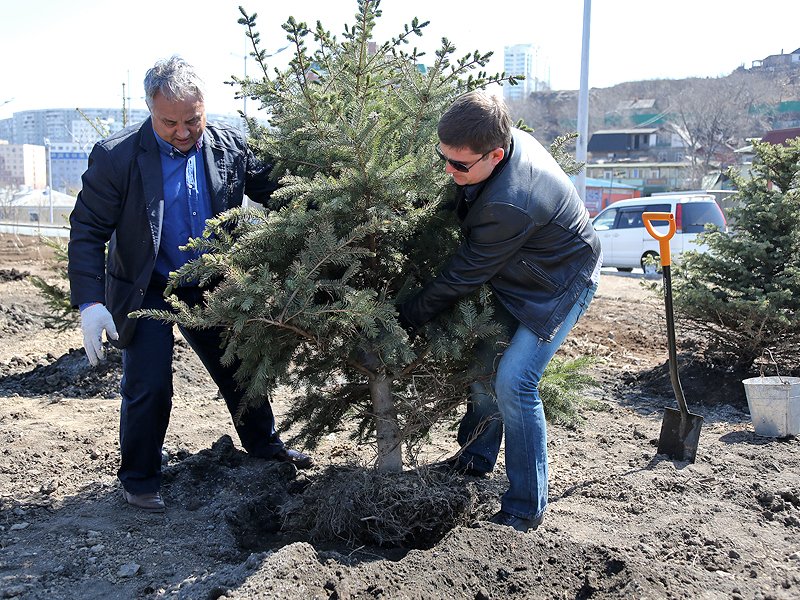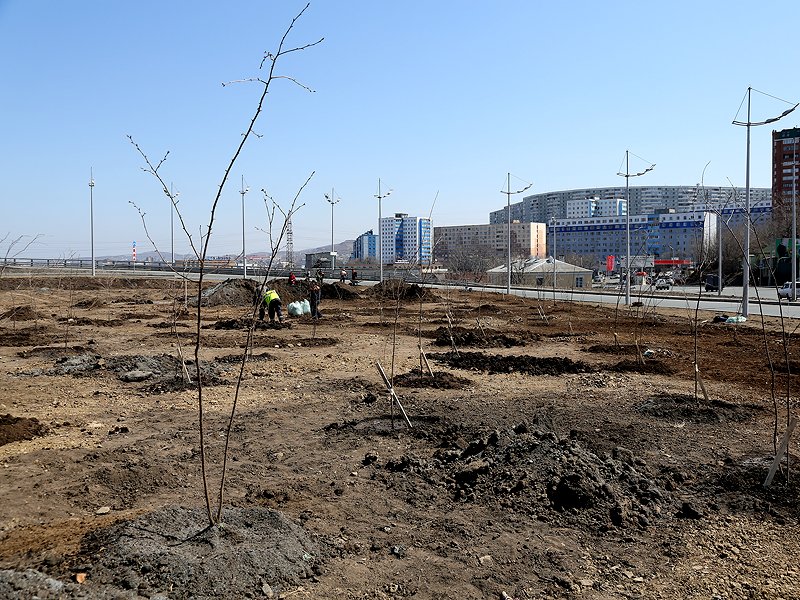 In addition, today on this site - once a vacant lot - administration officials landed 100 of cherries, 30 and 15 larch pines. There are about 200 trees.
"People passing by, stopped, joined the tree planting, - Said Igor Pushkarev. - I am glad that the citizens such positive response, so have ordered in the near future to share and to invite everyone to tree planting vladivostoktsev. I am glad that our people are so kind impulses. Today I go to the city and see what the townspeople responded en masse and take part in the clean, in fact, shares of cleanliness and health. "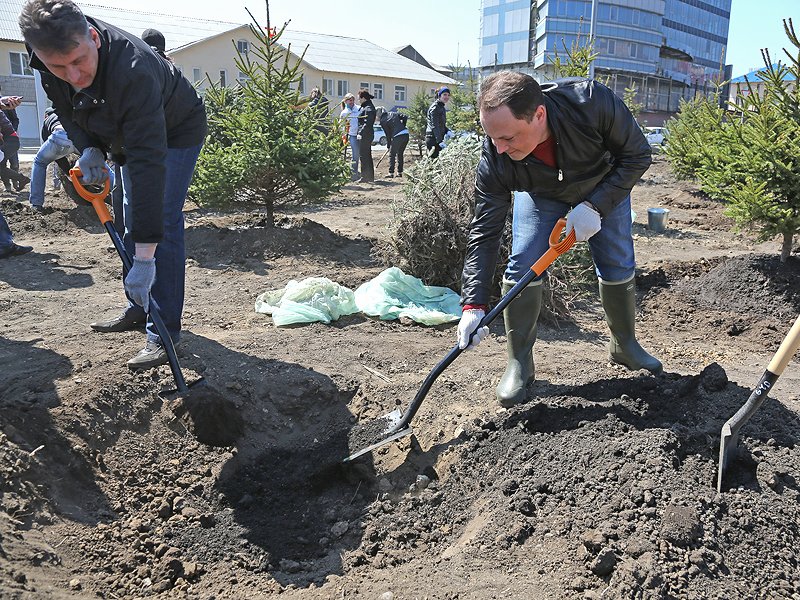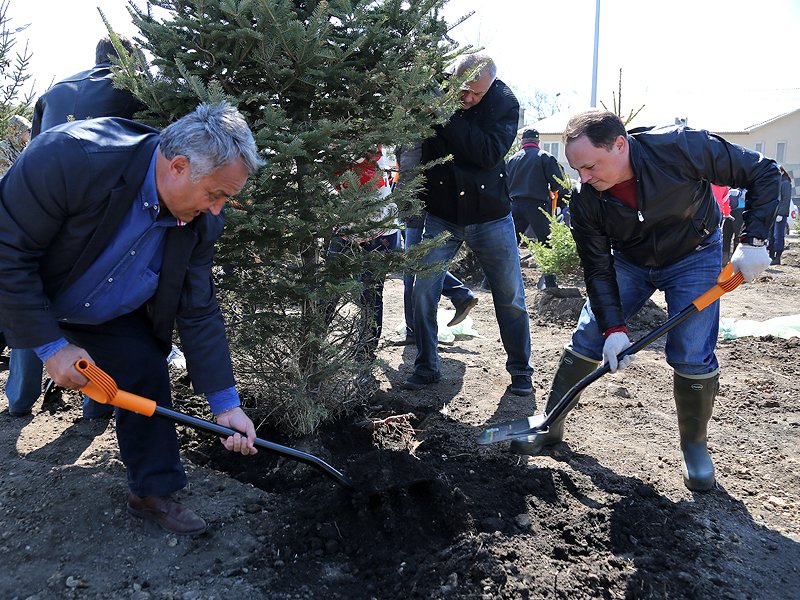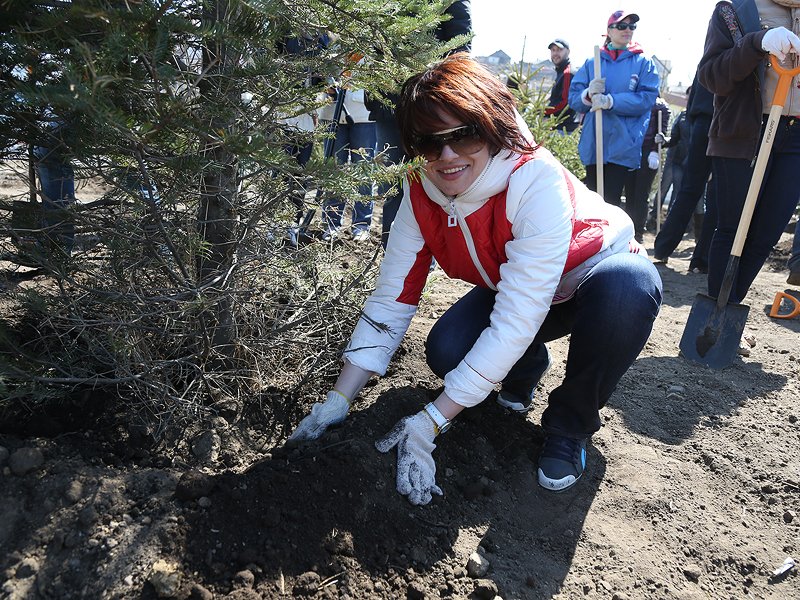 At the station exit from the bridge across the Golden Horn, the City plans to plant at least 700 trees and create a special green zone, where it will be easy to breathe.
It should be noted that this Saturday, April 27 about 64 thousand people took to the streets to tidy flower beds, alleys, squares and courtyards. They were assisted by more than 200 units of special equipment. This watering machines, machines for washing lifelines, KAMAZ for garbage collection. Participated in the clean and adults who are settled in local area, and children who worked near schools and kindergartens. Whitewashing, painting, planting trees, shrubs and flowers, garbage collection and last year's leaves - this is not an exhaustive list of cases that involved citizens. As reported by utilities, thanks to the joint efforts helped remove 12000 square meters. m in urban areas and take out 9409 cubic meters. m debris.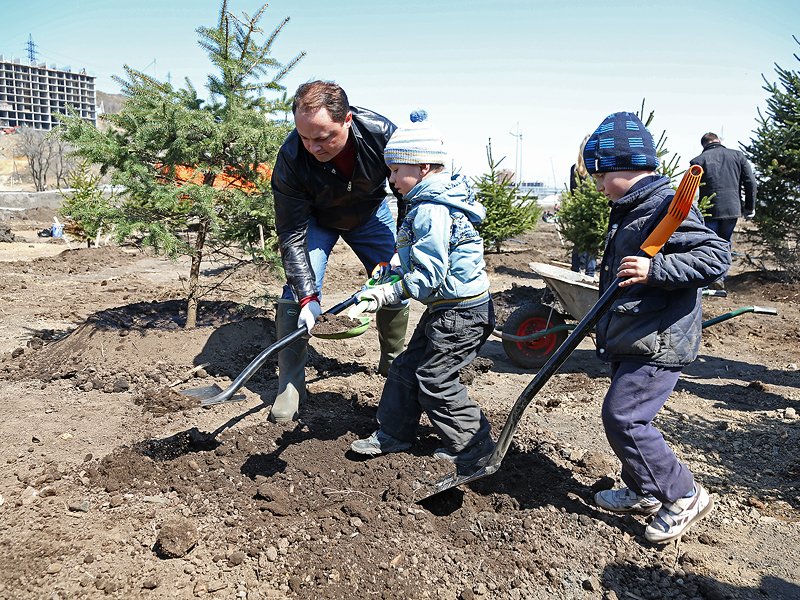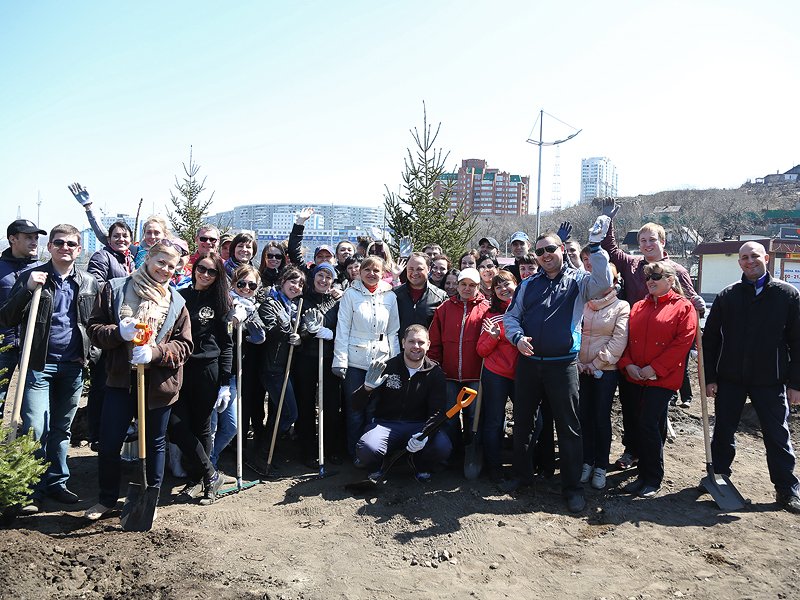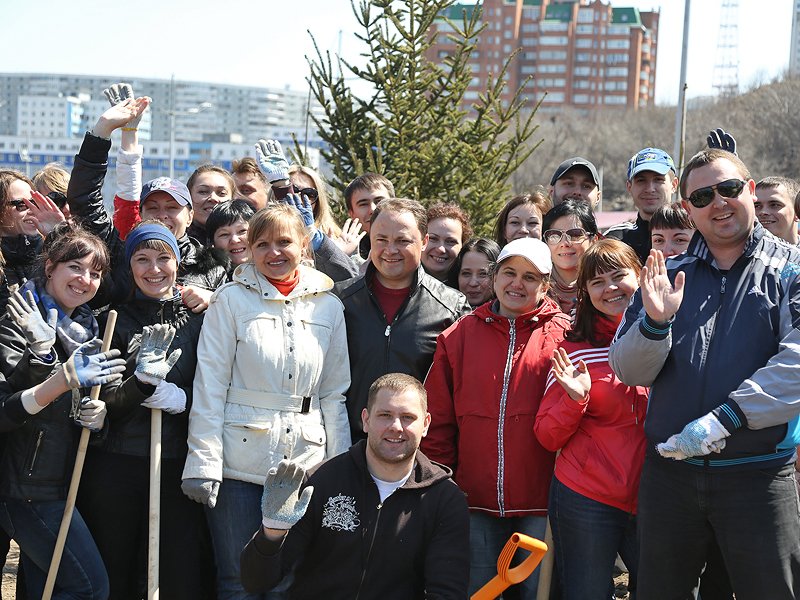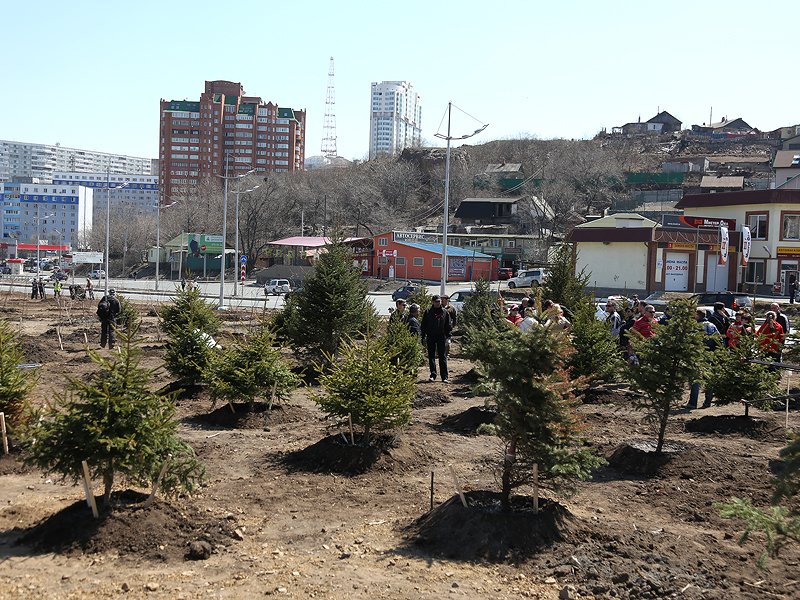 Also today, in 23 houses participating in the "Best friendly yard," declared the head of Vladivostok Igor Pushkarev. For the most massive and out on Saturday for the most clean and well-maintained yard mayor will present the house a large children's playground. Today, with the inspection of the yards involved in the competition, drives a special commission.

5-04-2013, 04:30, eng news
Installing the Cross will take place during the expedition of Fyodor Konyukhov and his partner Victor Simonov. Dogsled travelers intend to pass on what was previously considered impassable route from...

3-07-2013, 11:15, eng news
Заявитель рассказал, что в своей квартире на проспекте Блюхера обнаружил тела двоих мужчин с признаками насильственной смерти. Со слов заявителя, одним из погибших является его знакомый, который...

7-08-2013, 13:01, eng news
During the meeting at the Frunze court found as chief correspondent Japanese news agency "Kyodo Tsushin" Osamu Hirabayasi July 5 was the main base of the Pacific Fleet at a time when he was denied...
25-06-2013, 17:30, eng news
Young people stealing documents, and then offered to buy them for a large cash award......

12-09-2013, 16:10, eng news
For the past day in the Primorsky Territory there were 11 fires, rescued two people who were killed and injured there. 11 fires occurred in Primorye for the night about six o'clock in the morning of...

5-08-2013, 17:45, eng news
July 242013 in the village of Vostretsova Krasnoarmeyskiy district lost 2-year-old boy. As reported by RIA «VladNews» Senior Assistant Head of the MOI of Russia for the Primorye Territory Roman...

26-07-2013, 13:48, eng news
Pervorechenskij district court of Vladivostok verdict in the criminal case against the former accountant of the Federal government health care "Center of Hygiene and Epidemiology of the Federal...

22-08-2013, 17:46, eng news
On Thursday, August 22 at 12:13 to the Center for Crisis Management, it was reported that there was a rush of hot water pipes in the heating unit on the street Okatova, the city of Vladivostok....

27-03-2013, 10:50, eng news
Service "Personal Financial Planning" helps you choose the best option of investing surplus funds......

15-03-2013, 11:23, eng news
Basketball club "Spartak-Primorye" filed in the Russian Basketball Federation official bid to host the "Final Four" Cup of Russia in Vladivostok......