ЗНАКОМСТВА
КРАСОТА
ЗДОРОВЬЕ
ТУРИЗМ
АВТОНОВОСТИ
НОВОСТИ СПОРТА
In Primorye, noticeably more expensive vodka, cheese and tomatoes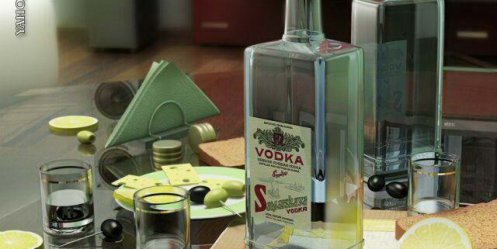 The consumer price index for the first three months was 102.1% in Primorye in December 2012 up from the same period last year (101.6%).
Since the beginning of the year, food prices rose an average of 103.3%.
The significant price increase was observed for fruit and vegetables, more whole grew cucumbers and cabbage fresh - 1.4 and 1.6 times, respectively. Potatoes became more expensive by 4.9%, beet - by 8.9%, carrot - by 11.4%, onion - by 16.9%, fresh tomatoes - 17%.
Meats, milk and dairy products, fish and seafood from the beginning of the year, on average rose 1.1%, 1.3% and 1.9%, respectively.
Prices rose rich products of flour, bread and bakery products from wheat flour 1 and 2 varieties, Doughnuts, bread of rye, rye-wheat bread and bakery products made from wheat flour, wheat flour for 16-9 %.
On 16-129% more expensive polished rice, wheat, peas and beans, oats and barley, oatmeal "Hercules", semolina.
Of the rest of the observed food 12-136% increase in the price of flour confectionery products, margarine, cheese, pasta and chicken eggs.
Of alcoholic beverages has risen more than just vodka (18.1%), non-alcoholic drinks - mineral water (3%).
The cost of the minimum food in the consumer basket (for men of working age), was at the end of March 387976 rubles and increased by 1.1% compared with the previous month, by 3.8% - from December 2012 according to Primorskstat.
6-06-2013, 17:46, eng news
22-year-old boy, walking at night in the streets of Lugovoi in Vladivostok found a package of ammunition. More than 5 - ammunition found in the capital of Primorye in the police where to find the...
12-07-2013, 14:45, eng news
In the department of bailiffs Nadezhda region of Primorsky Krai is a writ of execution for the recovery of maintenance from a local resident. Did not pay child support - took the car amount of debt -...

1-05-2013, 12:00, eng news
At this moment in the central square of the city is the final preparation for a large-scale meeting of Spring and Labour Day. The festivities promise to be unprecedented - the organizers expect that...

13-04-2013, 10:00, eng news
The morning begins with fog, which, however, quickly broken up by the wind from the south-east......

10-03-2013, 04:22, eng news
Earth orbit microsatellite Russia faced with fragments of Chinese machine incapacitated in 2007. The accident resulted in national satellite was damaged......
22-05-2013, 14:20, eng news
Radio support for real men rock festivals not only in Vladivostok, but also on the edge......

27-04-2013, 10:50, eng news
Receive the right to operate a moped or quad bike will be 16 years old, and the drivers of these vehicles will be responsible for accidents along with other members of the movement......
18-06-2013, 18:30, eng news
June 23 in Vladivostok will host the inaugural "Velovyhodnye." On the roads in the area of Sports Harbor in support of the sport will travel more than 1000 chelovek.Dlya safety of people from 11 to...

12-05-2013, 12:20, eng news
The province night cloudy, light, sunny rain, cloudy day, sometimes a little rain. Moderate southerly wind. Night temperature 0 +10 ° C, day +3 +20 ° C......

3-04-2013, 05:30, eng news
The investigating authorities in Primorye have opened a criminal case against a resident Mikhailovsky district of Primorye. Primoretz raped a little girl April 2 this year, in a state of...