ЗНАКОМСТВА
КРАСОТА
ЗДОРОВЬЕ
ТУРИЗМ
АВТОНОВОСТИ
НОВОСТИ СПОРТА
A soldier of the Eastern District will wash in the shower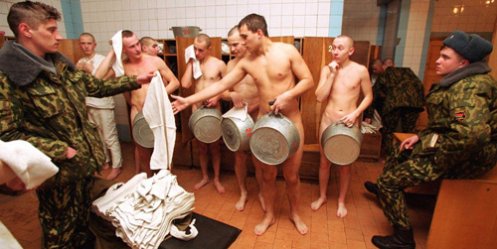 Photo: nnm.ru

More than 4500 showers will be installed in the rooms to wash the sleeping rooms that host conscripts.

Currently Wash personnel at the call is carried out once a week in the baths units. Installing showers will allow the military daily personal time to take a shower. Of particular relevance to this innovation becomes the hottest months in the summer.

It is worth noting that about 550 spaces for washing units and formations of the Eastern military district were equipped with showers earlier.
27-06-2013, 16:30, eng news
Currently in the Leninsky district court, Vladivostok case is heard in quite rare for Primorye article of the Criminal code - 321 of the criminal code (disorganization of the institutions providing...
22-05-2013, 13:30, eng news
May 21 of this year about a karaoke bar on Verkhneportovaya Vladivostok man opened fire from a traumatic weapons and killed one of the parties to the conflict. In Vladivostok, a man killed an...

23-08-2013, 15:00, eng news
And tomorrow in the museum gallery "Artetage" everyone will be able to talk about the interaction of music and brands with Alan Miller (USA), to debate on the theme of "Rock and independent music...
25-06-2013, 17:30, eng news
Young people stealing documents, and then offered to buy them for a large cash award......

17-09-2013, 13:59, eng news
Ministry of Emergency Situations in the Khabarovsk region reports, as of 8 am, the water level in the city of Komsomolsk-on-Amur was 904 cm During the day the water level dropped by 5 centimeters....
14-06-2013, 16:46, eng news
XVII annual meeting of the Association of Pacific rim universities (APRU) will be held at the campus of the University on the Russky island from 27 to 29 June. As the press service of the far Eastern...
17-04-2013, 16:11, eng news
Kate Tokarev Sambo from Nakhodka, received the top award at the European Junior Championship. Prestigious competition ended this week in Cyprus. Kate Tokarev - the best in Europe Sambo! Her coach...

26-04-2013, 19:30, eng news
In the capital of the Far East arrived 86 soldiers - the strongest swimmers in their connections and associations, deployed from the Buryat Republic to the Kamchatka Krai......

20-05-2013, 10:30, eng news
In the morning, Monday, May 20 the captains of "Mortrans" at the general meeting of the management announced that they refuse to go flying. The main reason for dissatisfaction of seafarers - the lack...
27-06-2013, 16:30, eng news
By becoming members of the Youth Council of the Findings, young people can influence on youth policy in the territory, to raise the legal and political culture, and participate actively in the life...