ЗНАКОМСТВА
КРАСОТА
ЗДОРОВЬЕ
ТУРИЗМ
АВТОНОВОСТИ
НОВОСТИ СПОРТА
Festival of alternative art and extreme sports opens in Vladivostok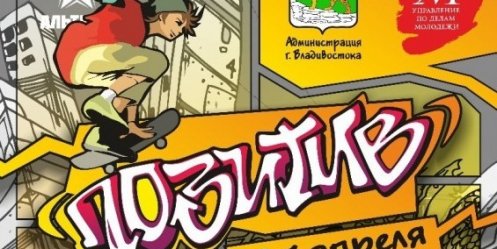 Photo: Administration of Vladivostok

Tomorrow, April 27 at the center of extreme sports "Go Straight" (Ocean Avenue, 43) will host a festival of alternative arts and sports "Positive." The event was organized by the Office of Youth Vladivostok Administration jointly with the Youth NGO "Alternative".

The organizers invite everyone to dive into the world of extreme sports. The festival will be held at several venues and shows a wide palette of youth culture Primorye. The festival will be competitions in skateboarding, graffiti, speeches tracers, turnikmenov fights, dance battles hip-hop, electro dance, breaking, yo-yo contest, performances beatbox rappers and singers.

For more information on Online "Alternatives" .

Registration at 11:00.

Start of competitions in 12 hours.

15-08-2013, 00:19, eng news
On Saturday at the beach cove Shamora host music festival "Space." Program became known band performances: 1505 - 1530 Dersu Uzala 1540 - 1605 Korpus 1615 - 1640 Drugie Znaki 1650 - 1715 XP-Reactor...

3-07-2013, 15:45, eng news
July 2 in an apartment down the street Blucher in Ussuriysk found the bodies of two men with signs of violent death - multiple stab wounds. Woman in Primorye stabbed two men on this fact...

18-07-2013, 23:01, eng news
Vladivostok end shooting 12-series film "Belovodie. Mystery of the lost country "by Eugene Bedareva, known to the public for the TV series" While fern blossoms "and the films" Waiting for the Miracle...

9-09-2013, 21:41, eng news
Salaries of state employees in the Primorsky Krai now depends on the results of their work. The new payment system was introduced in September. State employees will receive a salary in the new scheme...

23-03-2013, 05:30, eng news
I am waiting for you last summer - one of the most remarkable phenomena in the contemporary Russian scene......

22-07-2013, 12:18, eng news
Recall that appointed EM Sandler for the position former President of the RSE Alexander A.Krasnenkov in April 2011. During his time Sandler were created Basketball Federation in all regions of the...

10-07-2013, 14:31, eng news
As explained to the presenters, the project - one of the stages of activities aimed at developing a new brand of Vladivostok. In preparation for the 2012 APEC summit in Vladivostok, was built a...
31-07-2013, 13:46, eng news
In these moments - from 8 to 10 am There is a direct broadcast on the radio, "Lemma" with the head of administration of the city of Vladivostok Igor Pushkarev. One of the first questions that was...

1-04-2013, 09:10, eng news
Thanks to co-operation between maritime security services and their counterparts from other regions such facts will be promptly stopped and the future......
12-06-2013, 12:15, eng news
In most of the continental regions of Primorye June 7 established in summer hot weather - light-wind air is heated to +25 +33 oC. The average daily air temperature is above historical averages for...