ЗНАКОМСТВА
КРАСОТА
ЗДОРОВЬЕ
ТУРИЗМ
АВТОНОВОСТИ
НОВОСТИ СПОРТА
On Sunday kartodrome "Zmeinka" will open the 2013 racing season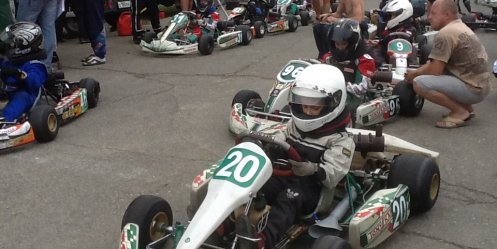 Photo: Administration of Vladivostok

April 28 karting "Zmeinka" opens the racing season - the first on the track will be released kartingisty.

The racing on the maps will be attended by the "stars" of the Far East, for example, Nicholas Shulzhitsky, despite his honorable age, is set to take first place in its category. Sami race will be held in several age classes - children from 5 to 12 boys from 12 to 15 and adults - 16-50 years. Pouchavstvovat racing people come from different parts of the Far East, but most of the drivers - it vladivostoktsy.

With the opening of the season engulf Vladivostok racing life. Every Thursday and Friday will be held at the kart circuit training, and Saturday and Sunday - the competition.

Recall that with the opening of kartodroma "Zmeinka" was launched site That brings together all disciplines of road - racing, drifting, circuit races. Found in the project site and for motorcyclists.

"The main goal of the site www.zmeinka.com - to gather young people who are passionate about the speed, the smell of gasoline and the rattle of tires. If people want a professional to do it - it's racing, want to show element - drift, and if both - time attack" - Andrew summed Matsuyev.
17-06-2013, 11:16, eng news
According to this Decree, single (daily) rate for the citizens living in towns and urban-type settlements, will be 2224 ruble per kilowatt-hour. For customers with two-tariff metering devices, daily...
22-06-2013, 22:01, eng news
До конца текущей недели в сельских районах Приморского края появятся 8 модульных фельдшерско- акушерских пунктов, 9 ФАПов будет готово на следующей неделе. ФАПы устанавливают в Приморье Об...

4-08-2013, 12:17, eng news
Vladivostok clinical maternity hospital number 2 (street Cheremukhovaya, 32) opened after a two-week break - from 17 to 31 August, performed routine sanitization. As noted by the chief medical...

19-04-2013, 17:00, eng news
Medvedev instructed to study the question of the definition in the legislation of the Russian Federation notions of "dangerous driving" and "careless driving", providing for penalties for such...

9-05-2013, 19:41, eng news
This year, organized a massive and colorful celebration on May 9 provides for new activities and new urban areas are involved......

11-04-2013, 11:50, eng news
He was already the 11th in a row in the regional center /......
13-06-2013, 17:01, eng news
The first in the Khabarovsk territory, ATM /cash machine in an English language installed Sberbank in the new «Pushkin» office located at the street Pushkin, 54. ATM has a very comfortable and...

18-05-2013, 11:20, eng news
The region places a little rain. On the coast, fog in places. Wind South, South-West umerennyy.Temperatura air +10 +29 ° C......

28-03-2013, 03:10, eng news
Vladivostok people poisoned the national dish of Japanese cuisine (salad "Akihito" rolls in stock) at a sushi bar "point of land" (LLC "Tropic"), located at ul. 1st Marine, d.6/25. At the sushi bar...

30-07-2013, 19:03, eng news
As part of the 8th Biennial of Visual Arts Contemporary theater LIQUID from Moscow will present street performance «Flowers /Flowers". Such a representation, involving not only the actors but also...