ЗНАКОМСТВА
КРАСОТА
ЗДОРОВЬЕ
ТУРИЗМ
АВТОНОВОСТИ
НОВОСТИ СПОРТА
Nearly 650 veterans have received congratulations and monetary gifts from the head of Vladivostok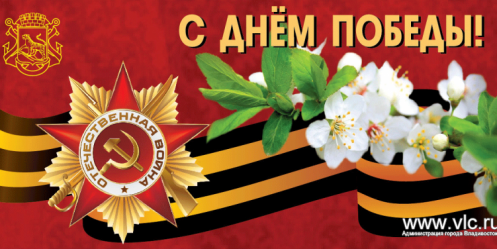 Photo: Administration of Vladivostok

Vladivostok continues awarding the disabled and veterans of the Great Patriotic War of greeting cards with the upcoming Victory Day and monetary gifts.

Recall Mayor Igor Pushkarev ordered all persons with disabilities and veterans of the Great Patriotic War, in anticipation of the holiday greetings in addition to hand and cash gifts.

As noted in the management of the execution of programs to support the population, currently about 650 members and disabled veterans have already received congratulations and gifts of money in the amount of three thousand. The action started on April 22.

Total cash gifts and gifts will order 1180 disabled veterans and war.

24-05-2013, 09:20, eng news
chance of rain. The region places a little rain. On the coast, fog in places. Wind southwest moderate. Air temperature +7 +29 ° C......
28-05-2013, 14:20, eng news
The townspeople to find the carcass of the dead in the street dogs, virtually to the police - on cases of destruction of individuals and schools of law enforcement officers generally know from the...

12-04-2013, 17:00, eng news
Sberbank continues action "refinance loans" - canceled the commission for granting loans to pay off existing debt with other banks......

3-04-2013, 11:10, eng news
Rosselkhoznadzor specialists, laboratory tests conducted, found in frozen fish, milk powder, egg powder and pork lot of dangerous bacteria. Dangerous bacteria in products found in Primorye in the...

19-05-2013, 16:30, eng news
Even before his arrival in Vladivostok former porn star (although here, as in the KGB, the former does not happen) Sasha Grey split the urban community on the camp. Some strongly welcomed the arrival...

17-04-2013, 12:00, eng news
Number of criminal cases related to attempted sale, preparation for sale and illegal possession of drugs, which are planned to combine in one......

8-03-2013, 10:24, eng news
Vladivostok. Today marks Vladivostok March 8 - in flower shops boom, and the streets are walking courting couples. (PHOTOS)......

9-09-2013, 21:41, eng news
The new digital angiographic complex worth over 40 million rubles appeared in KGBUZ "Vladivostok Clinical Hospital № 1". Modern equipment in the primary vascular compartment, which opened this year,...

12-08-2013, 16:37, eng news
Such right of the family with the birth of the third gain (subsequent) child. Recall that the basis for the design of the manual - the average family income must not exceed the value of per capita...

29-04-2013, 14:00, eng news
Release of the new album Mummy Troll closer. August 252013 the whole world will know about what kind of music it is written, and what will be on the album cover. And while the musicians in the studio...