ЗНАКОМСТВА
КРАСОТА
ЗДОРОВЬЕ
ТУРИЗМ
АВТОНОВОСТИ
НОВОСТИ СПОРТА
Nearly 650 veterans have received congratulations and monetary gifts from the head of Vladivostok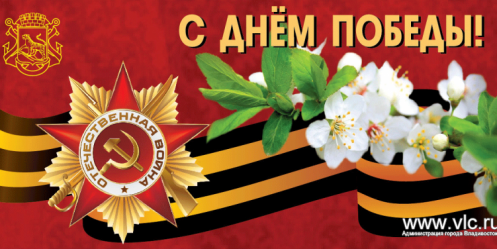 Photo: Administration of Vladivostok

Vladivostok continues awarding the disabled and veterans of the Great Patriotic War of greeting cards with the upcoming Victory Day and monetary gifts.

Recall Mayor Igor Pushkarev ordered all persons with disabilities and veterans of the Great Patriotic War, in anticipation of the holiday greetings in addition to hand and cash gifts.

As noted in the management of the execution of programs to support the population, currently about 650 members and disabled veterans have already received congratulations and gifts of money in the amount of three thousand. The action started on April 22.

Total cash gifts and gifts will order 1180 disabled veterans and war.

5-04-2013, 04:30, eng news
Installing the Cross will take place during the expedition of Fyodor Konyukhov and his partner Victor Simonov. Dogsled travelers intend to pass on what was previously considered impassable route from...
7-06-2013, 17:16, eng news
In the capital of Primorye awarded scholarships to novice musicians and artists. Young talents have won awards in Vladivostok Vladivostok Young talents were congratulated and cash awards from the...
17-06-2013, 19:32, eng news
Representatives of Nakhodka customs and far Eastern energy customs post is not the first year of helping children of the sponsored rehabilitation center for minors «Albatross». As the press-service...
6-05-2013, 12:20, eng news
During the visit, the guests will meet with the commander of the Pacific Fleet, will cause the official visit of the mayor Igor Pushkarev, will lay a wreath at the Eternal Flame memorial "Battle...

4-03-2013, 03:20, eng news
Technical project "System 112" developed in Primorye. This year, funds will be allocated for the purchase and renovation of the building that will house duty and dispatch service. System 112 to...

22-04-2013, 13:10, eng news
The 11th International Film Festival of Asian Pacific Countries "Pacific Meridian", which this year will take place from 7 to 13 September, announces the selection of a team of volunteers......

1-04-2013, 09:10, eng news
In early May, will arrive in Vladivostok first hundred buses Volkswagen, the automaker is ready to open a service center......

26-03-2013, 16:50, eng news
Laboratory studies and sour milk products, conducted last week, showed that in the cheese, produced in one of the farming district of Primorye Khorolskiy found staphylococcus. In the seaside cottage...

1-09-2013, 15:15, eng news
August 29 marks the 55th anniversary of the legendary American singer Michael Jackson. Legendary American singer Michael Joseph Jackson (Michael Joseph Jackson) was born on 29 August 1958 in Gary,...

2-09-2013, 18:16, eng news
Chairman of the Legislative Assembly of Primorsky Krai Viktor Gorchakov discussed with the director of the Institute for Social Development in Europe and Asia with the Development Research Center of...