ЗНАКОМСТВА
КРАСОТА
ЗДОРОВЬЕ
ТУРИЗМ
АВТОНОВОСТИ
НОВОСТИ СПОРТА
In Vladivostok, an exhibition "The World through the eyes of children unusual"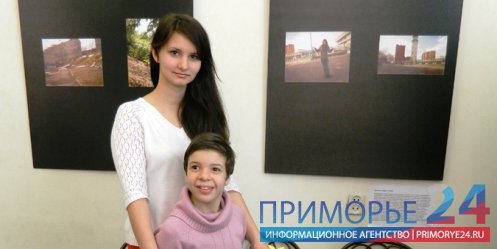 Photo: IA "Primore24"

Within City Marathon social projects "Spring Week of Kindness" in Vladivostok continues his work a unique photo exhibition "The world through the eyes of unusual children."

"Participants unusual exhibition - autistic children, the problem of social interaction which is most acute - Said Head of interaction with youth and children's organizations of the Youth Elena Shulga. - This project is primarily aimed at attracting society's attention to autism. "

For the audience the exhibition includes creative workshops, where everyone can make origami, postcards, or just write nice words that will give children - participants of the exhibition.

The exhibition is held in the museum and exhibition center named after VK Arsenyev (St. Peter the Great d.6) until April 27.
6-06-2013, 17:46, eng news
22-year-old boy, walking at night in the streets of Lugovoi in Vladivostok found a package of ammunition. More than 5 - ammunition found in the capital of Primorye in the police where to find the...
12-07-2013, 14:45, eng news
In the department of bailiffs Nadezhda region of Primorsky Krai is a writ of execution for the recovery of maintenance from a local resident. Did not pay child support - took the car amount of debt -...

1-05-2013, 12:00, eng news
At this moment in the central square of the city is the final preparation for a large-scale meeting of Spring and Labour Day. The festivities promise to be unprecedented - the organizers expect that...

13-04-2013, 10:00, eng news
The morning begins with fog, which, however, quickly broken up by the wind from the south-east......

10-03-2013, 04:22, eng news
Earth orbit microsatellite Russia faced with fragments of Chinese machine incapacitated in 2007. The accident resulted in national satellite was damaged......
22-05-2013, 14:20, eng news
Radio support for real men rock festivals not only in Vladivostok, but also on the edge......

27-04-2013, 10:50, eng news
Receive the right to operate a moped or quad bike will be 16 years old, and the drivers of these vehicles will be responsible for accidents along with other members of the movement......
18-06-2013, 18:30, eng news
June 23 in Vladivostok will host the inaugural "Velovyhodnye." On the roads in the area of Sports Harbor in support of the sport will travel more than 1000 chelovek.Dlya safety of people from 11 to...

12-05-2013, 12:20, eng news
The province night cloudy, light, sunny rain, cloudy day, sometimes a little rain. Moderate southerly wind. Night temperature 0 +10 ° C, day +3 +20 ° C......

3-04-2013, 05:30, eng news
The investigating authorities in Primorye have opened a criminal case against a resident Mikhailovsky district of Primorye. Primoretz raped a little girl April 2 this year, in a state of...