ЗНАКОМСТВА
КРАСОТА
ЗДОРОВЬЕ
ТУРИЗМ
АВТОНОВОСТИ
НОВОСТИ СПОРТА
Most draft evaders noted in Primorye and Buryatia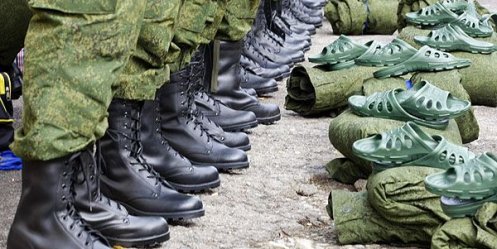 Nearly 5000 citizens is intended for military service military commissariats Eastern Military District during the spring conscription campaign in 2013. It's about 40 percent of the plan draft.
Significantly, more than 10 percent, increased the activity of recruits compared to the same period last year.
The largest number of recruits today called upon in Khabarovsk, the Trans-Baikal, Amur Oblast, the Republic of Sakha (Yakutia).
Failed to appear without good cause at the recruiting stations currently 234 young people. The greatest number of evaders celebrated in the Maritime Territory and the Republic of Buryatia.

16-07-2013, 09:47, eng news
Administrative proceedings brought more than 11000 offenders. The Office of the Primorsky Territory of private security meeting held at the end of the first half of 2013. The meeting was chaired by...

29-03-2013, 12:20, eng news
Were put in order some tombstones, memorial service was held, with the laying white chrysanthemums mourning......

23-08-2013, 22:01, eng news
C on August 23 in the administration of their own accord retired deputy head of the administration of the city of Vladivostok Alexey Litvinov. This RIA «PrimaMedia». As the first vice-mayor Alex...

16-07-2013, 16:03, eng news
As always, this week, will be held several competitions. The first event in the framework of the Festival - namely international match race, held in Vladivostok in early June. Regional Asian ISAF...

20-04-2013, 12:20, eng news
To protest rallies against the inhabitants of northern Primorye signed by Prime Minister Dmitry Medvedev order number 1650 "The package of measures aimed at the transition to the establishment of...
20-06-2013, 18:01, eng news
In the trade centre «Cheremushki» on Ul. Zaporozhye, 77 in Vladivostok there is a new service point of Sberbank of Russia. Mini office, the country's leading Bank offers visitors a shopping complex,...

28-07-2013, 10:45, eng news
Japan's Toyota Motor Corp. retained its status as the world's largest automaker for the first half of 2013 overtaking the U.S. group General Motors (GM) and the German Volkswagen. Global sales of...

22-04-2013, 17:10, eng news
This year the Mayor Igor Pushkarev ordered for budget funds to establish children's playgrounds in the 30 yards......

19-04-2013, 09:00, eng news
Students interested in political science, why do I need the city Duma deputies earn and how much can a successful politician to be happily married......

14-05-2013, 12:20, eng news
At the scene immediately came investigative team. The police find out the circumstances of the accident......