ЗНАКОМСТВА
КРАСОТА
ЗДОРОВЬЕ
ТУРИЗМ
АВТОНОВОСТИ
НОВОСТИ СПОРТА
On the "builder" began regular upkeep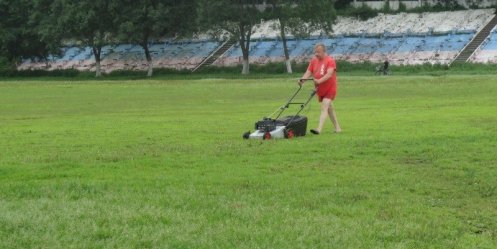 The stadium "Builder" repairs began.
Recall that last year the stadium was returned to the ownership of the municipality. By order of the mayor Igor Pushkarev, in 2012 held its first renovations - renovated entrance arch and a retaining wall, installed new fencing and flagpoles. Now it was the turn of repair facilities.
"Since the end of last week, workers began the repair work of the two buildings on the" builders " , - Said the director of arts SDYUSSH Valery Osokin. - Repairs training process will not interfere with, classes will be held as scheduled. When will can not exercise because of the paint in the halls or for other reasons, we will hold classes right in the stadium, the weather can have. "
Note that in the course of the work will be repaired roofs, floors, waterproofing buildings, old windows will be replaced with modern double-glazed windows. After that, the workers begin to internal repairs.

22-03-2013, 04:03, eng news
Igor Pushkarev was not the first time will be a guest studio television program "accents."......

18-05-2013, 00:20, eng news
On this day, from 17 to 23 hours will be stopped traffic on these road sections. (STREET)......

4-04-2013, 11:30, eng news
Unique flash mob in honor of the city is planning to organize the administration of Vladivostok with thousands of people at the Golden Bridge. It is planned that a flash mob can go on July 7. Day in...

15-07-2013, 14:50, eng news
Russian YUID rally was held in the "Ocean" from 1 to 14 July, this year, at seaside of young inspectors met 80 out of 20 regions of Russia. Within two weeks, the students participated in a variety of...

18-07-2013, 11:48, eng news
Died from injuries the following day. For more than 30 years, the MOI of Russia for the Primorye Territory spends Championship in shooting of military weapons in memory Saparbek Khamzina. Opening...

27-08-2013, 11:02, eng news
It is established that the visitor Norm became ill, he fell down and died. Arriving doctors pronounced him dead. According to preliminary reports, the death was the result of a massive heart attack....

18-04-2013, 13:00, eng news
Rated sales still keeps the credit "Trust." The loan portfolio of this product in the Far East Savings Bank exceeded 4.5 billion rubles......
20-03-2013, 12:44, eng news
First held in Vladivostok Open Championship Marine PF on mining biathlon "Trail Scout."......
16-08-2013, 22:36, eng news
Today, the cinema "Vladivostok" held a press conference of the festival "Noise", which was attended by the organizer of the "kinokursy" Tikhon Makarov, head of the Youth Authority Vladivostok Oksana...

1-04-2013, 09:20, eng news
Today, Russia launched the spring conscription campaign. Draft campaign started April 1 in Primorye first recruits began to pass a medical examination. In the Eastern Military District this year...