ЗНАКОМСТВА
КРАСОТА
ЗДОРОВЬЕ
ТУРИЗМ
АВТОНОВОСТИ
НОВОСТИ СПОРТА
On May Day in Vladivostok will be walking along the Golden Bridge before 3:00 am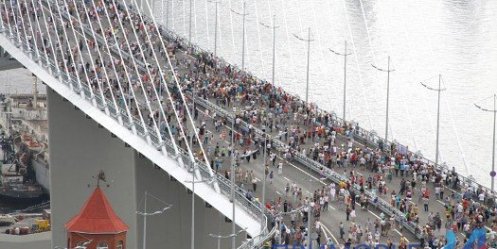 Photo: IA Primore24

The original gift was presented regional authorities to all residents of Vladivostok. The bridge across the Golden Horn will be closed, and the free pass - open.

The first to cross the bridge will be festive columns, a total of 7. Will lead the procession of Primorye Governor Vladimir Miklushevsky that already "rehearsed" route, as well as heads of municipalities. The procession will start at 11 am. By the way, the whole "walk" the governor took about 40 minutes.

As told Trend. IA Primore24 Director of Administration of the Department of Culture of Primorye Anna Aleko, it is planned that the parade will be attended by up to 20000 people. " Rather, this number will even increase because applications continue to arrive, even though officially still gathering ended April 17. But we do not deny anyone " - Said Anna Aleko.

Note that the traffic on the bridge across the Golden Horn will be closed as early as 6 am on May 1 for the preparation of passage festive columns.
27-06-2013, 16:30, eng news
As the press-service of the Chief of the military investigation Department of the investigation Committee of Russia, the evidence gathered in the military investigative Department of the...

3-05-2013, 19:20, eng news
Information service of Radio "Lemma" - News in the full range!......
10-06-2013, 16:46, eng news
In the Primorye Department of the Federal bailiff service in June, the first regional stage of the all-Russia competition on a rank «Best, a bailiff of the Federal bailiff service of Russia», «Best,...

18-09-2013, 17:15, eng news
Employees of Federal Security Service detained in Primorsky Krai group that received a long time in China and later spread synthetic drugs. The channel of delivery of drugs is covered in Primorye...

1-03-2013, 09:03, eng news
Jewish cultural center. Now the future construction site outside ensign Komarov being topographical surveys......

16-09-2013, 17:30, eng news
Thirteen fire brigades eliminate fire on a nuclear submarine "Irkutsk", which is being repaired at a shipyard in Bolshoi Kamen. Heavy smoke arose during welding operations. Now fire shed space...

13-08-2013, 17:34, eng news
Today, August 13 as part of the Pacific Fleet large-scale exercises operational duty Connection water region patrol ships of forces in the north-east of Russia took over the radio signal "SOS" of...

23-04-2013, 16:10, eng news
Vladivostok GUM send dividend half of the annual net profit, amounting to 5750000 rubles......

29-04-2013, 12:00, eng news
A member of the party "United Russia" Christina Yatsenko, who has filed an application before the executive committee, decided to withdraw his candidacy in favor of a broader public representation......
15-05-2013, 19:40, eng news
Today in Harbin is the largest Orthodox community in China, but no Orthodox priests, believers themselves make worship at home......