ЗНАКОМСТВА
КРАСОТА
ЗДОРОВЬЕ
ТУРИЗМ
АВТОНОВОСТИ
НОВОСТИ СПОРТА
One of the last romantics Russian rock returns to Vladivostok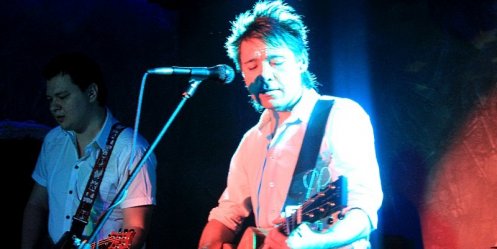 Photo: Anatoly Filatov

Six months later, after a successful concert "Torba-on-Tough" in full, its leader Max IVAN returns to Vladivostok with a solo acoustic concert.

Max and Ivan "Torba-on-Tough" - a phenomenon in domestic music unique. According to music critics, the main highlight of his group - a unique and surprisingly strong vocals of frontman Max Ivanov and chosen "Torbay" overall musical style.


Max's songs are particularly guitar melody and sincerity, and their music brings people of different age and outlook.

At the last concert in Vladivostok was not indifferent. Then, with a tour of "Vostok-1" group traveled from the Baltic Sea to the Sea of Japan, from St. Petersburg to Vladivostok.

April 26 a ballroom TAC "Underground"

The concert starts at 20:00

Tickets 500 rubles

Pre-sale is not made.

Information: Tel.: 296-99-88

9-04-2013, 18:50, eng news
Shipowner time extension has not attended a number of important documents, making 12 Russian citizens can not leave the port of Rio Tuba......

20-05-2013, 19:30, eng news
Primorye Parliament is working on amendments to the regional law "On the status of deputies of the Legislative Assembly of Primorsky Krai" and "On the Legislative Assembly of Primorsky Krai." Annual...

16-07-2013, 22:15, eng news
Rosselkhoznadzor in Primorye prevented by sending to Siberia nedomorozhenoy more than 22 tons of fish. At the time of inspection refrigerated container, which was nedomorozhenaya and fish products,...

26-03-2013, 09:40, eng news
In Primorye, completed an investigation of a criminal case against a group of persons accused of committing a murder......
22-06-2013, 17:15, eng news
In Vladivostok, on the eve of the Day of Memory and Grief teenagers mangled signs on birch alley in the streets of Ann Schetinina. This is reported by "News: Primorye". This square was laid in honor...

4-07-2013, 07:31, eng news
In Vladivostok there is a plaque writer, an honored worker of culture of RSFSR, the veteran of the great Patriotic war, honored citizen of the city of Lev Knyazev. As the press-service of...
28-05-2013, 10:30, eng news
On Monday, May 27 the residents of the street in Vladivostok Nekrasovskii witnessed the terrible spectacle - from the market to the people left homeless five dogs in dogs was foaming at the mouth,...

31-08-2013, 01:30, eng news
On Bureyskaya plant completed idle discharges through the spillway of the dam. This decision was taken Amur STB due to the normalization of the flood situation. Singles discharges on Bureyskaya plant...

5-05-2013, 21:20, eng news
On Saturday night, the driver of Toyota Land Cruiser Prado lost control and the car went off the bridge at the Kazan railroad trading port. (PHOTOS)......
6-06-2013, 13:16, eng news
Unified state exam in foreign languages and physics today pass students. As tools for the exam in physics, you can use the ruler and непрограммируемым calculator. Nothing else on the exam students...