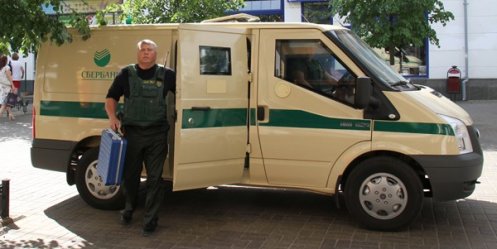 Improved special containers make robbery meaningless.
In order collectors Primorsky branch of OJSC "Sberbank of Russia" received improved containers for the transport of valuables. The new technical device renders meaningless the process of the robbery: any attempt to tamper the container for a few milliseconds is destroyed special package with banknotes and staining with indelible ink. As a result, bills are 100% insolvent.
Special container, developed by the Swedish company SQS commissioned by the Savings Bank, is a high-impact carrying case that holds up to 6 packs of banknotes (or 6000 denominations). Electronic key that opens the container contains 10 to the 19th degree of combinations of codes. Chances to pick up the correct code are reduced to zero.
Smart technology does not allow for mechanical tampering, and any other attempts to influence - chemical, thermal, electrostatic discharge applications, radiation and others.
- Technological advances could not touch on such a conservative business like collection of money - Andriy Yastimov, head of the collection department of Primorsky OJSC "Sberbank of Russia". - This system is unique to the Russian technology that fundamentally changes the idea of the collection as a dangerous, complex and expensive process, requiring employees of the special physical, psychological and fire training.
The damage to the contents, will not cause financial loss to the owner of the goods: Savings Bank has an agreement with the Bank of Russia to replace banknotes stained with the destruction of special containers for solvent notes after the examination. Thus, spoiled Savings can exchange money at the Bank of Russia.
Acquisition of special containers - one of the stages of a major project to equip the Savings Bank of the collection service with modern means of protecting intellectual cargo. Employees Seaside collection units were trained in the use of technological innovations.
It is worth noting that today collectors Primorsky branch of Sberbank serve 550 ATMs and other self-service machines, more than 600 companies and organizations, more than 1500 points of clients - legal entities.