ЗНАКОМСТВА
КРАСОТА
ЗДОРОВЬЕ
ТУРИЗМ
АВТОНОВОСТИ
НОВОСТИ СПОРТА
Tokarev lighthouse on the reconstruction of the road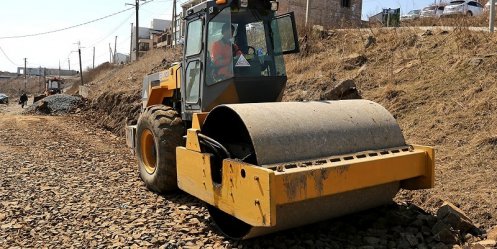 In the final phase includes ground works prior to laying asphalt on Tokarev lighthouse.
At the site works machinery - excavators, motor graders, vibratory roller, loaders and dump trucks.
As reported in the MUPV "Roads of Vladivostok," the preparation of the subgrade was backfilled with more than 2500 cubic meters of rock material, builders are preparing for a foundation of rubble. All layers of the pavement are sealed vibratory rollers. After closure of excavation is laid asphalt coating using schebenochnomastichnogo asphalt that has better characteristics as compared with conventional asphalt and consequently increases the life of the road. In addition, the capacity for railing with reflectors.
21-06-2013, 12:46, eng news
On weekends, the synoptic situation in the south of the Far East will change for the better. Atmospheric pressure will rise, and the weather in the Maritime region will form malogradientnoe field of...
10-04-2013, 16:50, eng news
Qualified jury noted the high professionalism and teamwork play violin, awarding ensemble "Octave" first place......
11-06-2013, 12:47, eng news
A criminal case on rare for Primorye article 177 of the criminal code (evasion from payment of accounts payable) is finishing in court Shkotovsky district. Defendant - 55-year old pensioner, former...

12-08-2013, 16:32, eng news
Recall, on Saturday, August 10 strong short-term wind gusts that exceeded 18 meters per second partially tore roofs from nearly ten apartment buildings in the mountain village of Kirov district Keys....
21-06-2013, 17:30, eng news
For the past year and a half in the seaside village of Romanivka runs a shelter for people with no fixed abode. Center for St. Mary works in the Primorye Territory. During this time there was visited...

6-05-2013, 12:31, eng news
Today kicks off in Vladivostok traditional action "George Ribbon", dated May 9. Of all residents and visitors to the city will distribute 30000 characters Victory. Action "St. George Ribbon" began in...

19-08-2013, 12:18, eng news
The author of the sets and costumes for the first operatic productions Seaside Theatre of Opera and Ballet became artistic director of the Mikhailovsky Theatre Vyacheslav bass. Performances in its...

5-08-2013, 22:16, eng news
In the Maritime Administration today held a meeting on the aftermath of the cyclone. From the report of the Vice-Governor of Irina Vasilkova gathered learned that in the village of Kamenka already...
24-06-2013, 12:30, eng news
22 June on the territory of the basketball center «Sparta», located in Садгороде, was the first this year's tournament on street basketball 3 x 3 devoted to the opening of the season. Took part in...

2-09-2013, 10:01, eng news
Last week, the Office of the Ministry of Justice of Russia Primorsky Krai meeting of working group to promote the development of legal aid in the Primorye Territory. The event was attended by leaders...