ЗНАКОМСТВА
КРАСОТА
ЗДОРОВЬЕ
ТУРИЗМ
АВТОНОВОСТИ
НОВОСТИ СПОРТА
Over 2 thousand apartments will be built for the military in Vladivostok in 2013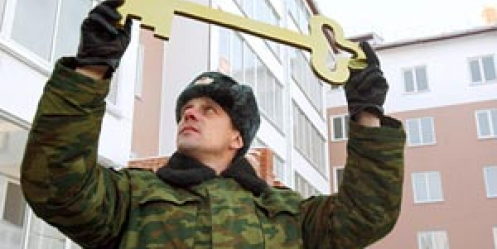 Photo: kaliningradtoday.ru

Construction of more than 240000 square meters of housing for military personnel is expected to start this year in the Eastern Military District

On the territory of the Eastern Military District in the current year is expected to start construction of over 240000 square meters of housing for military personnel and their families. That's a total of nearly 4200 apartments.

The largest number of housing for the military will be incorporated in the Maritime Territory (Vladivostok) - 2338 apartments, of which 380 - service.

In the Trans-Baikal region (Chita) is scheduled to start construction in 1114 of office apartments in Khabarovsk and -621 in the Kamchatka region - 120.

Now the process of harmonization of construction sites for future homes and carried out project documentation.

Recall that in addition to the district is already under construction more than 250 thousand square meters (4076 units) and permanent housing for military service. It will be put into operation in 2013.
21-06-2013, 12:45, eng news
Bailiffs pulled people out of mangled cars Bailiffs Nadezhda district to help people who are in a major accident on the highway Vladivostok - Khabarovsk. Employees of the department of bailiffs...

22-03-2013, 12:10, eng news
Russians. Tax specialists can easily obtain information on account numbers of citizens. But their access to data on the cash flow of accounts will be limited......

23-08-2013, 15:01, eng news
25 young residents Fokino visited Seaside Safari - Shkotovsky park in the area. As RIA «VladNews» in the department of labor and social development of the region, the children went on a trip - the...

22-03-2013, 06:10, eng news
Popular singer is not afraid to become hostage to the "three hits". (PHOTOS)......

2-09-2013, 18:17, eng news
On August 31 Amur Bay were passed the first mile. All-regatta "Cup of Peter the Great Bay - 2013 - Cup of Russia in" Konrad 25R ". At the start of the first race went 58 yachts in the 7 test groups....

17-09-2013, 18:05, eng news
In carrying out veterinary checks at the port of Vladivostok was detained party cooked frozen shrimp. 16 tons of shrimp are not missing in the Primorye In conducting veterinary inspection at the port...
18-06-2013, 14:00, eng news
The name of the head of Department of traffic police of Ministry of internal Affairs of Russia for the Primorsky Krai Oleg Зубакина received the letter of gratitude of the individual entrepreneur...

16-04-2013, 09:00, eng news
In Primorye, in places at night light precipitation (snow and rain), light rain in the afternoon. Wind west, southwest umerennyy.Temperatura night air +1 -12 ° C, day +1 +13 C......

21-03-2013, 03:50, eng news
Deposit product line Banca Intesa includes various types of time deposits......
15-05-2013, 19:20, eng news
In this regard, in order to ensure the safety of road users decided to temporarily restrict the movement of all modes of transport on a number of streets in the city center. (STREET)......