ЗНАКОМСТВА
КРАСОТА
ЗДОРОВЬЕ
ТУРИЗМ
АВТОНОВОСТИ
НОВОСТИ СПОРТА
Over 2 thousand apartments will be built for the military in Vladivostok in 2013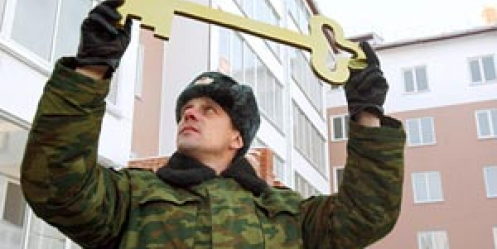 Photo: kaliningradtoday.ru

Construction of more than 240000 square meters of housing for military personnel is expected to start this year in the Eastern Military District

On the territory of the Eastern Military District in the current year is expected to start construction of over 240000 square meters of housing for military personnel and their families. That's a total of nearly 4200 apartments.

The largest number of housing for the military will be incorporated in the Maritime Territory (Vladivostok) - 2338 apartments, of which 380 - service.

In the Trans-Baikal region (Chita) is scheduled to start construction in 1114 of office apartments in Khabarovsk and -621 in the Kamchatka region - 120.

Now the process of harmonization of construction sites for future homes and carried out project documentation.

Recall that in addition to the district is already under construction more than 250 thousand square meters (4076 units) and permanent housing for military service. It will be put into operation in 2013.

1-08-2013, 14:02, eng news
Masters of sites have been brought to administrative liability for failure to timely removal of household waste. For garbage storage in undesignated places and his untimely removal by troublemakers...

1-05-2013, 14:00, eng news
Preparing for missile launches in North Korea has begun on the background of another escalation of the situation on the Korean peninsula caused by the testing of nuclear weapons in North Korea and...

4-05-2013, 17:20, eng news
Calls from residents about the trips came from the streets and Border Fountain......

3-04-2013, 06:20, eng news
Agricultural Bank of China is the "big four" of the largest state-owned commercial banks in China......

17-04-2013, 20:00, eng news
Before the end of the school year, bikers and traffic police will carry out preventive activities among high school students in the schools of Vladivostok......

9-04-2013, 18:50, eng news
The nine regions and cities of Primorye is located about 80 fraternal graves of soldiers and officers who died on the battlefields of World War II......

18-04-2013, 18:00, eng news
In connection with work to eliminate leaks in the water line from 23 pm April 18 to 18 hours on April 19 will be turned off cold water. (ADDRESSES) State Unitary Enterprise...

23-08-2013, 22:16, eng news
The corresponding decree was published on the government website. As reported in the finance department of Primorsky Krai, the implementation of the provisions of the order of the government will...

16-09-2013, 21:20, eng news
According to the organizers of the contest - youth welfare office of the city administration, "Startineydzher" is gaining high school dance teams Vladivostok and Primorsky Krai, which need to come up...

7-08-2013, 13:03, eng news
Together with them MMPO visited the chief customs office Vladivostok railroad post office Sergey Dolgov and Head of Vladivostok MSC - CAP GTSMPP Anatoly Fedyakshin. Special attention is deputy...