ЗНАКОМСТВА
КРАСОТА
ЗДОРОВЬЕ
ТУРИЗМ
АВТОНОВОСТИ
НОВОСТИ СПОРТА
Maritime Police looking for adventurers, climbing on the Golden Bridge pylon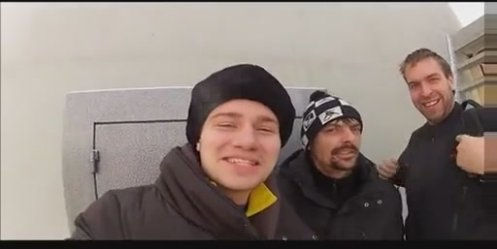 Regional Directorate of the Russian Interior Ministry checks the information about the penetration of the three men on the pylons of the bridge across the Golden Horn Bay in Vladivostok.
During the inspection in the first place will be set individual offenders and the circumstances that contributed to the smooth penetration of the object.
The search began after it was posted on the Internet a video depicting how the three men entered the object, and then climbed to the top of the Golden Bridge in Vladivostok. The height of the pylons on the level of raft foundations is 226 meters.
After the establishment of the identity of all participants into the facility, as well as the circumstances of the incident will be procedural decision.
The police offer citizens having information about the incident, contact the Office of Internal Affairs of Russia Primorsky Krai call 221-49-21249-04-91.
16-05-2013, 22:20, eng news
Today, May 16 on the campus of Palo on the island of Russian was the first step of pre-selection of candidates for the post of Vladivostok from the party "United Russia"......

1-07-2013, 11:46, eng news
on June 29 at the Palace of sports «Youth» took place in Vladivostok regional tournament dedicated to the day of the city, a few unusual sport for the Primorsky Krai - sumo in the absolute weight...

9-04-2013, 15:50, eng news
Holiday "Scarlet" - the world's only grand performance dedicated to high school graduates. He has no counterparts in any other country, and now the holiday goes to the federal level, collecting...

8-08-2013, 23:46, eng news
During the first week of the "hot line" for public utilities specialists received more than 30 calls from residents of the province. As reported in the Department of Public Utilities and fuel...
15-05-2013, 12:30, eng news
In Primorye will be resettled more than 200 damaged houses. For this purpose from the federal fund assistance to reforming housing and communal services will be allocated 938.5 million rubles -...

16-03-2013, 08:22, eng news
Savings rate grew at a slower pace, the volume of lending......

17-09-2013, 18:05, eng news
In carrying out veterinary checks at the port of Vladivostok was detained party cooked frozen shrimp. 16 tons of shrimp are not missing in the Primorye In conducting veterinary inspection at the port...

1-04-2013, 11:20, eng news
Almost 26 tons of corn from China, which was to receive one of the maritime companies, detained at the border. Corn dubious detained in Primorye reason - inconsistency phytosanitary requirements of...

16-03-2013, 07:11, eng news
The members of the advisory council on the quality of housing services considered that the documents provided for a clear answer is not enough......

18-05-2013, 11:20, eng news
The region places a little rain. On the coast, fog in places. Wind South, South-West umerennyy.Temperatura air +10 +29 ° C......