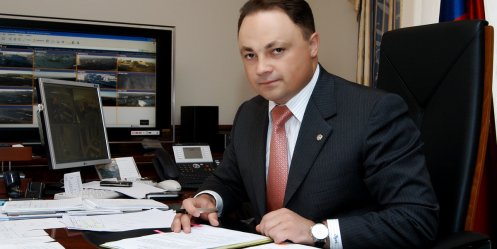 Today, the regional executive committee of the "United Russia" has received 17 applications directly from large public organizations Primorye to nominate for the September elections the incumbent head of Vladivostok.
Thus, Igor Pushkarev was the first member of the preliminary vote on the definition of intra-party candidate for mayor of the "United Russia".
Among those who supported the nomination of the incumbent, veteran and professional associations, charitable and humanitarian society, youth movements and social-oriented organization.
The decision on the mass support for the candidacy of Igor Pushkarev social activists have taken the day before, united in the People's Movement "Vladivostok - a worthy Mayor!" . One of the initiators of this movement was the Union of honorary citizens of Vladivostok with Svetlana Morozova.
Recall that the "United Russia" announced the beginning of the procedure of selection of candidates for mayor on March 29. Applications from candidates and proposals for nomination are accepted until April 21. The peculiarity of this preliminary internal party vote will be the possibility of a wide participation of public organizations of Vladivostok.
Candidate for the inner-voting can be any member of the party or advocate who is qualified to be elected as head of Vladivostok. The candidate can go on the ballot as a self-nominated or may be nominated by community organizations - partners of the party. Moreover, the electors that their vote will determine the main contenders for the nomination, 50% will consist of representatives of the Popular Front and the social organizations that have signed an agreement on cooperation with the "United Russia".
Thus, intra-party candidate selection process will be supervised by volunteers, which eliminates the possibility of falsification and manipulation of election results. In addition, this model allows the intra-party vote to select the most qualified candidates that meet the requirements of the general population, not just the party circle.
Performance of the participants in front of the inner-voting electors scheduled on campus Palo, located on the island. Russian. Within 5 days - one day for each of the five districts of Vladivostok, respectively. Results of intra-party voting should be announced before May 28.