ЗНАКОМСТВА
КРАСОТА
ЗДОРОВЬЕ
ТУРИЗМ
АВТОНОВОСТИ
НОВОСТИ СПОРТА
Sambistki Vladivostok excelled at the European Championship and the Championship of Russia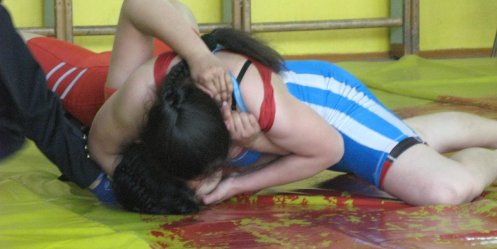 Pupils Vladivostok center of sports training female combat "Amazon" continue to please coaches and fans with excellent results.
11 - April 12 Vladivostok sambistki took part in the European Championship, which was held in Limassol (Cyprus). On the first day of competition in the weight category up to 44 kg of the first gold medal to the Russian team brought Catherine Agafonov. The next day the same success achieved another one of our athlete Veredenko Daria, who won gold in the weight category up to 70 kg.
In these days of the championship was held in Irkutsk in Asian Russia Sambo women. The competition was attended by athletes from cities in Siberia and the Far East Biisk, Chita, Ulan-Ude, Novosibirsk, Irkutsk, Angarsk, Khabarovsk, Komsomolsk - on - Amur and Vladivostok. Our athletes have shown excellent results, winning four gold, two silver and two bronze medals.
Gold in the treasury of our team brought Inga Myzgina (56 kg), Maria Zotov (60 kg), Marina Farvazova (68 kg) and Valentina Biryukova (80 kg). Silver medals went Aigul Habirova (56 kg) and Irina Belova (up to 68 kg). Bronze Anastasia Andrievsky (52 kg) and Violetta Gordeeva (60 kg).

1-08-2013, 14:02, eng news
Masters of sites have been brought to administrative liability for failure to timely removal of household waste. For garbage storage in undesignated places and his untimely removal by troublemakers...

1-05-2013, 14:00, eng news
Preparing for missile launches in North Korea has begun on the background of another escalation of the situation on the Korean peninsula caused by the testing of nuclear weapons in North Korea and...

4-05-2013, 17:20, eng news
Calls from residents about the trips came from the streets and Border Fountain......

3-04-2013, 06:20, eng news
Agricultural Bank of China is the "big four" of the largest state-owned commercial banks in China......

17-04-2013, 20:00, eng news
Before the end of the school year, bikers and traffic police will carry out preventive activities among high school students in the schools of Vladivostok......

9-04-2013, 18:50, eng news
The nine regions and cities of Primorye is located about 80 fraternal graves of soldiers and officers who died on the battlefields of World War II......

18-04-2013, 18:00, eng news
In connection with work to eliminate leaks in the water line from 23 pm April 18 to 18 hours on April 19 will be turned off cold water. (ADDRESSES) State Unitary Enterprise...

23-08-2013, 22:16, eng news
The corresponding decree was published on the government website. As reported in the finance department of Primorsky Krai, the implementation of the provisions of the order of the government will...

16-09-2013, 21:20, eng news
According to the organizers of the contest - youth welfare office of the city administration, "Startineydzher" is gaining high school dance teams Vladivostok and Primorsky Krai, which need to come up...

7-08-2013, 13:03, eng news
Together with them MMPO visited the chief customs office Vladivostok railroad post office Sergey Dolgov and Head of Vladivostok MSC - CAP GTSMPP Anatoly Fedyakshin. Special attention is deputy...