ЗНАКОМСТВА
КРАСОТА
ЗДОРОВЬЕ
ТУРИЗМ
АВТОНОВОСТИ
НОВОСТИ СПОРТА
"A complete disgrace" named prime Medvedev price of meat and poultry in Russia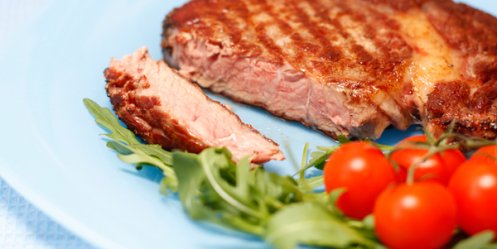 Photo: Prime

Russian Prime Minister Dmitry Medvedev called "uneconomic disgrace 'maintaining high retail prices for the products of domestic livestock, despite the fact that, after the country's accession to the WTO procurement wholesale prices fell substantially.

In this regard, Prime Minister spoke of the need for amending the antitrust laws of Russia, not excluding or adjusting trade law.

"This, of course, a complete disgrace, uneconomic, because the prices for livestock products we have because of these factors decreased by one third, and in the shops the price has not changed. This means that economic regulators do not work" , - Medvedev said on Tuesday at a conference on animal husbandry.

22-08-2013, 18:00, eng news
August 21 rally participants arrived Khabarovsk Vladivostok to Moscow to commemorate the criminal investigation officers killed in the line of duty and the 95 anniversary of the establishment of the...

23-07-2013, 16:00, eng news
The special operation to detain the leader and active members of organized crime groups took place in the October district of Primorsky Krai. Police found the suspects, using threats of physical...

29-08-2013, 15:15, eng news
On admission to the territory of Primorsky Krai large consignment of poultry meat from the United States found that all imported chicken meat infected with the causative agent of such a dangerous...

2-04-2013, 05:10, eng news
Pupils of the second and fourth grade learned about the work of one of the largest companies in the Great Patriotic War, the exploits dalzavodchan on the fronts of World War II. (PHOTOS)......

23-04-2013, 12:10, eng news
The gun was converted from a gas to fire live ammunition. The experts found that the number marking on the gun is missing......

27-04-2013, 00:50, eng news
Information service of Radio "Lemma" - News in the full range!......

27-07-2013, 20:33, eng news
An employee of the regional veterinary budgetary institution will stand trial for the illegal use of official position. According to the press service of the Interior Ministry of Russia for the...
29-06-2013, 16:16, eng news
June 28 this year, in the framework of the working visit First Deputy Prime Minister Igor Shuvalov visited the International Motor checkpoint in the village of the Border. Igor Shuvalov visited the...

17-03-2013, 13:15, eng news
First time in its more than 20-year history of punk heroes from Kazakhstan will play in Vladivostok......

22-03-2013, 12:10, eng news
Russians. Tax specialists can easily obtain information on account numbers of citizens. But their access to data on the cash flow of accounts will be limited......