ЗНАКОМСТВА
КРАСОТА
ЗДОРОВЬЕ
ТУРИЗМ
АВТОНОВОСТИ
НОВОСТИ СПОРТА
Vladivostok residents are actively preparing for the city subbotnik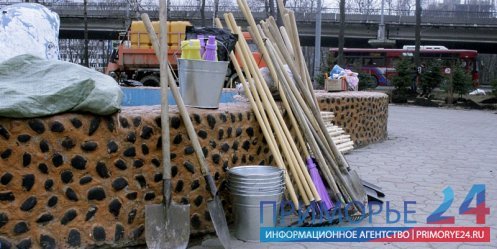 Photo: Ian Krasitsky

In Vladivostok, April 10 started bimonthly health, which aims - to purge the city from the accumulated over the winter debris. And on 27 April the subbotnik, during which residents call to roll up your sleeves, and elevate their local area.

Everything you need to work day can be obtained from management companies. "To get the seedlings, land, the tools need only apply" - IA Primore24 told in the press service of the city administration.

Some management companies have already prepared for subbotnik: "We always respond to such events, and this time we got everything ready for subbotnik. Currently allocated for about 20 people - said the director of" Management Company "Breeze". - People rarely ask for the tools, but the situation has been resolved to the ground - a lot of it was purchased, "

These days the administrative committee, as usual, will carry out checks around trading and supply of public men, as well as enterprises of all types property, which are obliged to carry out work on beautification of the area. Moreover, the companies that will be willing to spend cleaning, not only on its own territory, but some other, the administration is ready to help - from the provision of equipment to the garbage disposal.

In bimonthly within the city transport companies will result in a proper state of the rolling stock of public transport and MUPV "VPES" will work on cleaning the lighting poles from advertisements and labels, and provide sanitary cleaning of the fuel and energy complex. OJSC "Electric transport" will hold a traditional work painting poles and catenary renewal tram trailers.
25-06-2013, 16:45, eng news
More than 146 tons of fish nedomorozhennoy came to Novosibirsk from Primorsky Krai. Inspectors Rosselkhoznadzor in the Novosibirsk region checked cars - flasks and refrigerated containers and found...
23-04-2013, 13:30, eng news
Almost all retail and office space, built in Russia, do not fit into the international classification of retail and office......
23-04-2013, 13:30, eng news
In preparing the subgrade was backfilled with more than 2500 cubic meters of rock material, builders are preparing for a foundation of rubble......

4-04-2013, 07:20, eng news
As the head of Directorate Larisa Karpachova, rumors of merger with the school gymnasium № 75 are without any foundation......
12-06-2013, 17:16, eng news
Today, 12 June, arrived in Vladivostok Jeff Хигс (Jeff Higgs) - multiple winner and prize-U.S. champion in Brazilian JIU-jitsu. Jeff Хигс is a representative СОRONADO Jiu-Jitsu Brasileiro Academy of...

30-03-2013, 06:00, eng news
Police suspect drove on the hood of his car more than two hundred meters......
26-07-2013, 19:01, eng news
The meeting was attended by representatives of the administration of the regional center, police, emergency, GIMS and tenants coastal areas. The meeting discussed the implementation of all the...
28-05-2013, 13:20, eng news
However, this work does not end there. On the instructions of Igor Pushkarev this year in Vladivostok will install another 10000 lights. ......

22-05-2013, 12:30, eng news
Funds raised during the charity marathon "Soldiers of Victory - with gratitude," went on to provide targeted assistance to veterans, widows of veterans and home front workers Artyom urban district....

10-04-2013, 17:00, eng news
In the State Duma introduced a bill that, if approved, that all pensioners will receive the Far East "northern" supplementary pension. "North," allowance will probably get pensioners Far East This...