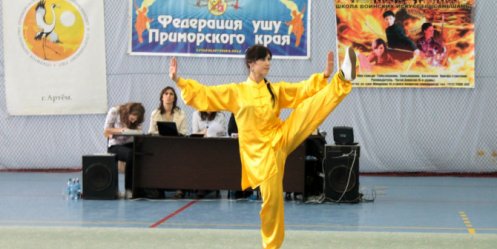 Cup Traditional Wushu and taydzitsyuan dedicated to the 75th anniversary of Artyom, organized Roso "Wushu Federation of the Primorsky Territory," with the support of the administration of Artyom, gathered 76 participants from the three branches of "Wushu Federation of the Primorsky Territory": Vladivostok, Artem, Ussuriisk and "Wushu Federation Kamchatka "presented by athletes of Petropavlovsk-Kamchatsky.
First place in the youngest age group, where young athletes participated 6-7 years, took Ryabov Denis and Daria Orlova.
In the largest category of boys and girls 9-10 years of age, where the competition is very high today, the first places won by Selivanov Zahar, Nikolaev Sonia Khomenko Rima, Doroshenko Sofia from Ussuriysk Skewers and Vlad from Vladivostok.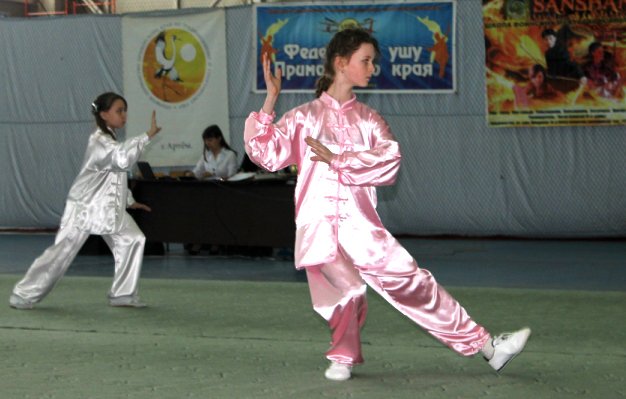 Among boys and girls 11-13 years Nikultsev confident leader Ilya Sim Anastasia Petrova Margarita.
In junior competition is weak in mind everything was predetermined. First place went to the brother and sister: Nikita Park, Victoria Park.
Adult athletes, recognize the best in the program taydzitsyuan this year competed in three events. In the category of women 18-30 years old was not equal world champion Tatyana Shutko. In the same age group of men outside of competition was medalist at the World Edward Verdin. In other age groups won: Zhdanov Marina Chernyshkov Artem, Prikhodko Nicholas of Vladivostok.
Pupils Ussuri coach Tatiana Pak - Polonenko Evgeny Volkov and love for the first time took part in the competition, debuted well: both - the "gold." One winner team from Petropavlovsk-Kamchatsky and Artem first Nikitin Hope and Shinkorenko Olga.
Among Seniors Sing-traditional direction and the clear leader was head of the department Roso "Wushu Federation of the Primorsky Territory" in Vladivostok Alex Chagai. The winner of the two types of programs Wushu was Panichkin Svetlana from Ussuriisk. Gold medal and diploma of the winner took home Grigorieva Anastasia from Petropavlovsk-Kamchatsky and Vladivostok club instructor "Sanshan" Markov Julia.
In the team championship won Ussuri athletes, second place in the team from Vladivostok and third place went to guests of "Cup" of Petropavlovsk-Kamchatsky.