ЗНАКОМСТВА
КРАСОТА
ЗДОРОВЬЕ
ТУРИЗМ
АВТОНОВОСТИ
НОВОСТИ СПОРТА
Senator Maritime sees nothing wrong with selling beer in stadiums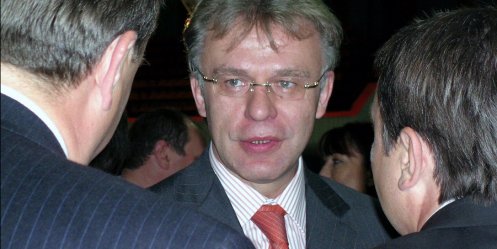 Senator Primorye Vyacheslav Fetisov said that in making federal legislation does not make sense to create a restriction or ban on the advertising and sale of alcoholic beverages in sports facilities.
According to Fetisov, a ban on the sale of alcohol to persons under the age of 21 removes a further restriction, as "one follows from the other." Personality to 21 years is already fully formed, and if a person grew up with certain social message, limit it does not make sense. "My personal opinion - should be allowed to sell beer and advertise in stadiums," - Said Fetisov.
Further develop the theme of the official, explaining why he thinks so. According to Fetisov, introducing an additional ban, it turns out that "Russia - a peculiar country" . Advertise everywhere and drink beer at the stadiums can be, and in the Russian Federation no. If a person wants to "Consumed" He "Bahnet vodka at home or in the alley," and go to the stadium. And it is necessary to create conditions for the fans had the opportunity to "Enjoy the process and the civilized spend money."
Add that Fetisov was previously initiated ban the sale of alcohol to Russians under 21 years . "This drastic measure would be an effective mechanism to combat intruders, since it is the owners and managers of companies interested in increasing their profits, they should bear the primary responsibility, and that they will be deprived of a lifetime license to practice as a business, which is associated with the turnover of alcohol" . - Said Fetisov.

23-08-2013, 15:00, eng news
The meeting reported on the current situation related to flood control, and made a number of proposals. Envoy noted that before the flood took place today in places with a low population density. Now...

13-08-2013, 17:32, eng news
Regional law "On education" gives the right to children without parental care, to improve their living conditions, while receiving social welfare payment for repair of the apartment. As RIA...

4-09-2013, 23:30, eng news
In Michael's area on suspicion of murder and robbery arrested two local residents. As told to the correspondent of RIA VladNews Senior Assistant SU TFR of the Primorsky Aurora Rome, August 62013 in a...

9-09-2013, 13:30, eng news
Yesterday at about 19 pm near the village of Lazo Dalnerechensk district police officers noticed a minibus that was going to clear excess speed. The car stopped. Driving a foreign car was a resident...

26-07-2013, 13:46, eng news
July 25 at Theater Square of Vladivostok was inaugurated musical monument to Vladimir Vysotsky. The official ceremony was dedicated to the 33 anniversary of the death of the great bard. "Monument to...

19-05-2013, 17:20, eng news
Claims against the police work were made by the Commission for Aviation Security Airport......
13-06-2013, 17:02, eng news
Terms are defined with the account of repair work to eliminate impulses for heating identified during hydraulic tests. 15062013 Border, 131515 172006.2013 Admiral Kuznetsov, 4040A, 424244 44a,...

8-09-2013, 19:31, eng news
The first half of the day the election showed 1141% voter turnout. Of the 451 thousand people came to the vote 51481. The highest turnout was in Frunze territorial election commission, there it is...

5-03-2013, 07:48, eng news
As part of preventive operation "area security" checked schools of Nakhodka......

21-03-2013, 09:29, eng news
Work is currently underway on the street Vsevolod Sibirtsev Tolstoy, Red Flag, Snow (PHOTOS)......