ЗНАКОМСТВА
КРАСОТА
ЗДОРОВЬЕ
ТУРИЗМ
АВТОНОВОСТИ
НОВОСТИ СПОРТА
Senator Maritime sees nothing wrong with selling beer in stadiums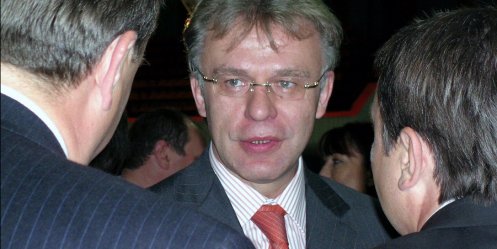 Senator Primorye Vyacheslav Fetisov said that in making federal legislation does not make sense to create a restriction or ban on the advertising and sale of alcoholic beverages in sports facilities.
According to Fetisov, a ban on the sale of alcohol to persons under the age of 21 removes a further restriction, as "one follows from the other." Personality to 21 years is already fully formed, and if a person grew up with certain social message, limit it does not make sense. "My personal opinion - should be allowed to sell beer and advertise in stadiums," - Said Fetisov.
Further develop the theme of the official, explaining why he thinks so. According to Fetisov, introducing an additional ban, it turns out that "Russia - a peculiar country" . Advertise everywhere and drink beer at the stadiums can be, and in the Russian Federation no. If a person wants to "Consumed" He "Bahnet vodka at home or in the alley," and go to the stadium. And it is necessary to create conditions for the fans had the opportunity to "Enjoy the process and the civilized spend money."
Add that Fetisov was previously initiated ban the sale of alcohol to Russians under 21 years . "This drastic measure would be an effective mechanism to combat intruders, since it is the owners and managers of companies interested in increasing their profits, they should bear the primary responsibility, and that they will be deprived of a lifetime license to practice as a business, which is associated with the turnover of alcohol" . - Said Fetisov.
18-06-2013, 09:45, eng news
There may be difficulties in professional communication, it may come to a complete rupture of business ties, but you will have a chance to find a common language with the right partner. Well going to...

26-03-2013, 14:40, eng news
Vasily Sysoykin suspected of stealing half a billion rubles, but according to the information available, he has already left Primorye......

22-03-2013, 03:24, eng news
The idea of the Prime Minister on the establishment of a tax-free zone in the Far East, criticized by experts......

1-07-2013, 11:45, eng news
Local resident is in the dispensary at a medical facility with lung disease since 2007. In February 2013 the patient was recorded deterioration in health status, however, on the proposal of the...
17-05-2013, 18:20, eng news
In April and May, the city passed Ecological game. They were attended by pupils of secondary schools in Vladivostok......
24-06-2013, 21:45, eng news
Primorsky Territory Governor Vladimir Miklushevsky today, June 24 held a coordination meeting on law and order in the Primorye Territory. The main theme of the meeting - the outcome of the law...

21-03-2013, 03:48, eng news
Department of Education and Science of the Primorsky Territory conducts regional competition of excellence "Best Professional Electrician"......
24-07-2013, 14:11, eng news
The long-awaited opening of the monument to Vladimir Vysotsky in Vladivostok held on July 25 at 18 pm in the Theater Square at the address. Svetlanskaya 49. Administration of Vladivostok invites all...

4-04-2013, 11:30, eng news
Unique flash mob in honor of the city is planning to organize the administration of Vladivostok with thousands of people at the Golden Bridge. It is planned that a flash mob can go on July 7. Day in...

10-04-2013, 18:50, eng news
Now managed by the organization must disclose obshschuyu information on their activities and key financial and economic indicators......