ЗНАКОМСТВА
КРАСОТА
ЗДОРОВЬЕ
ТУРИЗМ
АВТОНОВОСТИ
НОВОСТИ СПОРТА
Senator Maritime sees nothing wrong with selling beer in stadiums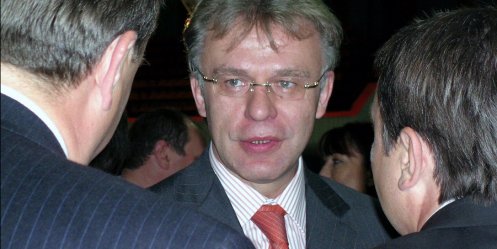 Senator Primorye Vyacheslav Fetisov said that in making federal legislation does not make sense to create a restriction or ban on the advertising and sale of alcoholic beverages in sports facilities.
According to Fetisov, a ban on the sale of alcohol to persons under the age of 21 removes a further restriction, as "one follows from the other." Personality to 21 years is already fully formed, and if a person grew up with certain social message, limit it does not make sense. "My personal opinion - should be allowed to sell beer and advertise in stadiums," - Said Fetisov.
Further develop the theme of the official, explaining why he thinks so. According to Fetisov, introducing an additional ban, it turns out that "Russia - a peculiar country" . Advertise everywhere and drink beer at the stadiums can be, and in the Russian Federation no. If a person wants to "Consumed" He "Bahnet vodka at home or in the alley," and go to the stadium. And it is necessary to create conditions for the fans had the opportunity to "Enjoy the process and the civilized spend money."
Add that Fetisov was previously initiated ban the sale of alcohol to Russians under 21 years . "This drastic measure would be an effective mechanism to combat intruders, since it is the owners and managers of companies interested in increasing their profits, they should bear the primary responsibility, and that they will be deprived of a lifetime license to practice as a business, which is associated with the turnover of alcohol" . - Said Fetisov.

10-03-2013, 08:15, eng news
This story is just shocked me. Whither business? Is it right that the business done for the people, is no longer relevant? Then who will pay you money for your madness? Okay, enough of emotions - to...

4-09-2013, 15:46, eng news
September 5 (Thursday) at 19:00 will be a concert of youth jazz bands from Japan - professional musicians and students amateur (Shimane Prefecture). There's also a small group of Shimane show several...

20-09-2013, 18:15, eng news
How to ITAR-TASS In the provinces of Gansu and Qinghai now an earthquake of magnitude 5.1. Tremors were reported in Sunan counties and Menyuan at 05:37 Beijing time. Center lies at a depth of 7...
20-06-2013, 18:01, eng news
Let's remind, on June 18 residents of neighboring Khabarovsk, came to the concert of Garik and company, without any reasons received from gate turn. The organizers of the causes are not known, people...

30-03-2013, 06:00, eng news
Police suspect drove on the hood of his car more than two hundred meters......

24-05-2013, 19:40, eng news
Under the bill, get free land for housing will be able to families with two children and young family......

15-07-2013, 14:45, eng news
Tomorrow, July 16 she will attend the opening ceremony of the planting of sixty cherry seedlings brought from Japan as a gift to Vladivostok. The ceremony will take place at the Botanical Garden, FEB...

12-09-2013, 11:20, eng news
Primorsky Territory Governor Vladimir Miklushevsky today, September 12 attended the opening of the Eighth International Congress of fishermen. In Primorye, International Fishery Congress works, "The...

30-07-2013, 19:02, eng news
Earlier, the Legislative Assembly approved the amendments to the law on bonus payments, but they will come into force only in July 192013. Thus, coastal athletes who won medals at the 2013...
19-06-2013, 18:15, eng news
The name "Chaos traffic police Vladivostok" speaks for itself. "People in the form of employees GIBDD"calls the main characters of the head of the information Department of the interior Ministry...