ЗНАКОМСТВА
КРАСОТА
ЗДОРОВЬЕ
ТУРИЗМ
АВТОНОВОСТИ
НОВОСТИ СПОРТА
Khabarovsk "Baltika" began to pour beer at banks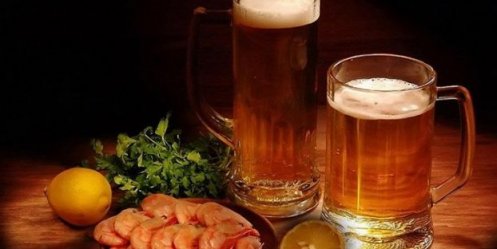 Brewery "Baltika" April 12 opened in Khabarovsk line for bottling beer in cans. The approximate investment of several million euros.
Later in Khabarovsk can be opened and the production of aluminum cans.
"Baltika-Khabarovsk" - the largest brewery in the Far East, the opening of the company held on 11 April 2003. Now production capacity is 1.6 million hectoliters of beer per year. The plant in Khabarovsk produce regional beer "DV". According to the company, the economy of Khabarovsk Krai "Baltika" has invested $ 54 million of
"Baltika" owns 10 plants in Russia. It also has two malting plants. It accounts for 70% of Russia's export beer. The share of the Russian beer market in 2012 remained at the level of 2011 and amounted to 38.2%. "Baltika" owns Carlsberg Group. The company's investments in Russia reached $ 12 billion

12-09-2013, 23:52, eng news
The detachment of Pacific Fleet ships, carrying out tasks in the North Pacific at the port of Petropavlovsk went to prepare for the ultimate showdown with conventional enemy. The grouping of the...
7-08-2013, 17:45, eng news
Aug. 5 near the island Popov fishermen noticed a two-meter shark maneuvers which were able to take a mobile phone camera. The theme of "shark danger" has become relevant in the summer of 2011 when...

21-05-2013, 12:20, eng news
The length of the "Green Marathon" is a symbolic 4200 feet, allowing everyone - and experienced athletes and novice joggers of all ages - to participate in the race and feel involvement in the...

17-09-2013, 14:53, eng news
In carrying out veterinary checks at the port of Vladivostok was detained party cooked frozen shrimp. 16 tons of shrimp are not missing in the Primorye In conducting veterinary inspection at the port...

8-04-2013, 16:40, eng news
Concealing evidence of a crime, the attackers have taken the body of the car of the victim to a deserted place and burned......

23-08-2013, 14:31, eng news
At Thursday, August 22 in Balakovo in the Individual Championship Finals Russian speedway racing on dirt track Gregory Laguta the second time in his career won the title of champion. Renat Gafurov...

22-04-2013, 17:10, eng news
Repair adjacent territories held in Vladivostok on behalf of the mayor Igor Pushkarev. (PHOTOS)......
30-06-2013, 16:45, eng news
In the course of the audit is established: Morskaya street nowhere is not working as a 44-year-old local resident cultivates on the plot манчьжурскую hemp. The man explained that all the raised...

21-09-2013, 12:00, eng news
Primorsky Regional Court on the basis of a guilty verdict, the jury has sentenced a resident of the Nadezhda district. Primorye was found guilty of double murder and the theft of another's property...

22-03-2013, 03:24, eng news
The idea of the Prime Minister on the establishment of a tax-free zone in the Far East, criticized by experts......