ЗНАКОМСТВА
КРАСОТА
ЗДОРОВЬЕ
ТУРИЗМ
АВТОНОВОСТИ
НОВОСТИ СПОРТА
"Three times Ku!" - Cartoon "Ku! Kin-Dza-Dza" with a new song released in rent Lagutenko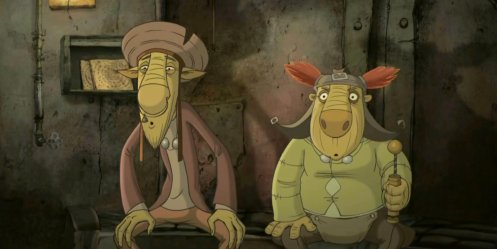 Photo: STV

Right on the Day of Cosmonautics, rolling out the cartoon "Ku! Kin-Dza-Dza ", which has been called the most anticipated domestic season premiere (the good, choose not anything special - except for the" Legends № 17 "to mind nothing comes). For residents of Vladivostok, this event is remarkable in two ways. The fact that the title song of the cartoon wrote a duet Ilya Lagutenko (Mummy Troll) and Alexander Holenko (DZA).

Note that with Lagutenko worked on the song Alexander Holenko Performing under the pseudonym DZA. Musicians are familiar from school - they learn in Vladivostok in one educational institution, however, a difference of ten years. Before the project, "Ku! Kin-dza-dza " Holenko recorded a version of Ilya Lagutenko "Speed" special project for the magazine "Billboard". Now the name of their joint project sounds like IL-DZA.

As told myself Ilya Lagutenko , To write a song for the cartoon based on the film "Kin-dza-dza!" Because he decided long passion for the feature film. At the time this picture made indelible impression on him. Moreover, the group watches a film in each of their tours.

The new project "Ku! Kin-Dza-Dza "began in 2005. Cartoon premiered on 21 February. Director, as is the case with the original "Kin-Dza-dzoy" made Danelia , Which has already announced that from now on going to dedicate their careers exclusively animation. Budget tape was 140 million rubles, which made it possible to implement all the ideas of the authors.

Cartoon created by using two technologies - traditional hand-drawn two-dimensional animation 2D and 3D-graphics, stylized flat painted picture. Main characters voiced Nicholas Gubenko Tsehmistrenko Ivan and Andrei Leonov, Alexei Colgan, Alexander Adabashyan .

So, all, all, all! First - the home, the orange pants, then - in cinemas!

1-08-2013, 19:31, eng news
As the press service of the AP computer, children's associations will be able to receive state support. Consequential amendments to the regional law "On youth policy in the Primorsky Territory" took...

2-08-2013, 20:01, eng news
According to the magazine "Forbes", Russian Prosecutor General Yuri Chaika July 18 to the Prime Minister of Russia Dmitry Medvedev a letter in which he accused the Russian air inflating the prices of...

22-03-2013, 09:40, eng news
First vice-president "of the Russian Union of Engineers' Ivan Andrievsky on ways to increase the popularity of Russian universities......
22-05-2013, 13:40, eng news
In Primorye, is home to about 130000 people with disabilities......

8-05-2013, 08:20, eng news
In the region, partly cloudy, no precipitation. Patchy fog. Wind southwest moderate. Air temperature +12 +32 ° C......

18-05-2013, 18:20, eng news
Electors: "Candidates must prove that all words and promises will not remain only on paper."......

18-03-2013, 10:55, eng news
unique instruments. Unique traditional Russian songs sounded in Vladivostok, performed by famous musicians. (PHOTOS)......

24-04-2013, 10:10, eng news
In Nakhodka took place Championship of Primorsky Krai in orienteering. A route with compass and map in his hands ran over 150 participants aged 12 to 60 years. (PHOTOS)......

3-09-2013, 16:32, eng news
Recall that the newspaper "Vladivostok", "Arguments and Facts Primorye" radio "Lemma", "ViBiSi", 8-Channel, news agencies "Primore24" and Vladnews announce action: "Enter into the Guinness Book of...
25-06-2013, 17:00, eng news
The procedure of transfer of land plots and objects of military bases, located in the city of Vladivostok, from the order of the Ministry of defense of the Russian Federation in a municipal property....