ЗНАКОМСТВА
КРАСОТА
ЗДОРОВЬЕ
ТУРИЗМ
АВТОНОВОСТИ
НОВОСТИ СПОРТА
"Three times Ku!" - Cartoon "Ku! Kin-Dza-Dza" with a new song released in rent Lagutenko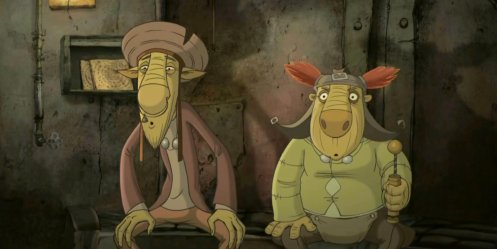 Photo: STV

Right on the Day of Cosmonautics, rolling out the cartoon "Ku! Kin-Dza-Dza ", which has been called the most anticipated domestic season premiere (the good, choose not anything special - except for the" Legends № 17 "to mind nothing comes). For residents of Vladivostok, this event is remarkable in two ways. The fact that the title song of the cartoon wrote a duet Ilya Lagutenko (Mummy Troll) and Alexander Holenko (DZA).

Note that with Lagutenko worked on the song Alexander Holenko Performing under the pseudonym DZA. Musicians are familiar from school - they learn in Vladivostok in one educational institution, however, a difference of ten years. Before the project, "Ku! Kin-dza-dza " Holenko recorded a version of Ilya Lagutenko "Speed" special project for the magazine "Billboard". Now the name of their joint project sounds like IL-DZA.

As told myself Ilya Lagutenko , To write a song for the cartoon based on the film "Kin-dza-dza!" Because he decided long passion for the feature film. At the time this picture made indelible impression on him. Moreover, the group watches a film in each of their tours.

The new project "Ku! Kin-Dza-Dza "began in 2005. Cartoon premiered on 21 February. Director, as is the case with the original "Kin-Dza-dzoy" made Danelia , Which has already announced that from now on going to dedicate their careers exclusively animation. Budget tape was 140 million rubles, which made it possible to implement all the ideas of the authors.

Cartoon created by using two technologies - traditional hand-drawn two-dimensional animation 2D and 3D-graphics, stylized flat painted picture. Main characters voiced Nicholas Gubenko Tsehmistrenko Ivan and Andrei Leonov, Alexei Colgan, Alexander Adabashyan .

So, all, all, all! First - the home, the orange pants, then - in cinemas!

4-04-2013, 02:00, eng news
A group of local residents simulate an accident, but when the Russian tourists tried to help, they were attacked and stripped of my bag......

19-04-2013, 20:00, eng news
from 2014 to Russian homeowners will put a new payment for repair of apartment houses. This money will have to come at the expense of the HOA, HBC or regional operator......

19-09-2013, 21:58, eng news
This at a regular meeting of the city tripartite commission on regulation of social and labor relations, said its chairman, deputy head of the administration of Vladivostok Elena Schegoleva. Thus,...

16-04-2013, 16:00, eng news
Total investment in its implementation is more than 2 billion yuan. The first phase of installations can desalinate up to 200 thousand tons of sea water per day......

17-03-2013, 08:09, eng news
From the stage musical groups perform folk songs, and the square itself pretty girls handing out free bagels had come up to people and smile. (PHOTOS)......

5-04-2013, 06:30, eng news
City Duma Speaker Helen Nowicka spoke about the experience hospital № 3 as a result of individual interviews with the number of failures Pregnant Women from newborns was reduced by half......

5-03-2013, 12:13, eng news
According to statistical data, which data sharing doctors give birth in Russia in general and the Primorye Territory in particular have become more......

3-09-2013, 16:32, eng news
Yesterday, on the island of Russian was solemnly opened a new school. The school, which has long been waiting for. - It is a special day, especially for children - said Mayor Igor Pushkarev on the...

18-07-2013, 17:18, eng news
Four medals won a third-year student-Palo Victoria Andreeva. As a part of the Russian national team in swimming-relay 4 x 100 meters, she won "gold". Another two top awards Victor Andreev managed to...
13-06-2013, 21:31, eng news
Five members of the crew «Prok» returned from China in Primorye. The ship standing on repairs in the neighboring country remained 4 people. Initially, the boat had 14 people, the sailors sent a...