ЗНАКОМСТВА
КРАСОТА
ЗДОРОВЬЕ
ТУРИЗМ
АВТОНОВОСТИ
НОВОСТИ СПОРТА
Citywide Fair continues at the central square of Vladivostok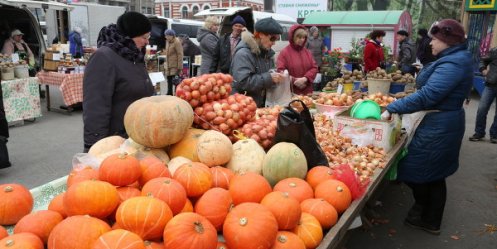 Photo: RIA "Novosti"

Revolution Fighters on the area continues Food Fair. Today, April 12 and tomorrow at the citywide fair can buy vegetables, pickles, honey and bee products, fish, meat products, bakery and confectionery products from manufacturers from Vladivostok Arsenyev Lesozavodsk, Spassky, October district and other districts of Primorye. Their products are presented to 200 producers of Primorsky Krai.

As noted in the management of Trade and Services Administration of Vladivostok, fairs are held to the numerous requests of citizens in order to saturate the consumer market for agricultural products and products of local manufacturers, creating conditions for healthy competition in prices. Food Fair will run weekly on Fridays and Saturdays from 9 to 18 hours, except for the days when the central area will be held solemn and festive events.

Vladivostok Administration invites you to participate in the fair legal entities and individual entrepreneurs registered in accordance with applicable Russian legislation, citizens, the leading country (farmer), personal and household plots.

For more information, contact the Department of Agriculture and Fisheries of the Department of Trade and Services, tel: (423) 261447926144412614442.

15-07-2013, 18:02, eng news
In the Soviet area of Vladivostok was planned raid on disadvantaged families. Commission staff Juvenile visited 11 families. Four year old living with his mother in a dilapidated structure, they pay...

6-08-2013, 15:00, eng news
Athlete of Vladivostok, Honored Master of Sports of Russia Vitaly Obotin triumphantly concluded his speech at the XXII Summer Deaflympics, held in Sofia (Bulgaria) from 24 July to 4 August....

24-08-2013, 16:46, eng news
Today, August 24 the head of Vladivostok Igor Pushkarev took part in the inauguration of the monument to the miners of the mine "Podgorodnenka[br> "Employment in the village. After the mayor...

16-07-2013, 22:18, eng news
He said that night in the apartment entered the unknown, stole appliances and jewelry. The damage caused to the applicant estimated 50000 rubles. According to the victim at the scene officers arrived...

8-04-2013, 16:40, eng news
Unification Minister countries Ryu Jae Kil told a parliamentary hearing on Monday that the North Korean nuclear test Pung-ri noted increased activity......
28-06-2013, 21:31, eng news
At the fair you can buy fresh vegetables and herbs, pickled products, honey and bee products, bakery and confectionery products, dairy, fish, meat products from producers from Vladivostok, Arseniev,...

29-04-2013, 10:00, eng news
The most "suburban" district of Primorye was chosen by vagrants and outcasts that bring a lot of trouble respectable citizens......

3-08-2013, 15:17, eng news
Trade fair of Indian goods opened Friday in the sports complex "Dynamo". The exhibition hall is not overcrowded, many residents and visitors came to see the products in the hot sun of India, as...
4-05-2013, 16:20, eng news
Participants motorcycle clubs and bikers single for a few hours have gathered in the center to see people and be seen. (PHOTOS)......

24-04-2013, 12:21, eng news
From 22 to 24 April in the capital of Primorye, a competition "Miss DVRTS Russian Ministry of Emergency Situations." Beauty contest of beauty among employees of MES It brings beauty, worked in the...