ЗНАКОМСТВА
КРАСОТА
ЗДОРОВЬЕ
ТУРИЗМ
АВТОНОВОСТИ
НОВОСТИ СПОРТА
Citywide Fair continues at the central square of Vladivostok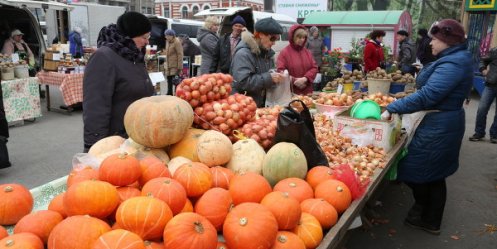 Photo: RIA "Novosti"

Revolution Fighters on the area continues Food Fair. Today, April 12 and tomorrow at the citywide fair can buy vegetables, pickles, honey and bee products, fish, meat products, bakery and confectionery products from manufacturers from Vladivostok Arsenyev Lesozavodsk, Spassky, October district and other districts of Primorye. Their products are presented to 200 producers of Primorsky Krai.

As noted in the management of Trade and Services Administration of Vladivostok, fairs are held to the numerous requests of citizens in order to saturate the consumer market for agricultural products and products of local manufacturers, creating conditions for healthy competition in prices. Food Fair will run weekly on Fridays and Saturdays from 9 to 18 hours, except for the days when the central area will be held solemn and festive events.

Vladivostok Administration invites you to participate in the fair legal entities and individual entrepreneurs registered in accordance with applicable Russian legislation, citizens, the leading country (farmer), personal and household plots.

For more information, contact the Department of Agriculture and Fisheries of the Department of Trade and Services, tel: (423) 261447926144412614442.
28-06-2013, 21:15, eng news
Investigators in the Primorye Territory has completed work on the criminal case against veterinarian KGVBU "Coastal Veterinary Services." Veterinarian goes on trial for bribery She is accused of...

13-08-2013, 11:30, eng news
The investigating authorities in Primorye have completed work on the criminal case against the director of a vocational school number 57 village stone-Fisherman. Duma deputy Khankaisky district is...

22-07-2013, 19:33, eng news
In the passenger seat of the moped were two friends - 16 and 17 years old. As a result of hitting a girl to ride mopeds, and one of her passengers received head injuries and were taken to the...

1-05-2013, 00:10, eng news
In late April, on the banks of the shallow bays of the Amur Bay locals found the body of a man in winter clothes. It is reported VL.ru. According to preliminary information, found the body belongs to...

27-07-2013, 20:30, eng news
In Primorye, to long prison sentenced a former police officer for the commission of a crime against life. Khasan district court convicted a former employee OGIBDD OMVD Russia's Khasan district, who...
4-06-2013, 15:02, eng news
Flowers, shrubs, new lawn and even blue tree now decorate the area near the kindergarten № 11 on the street of Admiral Kuznetsov, 46a. Parents whose children attend this pre-school institution,...

22-03-2013, 05:17, eng news
nonexistent. The actions of the attacker hit 44 people from different regions. The damage caused by his actions amounted to 2299583 rubles......

11-04-2013, 15:50, eng news
Vladimir Miklushevsky instructed to maximize the list of categories of "people's control", and introduce a system of feedback......

30-07-2013, 13:17, eng news
Daily brigade Municipal Enterprise "Roads of Vladivostok" renew road design - establish and maintain traffic signs, traffic lights and road markings are applied, which improves the capacity of the...

13-09-2013, 03:02, eng news
At Thursday, December 12 at an extraordinary meeting of the Duma of Vladivostok Igor Pushkarev officially took over as head of the city. The inauguration ceremony was held on the island of Russian,...