ЗНАКОМСТВА
КРАСОТА
ЗДОРОВЬЕ
ТУРИЗМ
АВТОНОВОСТИ
НОВОСТИ СПОРТА
Citywide Fair continues at the central square of Vladivostok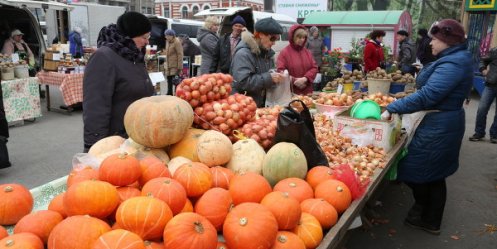 Photo: RIA "Novosti"

Revolution Fighters on the area continues Food Fair. Today, April 12 and tomorrow at the citywide fair can buy vegetables, pickles, honey and bee products, fish, meat products, bakery and confectionery products from manufacturers from Vladivostok Arsenyev Lesozavodsk, Spassky, October district and other districts of Primorye. Their products are presented to 200 producers of Primorsky Krai.

As noted in the management of Trade and Services Administration of Vladivostok, fairs are held to the numerous requests of citizens in order to saturate the consumer market for agricultural products and products of local manufacturers, creating conditions for healthy competition in prices. Food Fair will run weekly on Fridays and Saturdays from 9 to 18 hours, except for the days when the central area will be held solemn and festive events.

Vladivostok Administration invites you to participate in the fair legal entities and individual entrepreneurs registered in accordance with applicable Russian legislation, citizens, the leading country (farmer), personal and household plots.

For more information, contact the Department of Agriculture and Fisheries of the Department of Trade and Services, tel: (423) 261447926144412614442.
18-06-2013, 09:45, eng news
There may be difficulties in professional communication, it may come to a complete rupture of business ties, but you will have a chance to find a common language with the right partner. Well going to...

26-03-2013, 14:40, eng news
Vasily Sysoykin suspected of stealing half a billion rubles, but according to the information available, he has already left Primorye......

22-03-2013, 03:24, eng news
The idea of the Prime Minister on the establishment of a tax-free zone in the Far East, criticized by experts......

1-07-2013, 11:45, eng news
Local resident is in the dispensary at a medical facility with lung disease since 2007. In February 2013 the patient was recorded deterioration in health status, however, on the proposal of the...
17-05-2013, 18:20, eng news
In April and May, the city passed Ecological game. They were attended by pupils of secondary schools in Vladivostok......
24-06-2013, 21:45, eng news
Primorsky Territory Governor Vladimir Miklushevsky today, June 24 held a coordination meeting on law and order in the Primorye Territory. The main theme of the meeting - the outcome of the law...

21-03-2013, 03:48, eng news
Department of Education and Science of the Primorsky Territory conducts regional competition of excellence "Best Professional Electrician"......
24-07-2013, 14:11, eng news
The long-awaited opening of the monument to Vladimir Vysotsky in Vladivostok held on July 25 at 18 pm in the Theater Square at the address. Svetlanskaya 49. Administration of Vladivostok invites all...

4-04-2013, 11:30, eng news
Unique flash mob in honor of the city is planning to organize the administration of Vladivostok with thousands of people at the Golden Bridge. It is planned that a flash mob can go on July 7. Day in...

10-04-2013, 18:50, eng news
Now managed by the organization must disclose obshschuyu information on their activities and key financial and economic indicators......