ЗНАКОМСТВА
КРАСОТА
ЗДОРОВЬЕ
ТУРИЗМ
АВТОНОВОСТИ
НОВОСТИ СПОРТА
Japan reported a record 222-meter pearl necklace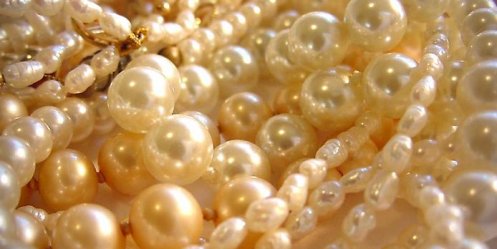 Photo: ITAR-TASS

The world's longest pearl necklace length 222 meters are on display in the Japanese city of Osaka, ITAR-TASS . As reported by the local media today, the decoration was included in the Guinness Book.

Weight necklace is almost 20 kg, and it was created out of 28 thousand pearls.

Despite repeated requests, the organizers of the exhibition emphasize that the necklace will not be sold. At its creation took three months, and most of the pearls were provided free of charge by local residents, and even foreign tourists.

Organizers - Mie Prefecture Tourist Association - expect to secure for their region status main provider and manufacturer of pearls, not only in Japan but also around the world. It is noteworthy that the previous record also belonged to the same Japanese prefecture of Ehime jewelers and is 187 meters in length.

28-07-2013, 10:47, eng news
Investigators MOI of Russia for the Primorye Territory completed the investigation of a criminal case on the fact of official GBVD using his official position. Crime revealed operatives of the...

13-04-2013, 16:00, eng news
A week later, on April 19 the vice-governor of Irina Vasilkova talk about the final selection of the building. The final decision will be for the governor Vladimir Miklushevsky......

28-03-2013, 05:00, eng news
Employees of private security arrived on the scene, involved in the incident were detained and taken to the police station for investigation......

6-08-2013, 15:00, eng news
Vladivostok rival teams will Bashkir "Salavat". Racers "East" invite their fans, residents and visitors to the Russian championship race in 2013. Tickets can be purchased at the stadium "Vanguard"....

29-08-2013, 15:16, eng news
Construction VKAD (Vladivostok ring road) is now perhaps one of the most talked about development projects of the city. This is not surprising: the new route is designed to rid the city of traffic...

25-04-2013, 14:10, eng news
Because grown twice as payments to the Pension Fund of thousands of coastal businesses have closed the "shop."......

6-03-2013, 10:11, eng news
Vladivostok completed the investigation of the criminal case against the two juveniles accused of delivery of drugs. Two 17-year olds for a fee, each performing its role, sent via courier Vladivostok...

5-08-2013, 22:32, eng news
Before the flight team in Nazran Ukrainian striker gave an interview to the press service of the club. You - the author of the first goal, "Ray-Energy" in sezone-2013/2013. About emotions that are...

2-09-2013, 18:15, eng news
In August 2013 the Department for non-profit organizations the control of Ministry of Justice of Russia on the results of monitoring the activities of non-profit organizations in the courts of the...

28-03-2013, 07:00, eng news
A "round table" on the problems and prospects of the development of entrepreneurship in the field of early childhood education......