ЗНАКОМСТВА
КРАСОТА
ЗДОРОВЬЕ
ТУРИЗМ
АВТОНОВОСТИ
НОВОСТИ СПОРТА
Space fans spotted in images Curiosity Soviet station "Mars-3"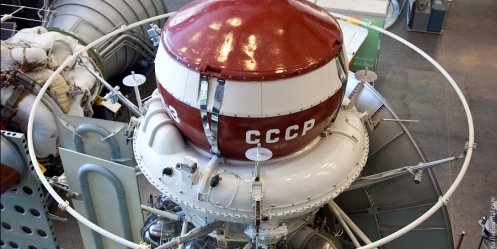 Photo: mareeva-irina.livejournal.com

Russian space enthusiasts and professionals NASA found in images of the Martian surface Soviet probe "Mars-3", landed on the planet in December 1971 RIA Novosti reported.

Automatic station "Mars-3" was launched to Mars May 291971 and December 2 its lander entered the planet's atmosphere and landed safely - the first in history and the only one in the Soviet Mars program. The probe began to transmit information, but after 14.5 seconds the connection was lost. According to experts, e-filling unit was "killed" by static electricity that builds up in the extremely dry conditions of Mars.

In December 2012 the Network Creator, dedicated rover Curiosity in the social network "Vkontakte", Vitaly Egorov found in images of the probe MRO (Mars Reconnaissance Orbiter) object, very similar to the Soviet station. He was almost to the point that as a landing site indicated Soviet designers - 45 degrees south latitude, 158 degrees west longitude. Egorov contacted Professor of the Institute of Geochemistry and Analytical Chemistry, Vernadsky Alexander Basilevsky, mediated by NASA on March 10 this year, organized a new survey from the MRO.

Pictures with a resolution of about 25 centimeters per pixel are distinctively discharged rod with soft-landing engines, brake cone, parachute and the lander itself of about 1.5 meters. NASA noted that the location of these parts "amazing as expected for" Mars-3 ", but still can not exclude alternative explanations."

"Pictures of the surface of Mars available to everyone. I was wondering myself, and I wanted to show that Mars may be the researcher each, enough to make a little effort and have access to the Internet. More importantly - to remind the younger generation that we are also" on the dusty paths of far planets "left their mark, and now a lot of talk about the achievements of NASA and its history is forgotten," - Said the Egorov.
21-04-2013, 16:30, eng news
On April 16 in Vladivostok introduce an extra platform for exploring......

23-07-2013, 16:02, eng news
From 22 to 28 July in Croatia will be held XII European Championship for student teams. In Split arrived students from 25 universities representing 14 European countries: Croatia, Austria, France,...

13-04-2013, 12:00, eng news
From the beginning, in Primorye disbanded more than three thousand IP - pay 34000 a year for them was not under force......
15-05-2013, 14:20, eng news
today. In the area of public transport by Nekrasov, 50 in the right lane of the carriageway slab due to the destruction of the manhole there was a failure of the roadway......

21-08-2013, 23:17, eng news
The head of Khabarovsk Alexander Sokolov made a statement to the media, in which he said that the mass evacuation of residents of Khabarovsk will begin when the level of the Amur River will reach 780...

16-08-2013, 17:32, eng news
In Suifenhe the first international exhibition of cross-border trade. It was attended by 938 companies from Russia and Asia-Pacific countries. Tourism Primorye interested in Chinese during the...

1-04-2013, 04:10, eng news
Gardeners can get a lump sum payment of travel suburban area of 3000......
9-04-2013, 15:01, eng news
Early in the morning on a bridge on the Russian island man, out of the car, climbed over the fence and into the water. Suicide in Vladivostok jumped off a bridge bridge guards noticed the man had...

31-07-2013, 20:16, eng news
To equip the seaside hospital with modern equipment to help deal with bronchopulmonary diseases, spent more than 137 million rubles. With the money acquired more than 170 items of special medical...
25-03-2013, 20:31, eng news
Working in Primorye through an army of brokers, Taobao has pulled on a major share of buyers from shopping centers. Traditional trade sensed danger, but so far little thought about the real salvation...