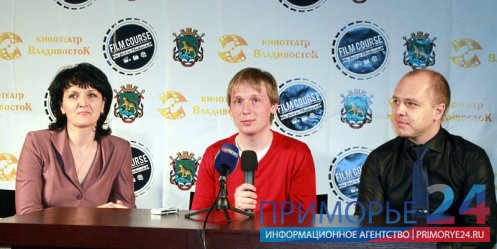 Photo: Anatoly Filatov

The regiment arrived Vladivostok festivals: May 11 is the first time held a monthly Youth Film Festival, which will be able to participate in all the young people of Vladivostok from 14 to 30 years.

Festival over substantially different from those already seen Vladivostok film projects. First, it does not have its own name. Organizer Tikhon Makarov puts it this way: " We do not need loud and pretentious names, although they think would not have been difficult. It is important for young people to understand: you can come here and show his film, they see it, and you yourself will be able to get a cash reward and the incentive to move on ".

Young and ambitious filmmakers supported the Administration of Vladivostok. " Very important for us to support such projects. We hope that this festival will be a platform for the creative realization of young people in Vladivostok who want to do a movie " - Said the head of the promotion of youth creativity Administration of Vladivostok Dmitry Nesterenko .

" Indeed, when I met with the head of Igor Pushkarev, and told him the essence of the idea, he said only two words:" Tikhon help "- Confirms Makarov In the meantime - the project reigns full democracy. Chief and almost the only condition - to be a director, screenwriter and producer of his own cinematographic with timing to 15 minutes and apply to participate in Project site" Kinokurs "

Authors are not limited to theme, genre and other" conventional ": You can shoot a drama, comedy or thriller, documentary, art, music, movies, commercials and music videos. This 15-second entertainment clips can be paired with a 15-minute author Exercise, and 15-year-old stand against the 15-year-olds.

First Vladivostok Film Festival will be held at the Olympic system - movies, participants will split into pairs and will be competing for audience sympathy as long as there will be only one winner, who will receive the Grand Prix - 40 thousand rubles. winner of last month will not "festival" in the next - it is an essential condition. " To successful professionals do not render part in our festival job with a salary "- Explained IA Primore24 Tikhon Makarov

" Entrance for spectators will be absolutely free. Films will be shown as participants in the Great Hall, which is designed for 317 spectators, and 6 plasma screens in the cinema so that spectators and participants to stay in our cafe. Festival will be held on Saturday, in the first half of the day "- Said Antonina Ivanova , Director of cinema" Vladivostok ", which became the site of the project.

Organizers assured that the project will find its audience, and every month his popularity to grow." We already have a fellow of international renown, it's time to help us reach this level of youth. Is - a chance for many. The guys have taken a lot of work to just lie in wait in the wings, its audience. Now they will find each other "- Said Antonina Ivanova " Offhand I can name 10 people who will participate in this project. And it certainly would not I! "- Continued Tikhon Makarov Dmitry Nesterenko Added that the Administration of Vladivostok and the Office of Youth Affairs will do everything we can to coverage of the festival was of the most massive.

Deadline starts tomorrow, April 12.