ЗНАКОМСТВА
КРАСОТА
ЗДОРОВЬЕ
ТУРИЗМ
АВТОНОВОСТИ
НОВОСТИ СПОРТА
In a newly built garden Nekrasovskaya finished facade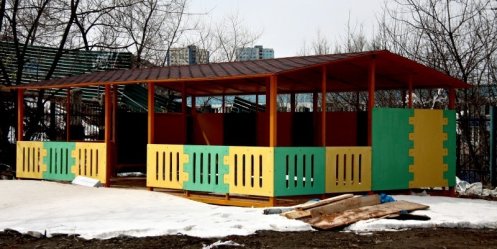 In Vladivostok, the reconstruction of the building of the kindergarten in the street Nekrasovskaya, 76.
As told Foreman Denis Nepomnyashchikh already completely done facade had electrics, water and sewer, installed interior doors. Now under way landscaping and installation of children's playgrounds and shade canopies. In the near future will begin to install the curb.
Recall preschool up to 180 kids. More than 10 years ago, the previous government gave the building to rent. All these years, it was a building FENTU Oriental Institute. When the lease is over, it was decided not to renew it. The head of Vladivostok Igor Pushkarev ordered a necessary repairs and return the kindergarten children.
According to the experts, the building is heavily worn, so there is not just repair, but little construction. On the first floor there are two project groups for young children and one for the secondary, the security room, central hall, administrative offices, a kitchen block. On the second floor - a group for middle-aged and older, gym exercise with utility room and a room for private lessons, as well as room for music lessons.
In addition, under the control of the mayor - for the future construction of gardens, fir, Sverdlov, and Tereshkova.
Recall the construction and reconstruction of kindergartens in the last four years have significantly reduced the queue. At the moment, all the children from 4 to 7 years and half of the children three years of age enrolled in a single electronic queue, go to preschool. Since the beginning of 2013 has opened two new kindergartens - "Forest Fairy Tale" on Ugryumova, 42 and the "Crane" on Sakhalin, 37a. Construction and repair is underway on Balyaeva, 48 Makovsky, 201 Neybuta, 47 b, and Russian, 53 and Gulbinovicha, 4.
28-05-2013, 10:30, eng news
On Monday, May 27 the residents of the street in Vladivostok Nekrasovskii witnessed the terrible spectacle - from the market to the people left homeless five dogs in dogs was foaming at the mouth,...

20-09-2013, 16:33, eng news
In Vladivostok, opened an international seminar on "Media World." It is attended by about 50 representatives of the media, employees Societies for Friendship with Foreign Countries, Foreign Affairs...

10-09-2013, 02:41, eng news
TV broadcasting in analog format in Russia completely cease from 1 July 2018. Turning off the analog signal in the regions will take place as soon as available. As noted, before disabling the digital...

29-04-2013, 09:00, eng news
Maritime squad of 9 people acted in all six weight categories. Our athletes have shown a very good result, taking almost all the "gold." (PHOTOS)......

24-05-2013, 09:20, eng news
chance of rain. The region places a little rain. On the coast, fog in places. Wind southwest moderate. Air temperature +7 +29 ° C......

3-05-2013, 13:20, eng news
polls. 24% of respondents reported non-believers that will not celebrate Easter. In this case, 42% of atheists are going to cook cakes, paint eggs, etc......
6-05-2013, 11:30, eng news
May 6 and 7 at Theater Square of Vladivostok will operate a mobile video studio, cameraman, director and makeup artist. Vladivostok residents are invited to write for veterans videopozdravlenie...

1-07-2013, 21:17, eng news
As shown by the result, at the direction of the entrepreneur workers brigade within four months cut down the forest stands within the plot № 9 of the Dalnegorsk district forestry St. Olga branch КГКУ...

16-09-2013, 17:30, eng news
Thirteen fire brigades eliminate fire on a nuclear submarine "Irkutsk", which is being repaired at a shipyard in Bolshoi Kamen. Heavy smoke arose during welding operations. Now fire shed space...

31-07-2013, 13:48, eng news
August 1 will be opened in Vladivostok Center for Contemporary Art "Dawn." This is a significant event in the cultural life of the city, which was eagerly awaited by many lovers of contemporary art....