ЗНАКОМСТВА
КРАСОТА
ЗДОРОВЬЕ
ТУРИЗМ
АВТОНОВОСТИ
НОВОСТИ СПОРТА
Hour Savings pavilion opened at Prospect of the Red Banner, 90 Vladivostok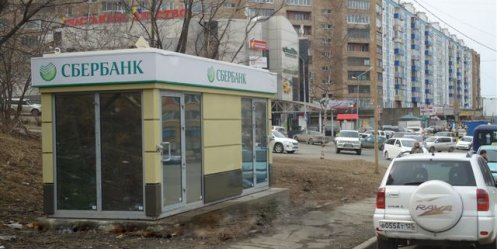 The new self-service pavilion opened Savings in Vladivostok. It is conveniently located near the supermarket "Ring" at Prospect of the Red Banner. Now the residents of the coastal capital can make hundreds of transactions with their finances around the clock.
The pavilion has two separate inputs (two zones of self-service), access to which is by credit card. Each area has ATMs and payment terminal. Customers of the bank at any time be able to remove or insert the card cash, pay for communication services and utilities, penalties and taxes, to repay the loan (and not only the Savings Bank, and other banks), open to supplement the contribution, transfer money from card to map and make dozens of other banking operations.
- More and more operations today our customers make their own - it's fast, comfortable and modern, - Says head of the remote service channels Primorsky branch № 8635 OJSC "Sberbank of Russia" Svetlana Kalinina. - Therefore creates Savings in Primorye extensive network of offices and halls self. Today only in Vladivostok are 5 offices and 11 pavilions self. Due to the wide development of modern technology, it is now 75 per cent of the operations performed in remote mode: in (ATMs and payment terminals), via Internet banking "Sberbank SHC @ dh" or mobile telephone service ("Mobile Bank").
28-06-2013, 21:15, eng news
Investigators in the Primorye Territory has completed work on the criminal case against veterinarian KGVBU "Coastal Veterinary Services." Veterinarian goes on trial for bribery She is accused of...

13-08-2013, 11:30, eng news
The investigating authorities in Primorye have completed work on the criminal case against the director of a vocational school number 57 village stone-Fisherman. Duma deputy Khankaisky district is...

22-07-2013, 19:33, eng news
In the passenger seat of the moped were two friends - 16 and 17 years old. As a result of hitting a girl to ride mopeds, and one of her passengers received head injuries and were taken to the...

1-05-2013, 00:10, eng news
In late April, on the banks of the shallow bays of the Amur Bay locals found the body of a man in winter clothes. It is reported VL.ru. According to preliminary information, found the body belongs to...

27-07-2013, 20:30, eng news
In Primorye, to long prison sentenced a former police officer for the commission of a crime against life. Khasan district court convicted a former employee OGIBDD OMVD Russia's Khasan district, who...
4-06-2013, 15:02, eng news
Flowers, shrubs, new lawn and even blue tree now decorate the area near the kindergarten № 11 on the street of Admiral Kuznetsov, 46a. Parents whose children attend this pre-school institution,...

22-03-2013, 05:17, eng news
nonexistent. The actions of the attacker hit 44 people from different regions. The damage caused by his actions amounted to 2299583 rubles......

11-04-2013, 15:50, eng news
Vladimir Miklushevsky instructed to maximize the list of categories of "people's control", and introduce a system of feedback......

30-07-2013, 13:17, eng news
Daily brigade Municipal Enterprise "Roads of Vladivostok" renew road design - establish and maintain traffic signs, traffic lights and road markings are applied, which improves the capacity of the...

13-09-2013, 03:02, eng news
At Thursday, December 12 at an extraordinary meeting of the Duma of Vladivostok Igor Pushkarev officially took over as head of the city. The inauguration ceremony was held on the island of Russian,...