ЗНАКОМСТВА
КРАСОТА
ЗДОРОВЬЕ
ТУРИЗМ
АВТОНОВОСТИ
НОВОСТИ СПОРТА
Hour Savings pavilion opened at Prospect of the Red Banner, 90 Vladivostok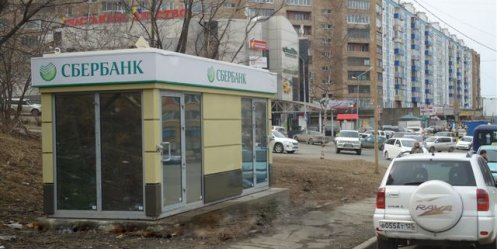 The new self-service pavilion opened Savings in Vladivostok. It is conveniently located near the supermarket "Ring" at Prospect of the Red Banner. Now the residents of the coastal capital can make hundreds of transactions with their finances around the clock.
The pavilion has two separate inputs (two zones of self-service), access to which is by credit card. Each area has ATMs and payment terminal. Customers of the bank at any time be able to remove or insert the card cash, pay for communication services and utilities, penalties and taxes, to repay the loan (and not only the Savings Bank, and other banks), open to supplement the contribution, transfer money from card to map and make dozens of other banking operations.
- More and more operations today our customers make their own - it's fast, comfortable and modern, - Says head of the remote service channels Primorsky branch № 8635 OJSC "Sberbank of Russia" Svetlana Kalinina. - Therefore creates Savings in Primorye extensive network of offices and halls self. Today only in Vladivostok are 5 offices and 11 pavilions self. Due to the wide development of modern technology, it is now 75 per cent of the operations performed in remote mode: in (ATMs and payment terminals), via Internet banking "Sberbank SHC @ dh" or mobile telephone service ("Mobile Bank").
18-06-2013, 09:45, eng news
There may be difficulties in professional communication, it may come to a complete rupture of business ties, but you will have a chance to find a common language with the right partner. Well going to...

26-03-2013, 14:40, eng news
Vasily Sysoykin suspected of stealing half a billion rubles, but according to the information available, he has already left Primorye......

22-03-2013, 03:24, eng news
The idea of the Prime Minister on the establishment of a tax-free zone in the Far East, criticized by experts......

1-07-2013, 11:45, eng news
Local resident is in the dispensary at a medical facility with lung disease since 2007. In February 2013 the patient was recorded deterioration in health status, however, on the proposal of the...
17-05-2013, 18:20, eng news
In April and May, the city passed Ecological game. They were attended by pupils of secondary schools in Vladivostok......
24-06-2013, 21:45, eng news
Primorsky Territory Governor Vladimir Miklushevsky today, June 24 held a coordination meeting on law and order in the Primorye Territory. The main theme of the meeting - the outcome of the law...

21-03-2013, 03:48, eng news
Department of Education and Science of the Primorsky Territory conducts regional competition of excellence "Best Professional Electrician"......
24-07-2013, 14:11, eng news
The long-awaited opening of the monument to Vladimir Vysotsky in Vladivostok held on July 25 at 18 pm in the Theater Square at the address. Svetlanskaya 49. Administration of Vladivostok invites all...

4-04-2013, 11:30, eng news
Unique flash mob in honor of the city is planning to organize the administration of Vladivostok with thousands of people at the Golden Bridge. It is planned that a flash mob can go on July 7. Day in...

10-04-2013, 18:50, eng news
Now managed by the organization must disclose obshschuyu information on their activities and key financial and economic indicators......