ЗНАКОМСТВА
КРАСОТА
ЗДОРОВЬЕ
ТУРИЗМ
АВТОНОВОСТИ
НОВОСТИ СПОРТА
South Korea braced for a missile attack from North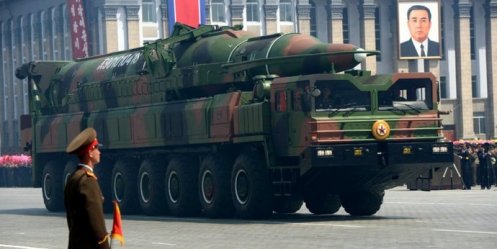 Photo: materials of news

South Korean Foreign Minister Yoon Se Bin (Yun Byung-se), said April 10 that the launch of ballistic missiles by the DPRK can happen at any time. Reported by the agency "Yonhap".

Speaking on Wednesday before the South Korean parliament, the minister said that the probability of launching missiles Pyongyang is very high. According to him, the DPRK may use missile "Musudan" with a range of about 3.5 thousand kilometers, launchers which were previously seen on the east coast of North Korea.

Eun Bin Xie added that Seoul has asked Moscow and Beijing to try to contain Pyongyang from provocative actions. According to the agency, the South Korean and U.S. forces on Wednesday were moved to high alert.

A greater probability of North Korean missile launch was also reported in the U.S. administration. According to an anonymous source CNN, Pyongyang may use one of the mobile launchers. According to him, in contrast to previous tests DPRK authorities can not prevent civilian vessels and aircraft.

Earlier, representatives of the South Korean government said that in addition to the DPRK rocket launch is also preparing for another nuclear test. But South Korea's military later denied this.

The crisis on the Korean peninsula escalated in early 2013. North Korea conducted a nuclear test next February, after which the UN increased sanctions against the country. In return, Pyongyang promised to inflict on the U.S. and South Korea, a nuclear attack, ripped from Seoul pact of non-aggression and encouraged foreigners to leave the Korean peninsula.

4-07-2013, 07:32, eng news
About the organization of educational work told the assistant to the chief GU MVD of Russia in far East Federal district - head of the personnel Department, conspiracy and civil service...
3-06-2013, 14:42, eng news
Check out the recreation center by the sea was a gift for orphans and children left without parental care of the boarding school finds. Orphans Finds received gifts for the holiday holiday in nature...
7-06-2013, 17:16, eng news
Bailiffs in Yakovlevskiy district of Primorye is working on eight execution against a local woman. Negligent mother owed child almost 150 thousand rubles alimony lady in total to 258000 rubles. 148...
24-06-2013, 17:17, eng news
In the capital of Primorye pompously celebrated the day of youth. Saturated programme included many activities, one of the most massive steel «Веловыходные», which were attended by almost 700...

3-07-2013, 16:03, eng news
В этом году формат гонок изменён. Вместо двух привычных «больших треугольников» спортсменов ждут три коротких гонки в субботу в Амурском заливе, ещё одна короткая – в воскресенье. И завершит парусный...

22-07-2013, 19:16, eng news
Bailiffs in the Chernigov region of Primorsky Krai has long tried to collect support from a negligent mother. All possible terms have been completed and are now mothers, deprived of parental rights,...

18-04-2013, 10:10, eng news
In Primorye, arrested two men suspected of using slave labor on ships SS ROSS and SS Vele. The owners of the vessel SS Vele detained in Vladivostok Investigators intercede for their arrest. They are...

19-08-2013, 18:46, eng news
This morning, on an operational planning meeting with the deputy and the head of the city administration, the head of Vladivostok was unhappy that weekend to the most popular destinations - Shamora...

22-04-2013, 19:10, eng news
In the coming months, the missile cruiser "Varyag" will go on a long trip to the Pacific Ocean during a scheduled visit to several foreign ports of the Pacific. (PHOTOS)......

9-04-2013, 19:00, eng news
In Primorye, work began to restore the graves from the Second World War. Who is collecting information about lost tombs, which were on the no man's land. Experts have already travel to areas of...