ЗНАКОМСТВА
КРАСОТА
ЗДОРОВЬЕ
ТУРИЗМ
АВТОНОВОСТИ
НОВОСТИ СПОРТА
North Korea launched to combat positions several missiles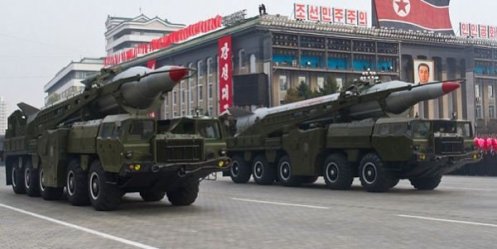 Photo: topwar.ru

North Korea has completed filling liquid fuel two medium range ballistic missiles "Musudan" range of up to four thousand kilometers and is now ready to run them at any time from ITAR-TASS referring to to Japanese news agencies and U.S. intelligence sources.

The Ministry of Defense of South Korea today announced that in the same area to take positions additionally installed several ballistic missiles Range "Scud" and "Rodong".

A total of area of Wonsan space exploration recorded two mobile units with medium-range missiles, code-named "Musudan". They have the potential to hit targets throughout Japan and in the U.S. Pacific island of Guam.

In parallel with the positions at Wonsan on the coast of South Hamgyong Province in northeastern North Korea recorded deployed in the firing position one more missile units. In its structure - up to five mobile launchers. Analysis of the images from space shows that they placed ballistic missiles "Scud" a range of 300-500 km and a "Nodong" range of about 1.3 thousand km.

Mobile and potentially more advanced missiles "Musudan" until now still have never tested. Therefore simultaneous launch with them more fulfilled "Scud" or "Rodong" must compensate the possible failure on startup "Musudanov" and in any case to demonstrate the military power in Pyongyang.

21-05-2013, 15:20, eng news
According to the press service of the city administration, the order-to-work is open until the end of May, by which time workers have to bring the place back in order. (PHOTOS)......

1-08-2013, 14:02, eng news
As the head of the department of medical care to adults Olga Mehantseva, deaths from respiratory diseases is still higher than the province's average figure of 15%. "Respiratory diseases are the...

8-03-2013, 09:52, eng news
The famous singer is not the first time arrives in the capital of Primorye - his last concert was a huge success......
26-06-2013, 16:46, eng news
The water will come out two classes of yacht «Konrad 25P» and «Platu 25». To date, both classes have a finals three races. Talk about the definite leaders of the competition it is too early regatta...

1-07-2013, 11:46, eng news
Obstetric Department of the institution resumed its work after the planned sanitary processing and ventilation. As has informed the head physician of the КГБУЗ Vladivostok clinical maternity hospital...

4-07-2013, 19:45, eng news
The Investigative Committee on Transport has completed the investigation of the criminal case against the former head of the customs office seaport of Vladivostok Vladivostok customs. He is accused...
25-06-2013, 12:15, eng news
In extinguishing were involved 76 personnel and 22 vehicles. Main Department of EMERCOM of Russia for the Primorsky Krai strongly recommends that you always follow fire safety regulations and do not...
5-06-2013, 20:16, eng news
To solve the problem of traffic jams in Vladivostok, including, in the heart of the city, in recent years, the city administration has taken a series of measures. And this work continues. According...
12-07-2013, 20:46, eng news
Branch "Primorsk heating networks" of "Eastern generating company" informs its customers that due to the relaying of heating systems from July 12 to August 15 will be turned off hot water consumers...
8-07-2013, 18:31, eng news
Напомним, конкурс проводят департамент культуры Приморского края и местное отделение Союза Российских писателей при поддержке краевых литературных объединений. «Создавая современную летопись...