ЗНАКОМСТВА
КРАСОТА
ЗДОРОВЬЕ
ТУРИЗМ
АВТОНОВОСТИ
НОВОСТИ СПОРТА
North Korea launched to combat positions several missiles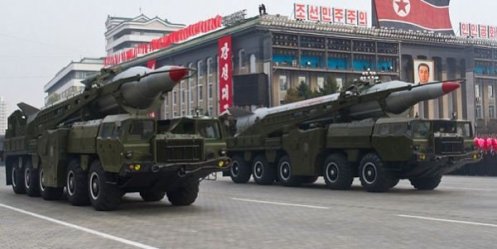 Photo: topwar.ru

North Korea has completed filling liquid fuel two medium range ballistic missiles "Musudan" range of up to four thousand kilometers and is now ready to run them at any time from ITAR-TASS referring to to Japanese news agencies and U.S. intelligence sources.

The Ministry of Defense of South Korea today announced that in the same area to take positions additionally installed several ballistic missiles Range "Scud" and "Rodong".

A total of area of Wonsan space exploration recorded two mobile units with medium-range missiles, code-named "Musudan". They have the potential to hit targets throughout Japan and in the U.S. Pacific island of Guam.

In parallel with the positions at Wonsan on the coast of South Hamgyong Province in northeastern North Korea recorded deployed in the firing position one more missile units. In its structure - up to five mobile launchers. Analysis of the images from space shows that they placed ballistic missiles "Scud" a range of 300-500 km and a "Nodong" range of about 1.3 thousand km.

Mobile and potentially more advanced missiles "Musudan" until now still have never tested. Therefore simultaneous launch with them more fulfilled "Scud" or "Rodong" must compensate the possible failure on startup "Musudanov" and in any case to demonstrate the military power in Pyongyang.
18-06-2013, 09:45, eng news
There may be difficulties in professional communication, it may come to a complete rupture of business ties, but you will have a chance to find a common language with the right partner. Well going to...

26-03-2013, 14:40, eng news
Vasily Sysoykin suspected of stealing half a billion rubles, but according to the information available, he has already left Primorye......

22-03-2013, 03:24, eng news
The idea of the Prime Minister on the establishment of a tax-free zone in the Far East, criticized by experts......

1-07-2013, 11:45, eng news
Local resident is in the dispensary at a medical facility with lung disease since 2007. In February 2013 the patient was recorded deterioration in health status, however, on the proposal of the...
17-05-2013, 18:20, eng news
In April and May, the city passed Ecological game. They were attended by pupils of secondary schools in Vladivostok......
24-06-2013, 21:45, eng news
Primorsky Territory Governor Vladimir Miklushevsky today, June 24 held a coordination meeting on law and order in the Primorye Territory. The main theme of the meeting - the outcome of the law...

21-03-2013, 03:48, eng news
Department of Education and Science of the Primorsky Territory conducts regional competition of excellence "Best Professional Electrician"......
24-07-2013, 14:11, eng news
The long-awaited opening of the monument to Vladimir Vysotsky in Vladivostok held on July 25 at 18 pm in the Theater Square at the address. Svetlanskaya 49. Administration of Vladivostok invites all...

4-04-2013, 11:30, eng news
Unique flash mob in honor of the city is planning to organize the administration of Vladivostok with thousands of people at the Golden Bridge. It is planned that a flash mob can go on July 7. Day in...

10-04-2013, 18:50, eng news
Now managed by the organization must disclose obshschuyu information on their activities and key financial and economic indicators......