ЗНАКОМСТВА
КРАСОТА
ЗДОРОВЬЕ
ТУРИЗМ
АВТОНОВОСТИ
НОВОСТИ СПОРТА
North Korea launched to combat positions several missiles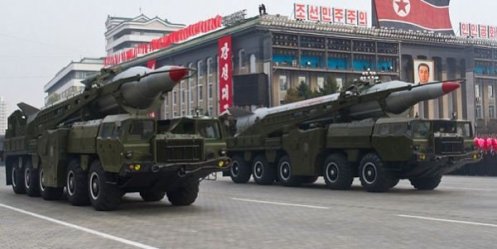 Photo: topwar.ru

North Korea has completed filling liquid fuel two medium range ballistic missiles "Musudan" range of up to four thousand kilometers and is now ready to run them at any time from ITAR-TASS referring to to Japanese news agencies and U.S. intelligence sources.

The Ministry of Defense of South Korea today announced that in the same area to take positions additionally installed several ballistic missiles Range "Scud" and "Rodong".

A total of area of Wonsan space exploration recorded two mobile units with medium-range missiles, code-named "Musudan". They have the potential to hit targets throughout Japan and in the U.S. Pacific island of Guam.

In parallel with the positions at Wonsan on the coast of South Hamgyong Province in northeastern North Korea recorded deployed in the firing position one more missile units. In its structure - up to five mobile launchers. Analysis of the images from space shows that they placed ballistic missiles "Scud" a range of 300-500 km and a "Nodong" range of about 1.3 thousand km.

Mobile and potentially more advanced missiles "Musudan" until now still have never tested. Therefore simultaneous launch with them more fulfilled "Scud" or "Rodong" must compensate the possible failure on startup "Musudanov" and in any case to demonstrate the military power in Pyongyang.
28-06-2013, 21:15, eng news
Investigators in the Primorye Territory has completed work on the criminal case against veterinarian KGVBU "Coastal Veterinary Services." Veterinarian goes on trial for bribery She is accused of...

13-08-2013, 11:30, eng news
The investigating authorities in Primorye have completed work on the criminal case against the director of a vocational school number 57 village stone-Fisherman. Duma deputy Khankaisky district is...

22-07-2013, 19:33, eng news
In the passenger seat of the moped were two friends - 16 and 17 years old. As a result of hitting a girl to ride mopeds, and one of her passengers received head injuries and were taken to the...

1-05-2013, 00:10, eng news
In late April, on the banks of the shallow bays of the Amur Bay locals found the body of a man in winter clothes. It is reported VL.ru. According to preliminary information, found the body belongs to...

27-07-2013, 20:30, eng news
In Primorye, to long prison sentenced a former police officer for the commission of a crime against life. Khasan district court convicted a former employee OGIBDD OMVD Russia's Khasan district, who...
4-06-2013, 15:02, eng news
Flowers, shrubs, new lawn and even blue tree now decorate the area near the kindergarten № 11 on the street of Admiral Kuznetsov, 46a. Parents whose children attend this pre-school institution,...

22-03-2013, 05:17, eng news
nonexistent. The actions of the attacker hit 44 people from different regions. The damage caused by his actions amounted to 2299583 rubles......

11-04-2013, 15:50, eng news
Vladimir Miklushevsky instructed to maximize the list of categories of "people's control", and introduce a system of feedback......

30-07-2013, 13:17, eng news
Daily brigade Municipal Enterprise "Roads of Vladivostok" renew road design - establish and maintain traffic signs, traffic lights and road markings are applied, which improves the capacity of the...

13-09-2013, 03:02, eng news
At Thursday, December 12 at an extraordinary meeting of the Duma of Vladivostok Igor Pushkarev officially took over as head of the city. The inauguration ceremony was held on the island of Russian,...