ЗНАКОМСТВА
КРАСОТА
ЗДОРОВЬЕ
ТУРИЗМ
АВТОНОВОСТИ
НОВОСТИ СПОРТА
North Korea launched to combat positions several missiles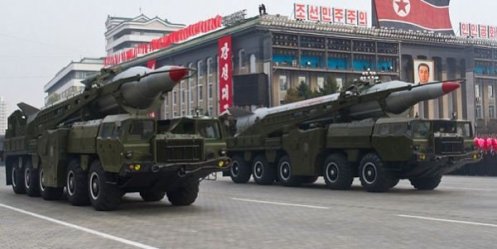 Photo: topwar.ru

North Korea has completed filling liquid fuel two medium range ballistic missiles "Musudan" range of up to four thousand kilometers and is now ready to run them at any time from ITAR-TASS referring to to Japanese news agencies and U.S. intelligence sources.

The Ministry of Defense of South Korea today announced that in the same area to take positions additionally installed several ballistic missiles Range "Scud" and "Rodong".

A total of area of Wonsan space exploration recorded two mobile units with medium-range missiles, code-named "Musudan". They have the potential to hit targets throughout Japan and in the U.S. Pacific island of Guam.

In parallel with the positions at Wonsan on the coast of South Hamgyong Province in northeastern North Korea recorded deployed in the firing position one more missile units. In its structure - up to five mobile launchers. Analysis of the images from space shows that they placed ballistic missiles "Scud" a range of 300-500 km and a "Nodong" range of about 1.3 thousand km.

Mobile and potentially more advanced missiles "Musudan" until now still have never tested. Therefore simultaneous launch with them more fulfilled "Scud" or "Rodong" must compensate the possible failure on startup "Musudanov" and in any case to demonstrate the military power in Pyongyang.
12-07-2013, 20:15, eng news
On Friday, July 12 Vladivostok Be-200 aircraft of the Far Eastern regional center of the Russian Emergencies Ministry aircraft was delivered to the medical unit. The module is designed for the...

17-09-2013, 14:55, eng news
Tuesday, September 17 the road services of the municipal enterprise "Roads Vladivostok" will begin to repair the joints on Nekrasovskoe overpass. Work will begin on the site from public...

7-05-2013, 11:20, eng news
B. The court of Injustice was convicted of forgery and embezzlement. He was sentenced to 4 years imprisonment......
22-06-2013, 22:45, eng news
Депутаты гордумы ответили категорическим отказом на просьбы руководства университета о персональных налоговых льготах......
19-06-2013, 18:00, eng news
Fishermen - fans in the Bay Rudnevo near the seaside town of Fokino meter shark caught. Meter shark caught by fishermen in the Primorye Experts have determined that the production belongs to the...

12-09-2013, 23:51, eng news
Residents of the area Red River (near Khabarovsk) started to return to their homes. How to tell the Russian Emergency Situations Ministry to provide round the clock security for the population, the...

22-08-2013, 13:17, eng news
Uneasy flood situation that has developed in the Khabarovsk region, not only makes life difficult for people living in low-lying areas of the province, but also animals. On 21 August, the 653...

10-07-2013, 14:33, eng news
July 9th chapter Minvostokrazvitiya Russia Viktor Ishayev met with representatives of the authorities of the Republic of Korea and took part in the 13th session of the Russian-Korean joint commission...

2-04-2013, 07:10, eng news
Public transport will be taken to eliminate road congestion and to increase the capacity of the People's Avenue. (MAP)......

1-04-2013, 13:10, eng news
Now operates absurd principle that postage from China first go to Moscow, and then sent back to the Far East......