ЗНАКОМСТВА
КРАСОТА
ЗДОРОВЬЕ
ТУРИЗМ
АВТОНОВОСТИ
НОВОСТИ СПОРТА
Vladivostok started bimonthly sanitary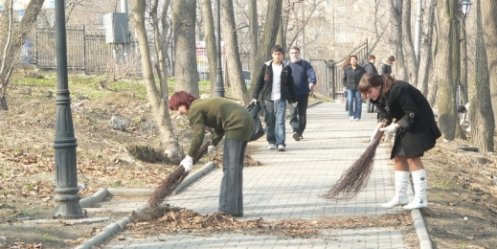 From April 10 to May 31 in Vladivostok will host the traditional two-month cleaning the city, and on April 20 of all residents are invited to participate in a citywide clean-.
To coordinate the work in each area of the city created an office for the bimonthly on the improvement and sanitation. The first staff meeting was held in the Frunze district of Vladivostok. Participants - experts of the city administration, representatives of management companies, educational and medical institutions - to discuss sanitary cleaning subordinate territories and eliminate illegal dumping, removal and disposal of the collected waste.
According to Acting Director MUPV "Spetszavod number 1" Vadim Chebotarev, from 19 to 21 April at MUPV "Spetszavod number 1" the work will be organized as follows - for recycling will take participants gathered Cleanup grass, leaves, branches, free of charge. Solid waste and construction waste will be accepted only in special vehicles with permits stamped "Spetszavoda number 1." "This measure will prevent cases where private companies are brought to recycling garbage is not collected within the work day, and having been removed for a fee from individuals and legal entities. , The pass will be printed MUPV "Spetszavoda number 1." Depending on the needs of such permits will be issued to all district administrations of Vladivostok " - Said Vadim Chebotarev.
Recall that according to the decree of the head of Vladivostok Igor Pushkarev held bimonthly in the large-scale work on cleaning and landscaping, which will cover all the territory of the regional center - the main streets and yards, sidewalks and highways, transitions and squares. Participation in the event will be members of relevant organizations, such as travel services, asset management companies and companies specializing in the garbage disposal, and transportation companies, educational institutions, culture and health. It should be noted that to bring order to their territories must enterprise trade and catering, property owners and tenants of the buildings, as well as enterprises of all forms of ownership.
In particular, management companies must provide repair and painting of small architectural forms on the local area, delivery of land and seedlings for planting and stake beds, installing benches and bins at the entrances of apartment buildings. Transport companies will lead to the proper health and aesthetics of the rolling stock of public transport. MUPV "VPES" will work on cleaning the lighting poles from advertisements and labels, as well as provide sanitary cleaning of the fuel and energy complex (substations, boilers, boiler). OJSC "Electric transport" will hold traditional painting works catenary poles, renovation (painting and sanitary cleaning) tram trailers.

27-05-2013, 17:30, eng news
Primorsky Territory Governor Vladimir Miklushevsky presented the work of the Administration of Territory for 2012 Committee on Fiscal Policy of the Legislative Assembly. "I have carefully prepared...

30-07-2013, 19:02, eng news
Oak Ivan, born 23062009 str. School 74/1 the city Lesozavodsk, Primorsky Krai. Mother - Kochetova Natalia, 31 years old, unemployed and the father of Oak Alexey, 33 a soldier (+79244288317). In June...
22-05-2013, 14:20, eng news
How to ascertain the deputies, to change the situation without the help of the federal and regional budgets in the coming years is unlikely......

22-03-2013, 07:56, eng news
Head of the city underlined the importance of the participation of representatives of the various nationalities in the city festival and events......

9-09-2013, 13:30, eng news
Yesterday at about 19 pm near the village of Lazo Dalnerechensk district police officers noticed a minibus that was going to clear excess speed. The car stopped. Driving a foreign car was a resident...
5-06-2013, 10:00, eng news
ARIES will get a burst of energy and desire to act. You have new interests, almost always associated with wonderful directions in creativity. Will have the opportunity to implement long-standing...

8-05-2013, 17:20, eng news
Honored the memory of fallen soldiers a moment of silence. The memorial, established on the basis of TINRO center, laid flowers......

15-07-2013, 14:48, eng news
Recall, for the same period last year, the damage of "Russian Railways" Vandalism on commuter trains was 39.3 million. Among the offenses related to corruption of the rolling stock, the most common...

31-08-2013, 20:15, eng news
It is worth mentioning that Mark came into the world GT3 race series as the winner of the first championship «Nissan GT Academy 2012" in Russia. Mark Shulzhitsky - pilot from Vladivostok, in 2013 he...
14-06-2013, 21:15, eng news
In Lesozavodskaya urban district, a voluntary fire brigade. Volunteer fire brigades are working in Primorye It consisted of eight villagers Innokentevka, all of them will be special training, each...