ЗНАКОМСТВА
КРАСОТА
ЗДОРОВЬЕ
ТУРИЗМ
АВТОНОВОСТИ
НОВОСТИ СПОРТА
Vladivostok started bimonthly sanitary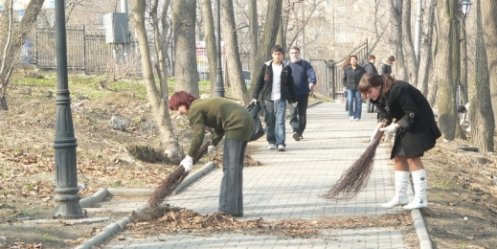 From April 10 to May 31 in Vladivostok will host the traditional two-month cleaning the city, and on April 20 of all residents are invited to participate in a citywide clean-.
To coordinate the work in each area of the city created an office for the bimonthly on the improvement and sanitation. The first staff meeting was held in the Frunze district of Vladivostok. Participants - experts of the city administration, representatives of management companies, educational and medical institutions - to discuss sanitary cleaning subordinate territories and eliminate illegal dumping, removal and disposal of the collected waste.
According to Acting Director MUPV "Spetszavod number 1" Vadim Chebotarev, from 19 to 21 April at MUPV "Spetszavod number 1" the work will be organized as follows - for recycling will take participants gathered Cleanup grass, leaves, branches, free of charge. Solid waste and construction waste will be accepted only in special vehicles with permits stamped "Spetszavoda number 1." "This measure will prevent cases where private companies are brought to recycling garbage is not collected within the work day, and having been removed for a fee from individuals and legal entities. , The pass will be printed MUPV "Spetszavoda number 1." Depending on the needs of such permits will be issued to all district administrations of Vladivostok " - Said Vadim Chebotarev.
Recall that according to the decree of the head of Vladivostok Igor Pushkarev held bimonthly in the large-scale work on cleaning and landscaping, which will cover all the territory of the regional center - the main streets and yards, sidewalks and highways, transitions and squares. Participation in the event will be members of relevant organizations, such as travel services, asset management companies and companies specializing in the garbage disposal, and transportation companies, educational institutions, culture and health. It should be noted that to bring order to their territories must enterprise trade and catering, property owners and tenants of the buildings, as well as enterprises of all forms of ownership.
In particular, management companies must provide repair and painting of small architectural forms on the local area, delivery of land and seedlings for planting and stake beds, installing benches and bins at the entrances of apartment buildings. Transport companies will lead to the proper health and aesthetics of the rolling stock of public transport. MUPV "VPES" will work on cleaning the lighting poles from advertisements and labels, as well as provide sanitary cleaning of the fuel and energy complex (substations, boilers, boiler). OJSC "Electric transport" will hold traditional painting works catenary poles, renovation (painting and sanitary cleaning) tram trailers.

7-03-2013, 02:24, eng news
The participants of the spring festival in the central square on March 8 will do good work......

20-07-2013, 18:00, eng news
In the competition "Seven Wonders of Primorye" involved more dvadtsatiti new facilities. All visitors can upload their photos in the sights Site competition, authors of the best pictures will...
1-04-2013, 06:30, eng news
The number of staff regiment was over 500 people, 5 companies work around the clock DPS......

1-08-2013, 14:02, eng news
Masters of sites have been brought to administrative liability for failure to timely removal of household waste. For garbage storage in undesignated places and his untimely removal by troublemakers...

2-08-2013, 19:45, eng news
The village Korsakovka, near Ussuriysk in the yard in an accident suffered teenager and 4-year-old girl. Children hurt in road accident in Primorye 14-year-old boy was riding on a moped, and the...

13-04-2013, 15:00, eng news
In Moscow, no one gets a pension less than 12 thousand rubles, and the average pension in Primorye barely reaches 10 thousand rubles......
5-06-2013, 15:47, eng news
The final of the 6th Festival of Patriotic song «Eastern Outpost» will be held in Vladivostok 8 - 9 June in the House of Navy officers. This year the festival has received more than 150 applications,...
24-06-2013, 17:15, eng news
In the Khasan customs initiated two administrative cases on st.1410 KoAP of Russia, illegal use of a trademark or similar designations for similar goods. In March of the current year of China in the...

3-09-2013, 16:32, eng news
Recall that the newspaper "Vladivostok", "Arguments and Facts Primorye" radio "Lemma", "ViBiSi", 8-Channel, news agencies "Primore24" and Vladnews announce action: "Enter into the Guinness Book of...
25-06-2013, 17:00, eng news
Congratulate the hero of the day came heads of services and departments МОМВД Russia «Dalnerechensk», members of the Public Council, veterans of ATS, representative of the Deputy of the Legislative...