ЗНАКОМСТВА
КРАСОТА
ЗДОРОВЬЕ
ТУРИЗМ
АВТОНОВОСТИ
НОВОСТИ СПОРТА
Violin ensemble from Vladivostok won in the international festival "Golden Ring"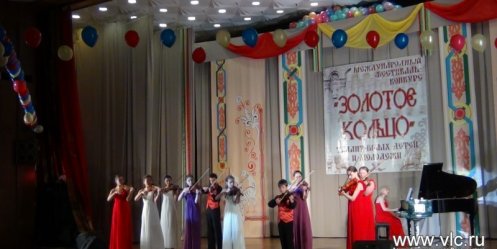 Photo: Administration of Vladivostok.

Violin Ensemble "Octave" children's art school № 1. Prokofiev won prizes in the "Instrumental" International Festival "Golden Ring."

A trip to Suzdal, where he held a competition was held by an initiative of the head of Vladivostok Igor Pushkarev program "Vladivostok. Culture. Children." One of the main objectives of the program is the support and encouragement of talented and gifted children - students of children's art schools of the city.

Vladivostok on the Festival "Golden Ring" presented 10 young musicians of the ensemble "Octave." Qualified jury noted the high professionalism and teamwork play violin, awarding ensemble "Octave" first place. Duet - Maria Cherkasova and Ahn Hee-jin - took second place. In addition, it was noted in the competition of solo musicians, Maria Cherkasova took second place, Ahn Hee-jin - 3rd place. Dasha Spring and Timothy Rybin awarded certificates to the participants and accompanist Yelena Soboleva as the best accompanist.

24-03-2013, 09:59, eng news
China has called the favorite of Russian tourists and the reasons that hinder the development of turoborota between the two countries......
6-06-2013, 13:15, eng news
In connection with the software update section "PASSENGERS", 6 June 201303:30 to 06:30 (GMT) will be temporarily suspended operation of the service ticket purchase the official site of the company...
27-05-2013, 19:40, eng news
Most violations are detected at an expenditure of budgetary funds, the use of diagnostic equipment and of training to IU......

29-07-2013, 18:35, eng news
Federal Russian media have rushed to announce another initiative prohibitive Russian chief sanitary doctor Gennady Onishchenko. In the Ukrainian sweets found benzopyrene. "This is a sign of serious...

4-04-2013, 17:30, eng news
Annual environmental game "What? Where? When "will be held May 15 at the hotel" Equator ". The tournament is open to pupils and students of educational institutions of the city......

2-07-2013, 16:15, eng news
Прокуратурой Приморского края проведена проверка деятельности краевых государственных образовательных учреждений для детей-сирот и детей, оставшихся без попечения родителей «Детский дом № 2» и...
4-06-2013, 15:02, eng news
Flowers, shrubs, new lawn and even blue tree now decorate the area near the kindergarten № 11 on the street of Admiral Kuznetsov, 46a. Parents whose children attend this pre-school institution,...

14-04-2013, 14:10, eng news
After 10 years of fruitless dialogue with the authorities in the region have only palliative care doctor Andrei cash hope for the hospice in Vladivostok. Krayzdrav finished version of the project. It...

17-09-2013, 12:39, eng news
Over the past day in the Primorsky Territory there were 18 fires. Died there, one person was injured. In fighting the fire attended by 100 people, using 31 pieces of equipment. Again burned car in...

10-07-2013, 21:15, eng news
At the fair you can buy fresh vegetables and herbs, pickles, honey and bee products, bakery and confectionery, dairy, fish, meat products from producers of Vladivostok Arsenyev Lesozavodsk, Spassky,...