ЗНАКОМСТВА
КРАСОТА
ЗДОРОВЬЕ
ТУРИЗМ
АВТОНОВОСТИ
НОВОСТИ СПОРТА
Violin ensemble from Vladivostok won in the international festival "Golden Ring"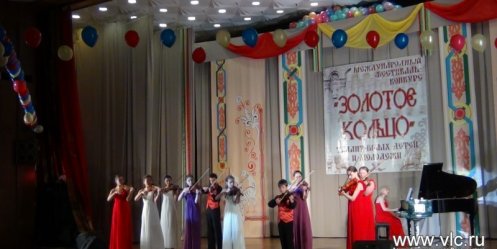 Photo: Administration of Vladivostok.

Violin Ensemble "Octave" children's art school № 1. Prokofiev won prizes in the "Instrumental" International Festival "Golden Ring."

A trip to Suzdal, where he held a competition was held by an initiative of the head of Vladivostok Igor Pushkarev program "Vladivostok. Culture. Children." One of the main objectives of the program is the support and encouragement of talented and gifted children - students of children's art schools of the city.

Vladivostok on the Festival "Golden Ring" presented 10 young musicians of the ensemble "Octave." Qualified jury noted the high professionalism and teamwork play violin, awarding ensemble "Octave" first place. Duet - Maria Cherkasova and Ahn Hee-jin - took second place. In addition, it was noted in the competition of solo musicians, Maria Cherkasova took second place, Ahn Hee-jin - 3rd place. Dasha Spring and Timothy Rybin awarded certificates to the participants and accompanist Yelena Soboleva as the best accompanist.

4-04-2013, 02:00, eng news
A group of local residents simulate an accident, but when the Russian tourists tried to help, they were attacked and stripped of my bag......

19-04-2013, 20:00, eng news
from 2014 to Russian homeowners will put a new payment for repair of apartment houses. This money will have to come at the expense of the HOA, HBC or regional operator......

19-09-2013, 21:58, eng news
This at a regular meeting of the city tripartite commission on regulation of social and labor relations, said its chairman, deputy head of the administration of Vladivostok Elena Schegoleva. Thus,...

16-04-2013, 16:00, eng news
Total investment in its implementation is more than 2 billion yuan. The first phase of installations can desalinate up to 200 thousand tons of sea water per day......

17-03-2013, 08:09, eng news
From the stage musical groups perform folk songs, and the square itself pretty girls handing out free bagels had come up to people and smile. (PHOTOS)......

5-04-2013, 06:30, eng news
City Duma Speaker Helen Nowicka spoke about the experience hospital № 3 as a result of individual interviews with the number of failures Pregnant Women from newborns was reduced by half......

5-03-2013, 12:13, eng news
According to statistical data, which data sharing doctors give birth in Russia in general and the Primorye Territory in particular have become more......

3-09-2013, 16:32, eng news
Yesterday, on the island of Russian was solemnly opened a new school. The school, which has long been waiting for. - It is a special day, especially for children - said Mayor Igor Pushkarev on the...

18-07-2013, 17:18, eng news
Four medals won a third-year student-Palo Victoria Andreeva. As a part of the Russian national team in swimming-relay 4 x 100 meters, she won "gold". Another two top awards Victor Andreev managed to...
13-06-2013, 21:31, eng news
Five members of the crew «Prok» returned from China in Primorye. The ship standing on repairs in the neighboring country remained 4 people. Initially, the boat had 14 people, the sailors sent a...