ЗНАКОМСТВА
КРАСОТА
ЗДОРОВЬЕ
ТУРИЗМ
АВТОНОВОСТИ
НОВОСТИ СПОРТА
Police searching for almost half a year schoolgirl who escaped from correctional boarding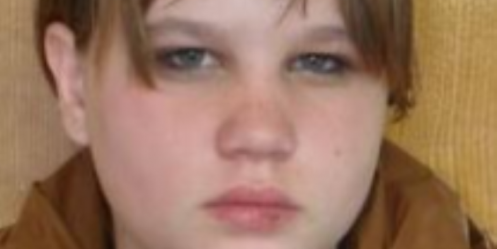 Photo: Ministry of Internal Affairs of Russia to Vladivostok

Police department № 1 MOI of Russia in Vladivostok still searching minor Suchkova Igorevna Eleanor, born 08/10/1998 which in November 2012 was left a correctional boarding school № 1 located at Vladivostok street. Lazo, 4.

To find signs of growth - 160 cm, full body, hair dyed black, shoulder-length, gathered in the "beam."

She was wearing - black boots "boots", blue jeans, a gray sweater, a black jacket.

Special signs - on the right forearm, there are numerous cross scars from cuts, has a mental disorder.

In operatives have information that Eleanor went after the boarding went to the village to see a friend, and in March went back to the city. To her only relative - his grandfather, the girl did not come.

Please anyone who has information about the location to look for, please let the police department № 1 MOI of Russia in Vladivostok call 249092289644394306.

8-03-2013, 03:54, eng news
In 2012 the catch of the coastal fishermen was 19.6% of Russia. Increase compared to the results in 2011 - 58.3 thousand tons, or 8%......

25-07-2013, 15:00, eng news
Today in Vladivostok held a board meeting of prosecutors Primorye. The meeting was headed by SU TFR in the Primorye Territory Sergey Bobrovnichy. Children in the Primorye often go out of the house...

18-07-2013, 22:45, eng news
Leninsky District Court in Kirov Thursday, July 18 opposition leader Alexei Navalny found guilty of embezzlement of SUE "Kirovles" and sentenced him to five years imprisonment in a penal colony. In...

12-07-2013, 14:45, eng news
In the Primorsky Territory Administration held a meeting of a working group that is preparing a regional law "On the system of capital repairs of apartment houses." Homeowners will pay for the repair...

5-09-2013, 18:17, eng news
Deputy Chairman of the Government of Russia - envoy in the Far Eastern Federal District Yuri Trutnev works today in the Khabarovsk Territory. This was officially reported by the press service of the...

23-04-2013, 18:20, eng news
February 29 Nakhodka route - the partisan of an accident. The driver "Suzuki Escudo", lost control, slid into a ditch and hit a tree. Award was given to the wife of the deceased police officer on the...

2-08-2013, 15:46, eng news
Igor Pushkarev visited the workshops of the plant, inspected vessels, which is now under construction at the shipyard, and met with the staff. Director of "East Wharf" Igor Miroshnichenko held to the...

14-08-2013, 18:17, eng news
Eastern Petrochemical Company and Nakhodka State Polytechnic College of Humanities and signed an agreement on the creation and development in the Find Resource Centre for Vocational Education. VNHK...
22-07-2013, 19:30, eng news
The woman said that while asleep in her home through an unlocked window penetrated unknown. He stole a mobile phone from the house and a bucket of strawberries. Arriving by post police examined the...

22-07-2013, 19:17, eng news
5 of enforcement proceedings to recover debts from one woman is in the department of bailiffs Michael region of Primorsky Krai. Owe in Primorye not gone perstuplenie 68000 rubles a woman should KGUP...