ЗНАКОМСТВА
КРАСОТА
ЗДОРОВЬЕ
ТУРИЗМ
АВТОНОВОСТИ
НОВОСТИ СПОРТА
Suicidal prygnuvshego from Russian bridge, continue to search for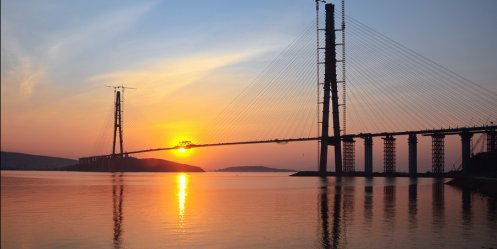 Photo: nnm.ru

Rescuers regional emergency department continues to look into the Eastern Bosphorus Strait body men rushed into the sea yesterday from Russian bridge.

As the correspondent of IA Primore24 the press service of EMERCOM, searches are complicated by the strong undercurrent beneath the bridge. "At the moment, searches are conducted on the waterfront. Operations are also connected to the passing ships" - According to the State Ministry for Emergencies.


Recall that yesterday, at about 5:00 the 27-year-old Dmitry II, the founder of a major transportation company, went to the bridge in a car Toyota Crown, moved a fence and jumped into the water with lifelines. Is nearby police tried to stop the young man, but he did not listen to them.
24-05-2013, 19:40, eng news
Those who intend to travel, going to spend on vacation, on average about 28 thousand rubles......
21-06-2013, 03:31, eng news
The Primorsky Krai administration supported the project of the Federal law «On amendments to certain legislative acts of the Russian Federation on social protection of disabled persons in connection...

13-08-2013, 17:30, eng news
Since the beginning of the second decade in Primorye came the heat. According to the Internet portal primpogoda.ru, has finally arrived for three days in most parts of Primorye daytime air...

20-09-2013, 00:17, eng news
Today in the 1st section of the world Leninsky district court decision should be made in respect of Sestaro Michael Keith, a member of the U.S. Consulate General, who was arrested on 26 August 2013...

23-08-2013, 15:01, eng news
"Now, in the Amur region, many are experiencing hard times, left without the most essential things - said the manager of the Annunciation of the Far Eastern branch of the bank" Sberbank of Russia...

18-09-2013, 19:28, eng news
The exhibition "Building" is supported by the Primorsky Territory Administration, the National Association of Builders, the National Agency of low-rise and cottage construction, the Russian Union of...

27-07-2013, 20:30, eng news
In Primorye, taking all the necessary measures for the rehabilitation of roads affected by the disaster. As reported by the Department of Roads of the Primorsky Territory, on all damaged parts are...

23-07-2013, 22:16, eng news
In Vladivostok, continues the project "People's expertise." Recall that this community project aimed at clarifying the views of citizens on several proposed projects on the improvement of the city...

7-03-2013, 05:33, eng news
In anticipation of all the companies of the cyclone housing edge translated into high alert......

11-04-2013, 13:01, eng news
For the past day in the Primorsky Territory there were seven accidents, most of them injured pedestrians. Roads Maritime injured pedestrians in the Kirov district woman crossing a road on the...