ЗНАКОМСТВА
КРАСОТА
ЗДОРОВЬЕ
ТУРИЗМ
АВТОНОВОСТИ
НОВОСТИ СПОРТА
Suicidal prygnuvshego from Russian bridge, continue to search for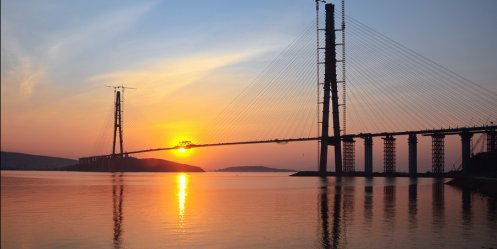 Photo: nnm.ru

Rescuers regional emergency department continues to look into the Eastern Bosphorus Strait body men rushed into the sea yesterday from Russian bridge.

As the correspondent of IA Primore24 the press service of EMERCOM, searches are complicated by the strong undercurrent beneath the bridge. "At the moment, searches are conducted on the waterfront. Operations are also connected to the passing ships" - According to the State Ministry for Emergencies.


Recall that yesterday, at about 5:00 the 27-year-old Dmitry II, the founder of a major transportation company, went to the bridge in a car Toyota Crown, moved a fence and jumped into the water with lifelines. Is nearby police tried to stop the young man, but he did not listen to them.
21-04-2013, 16:30, eng news
On April 16 in Vladivostok introduce an extra platform for exploring......

23-07-2013, 16:02, eng news
From 22 to 28 July in Croatia will be held XII European Championship for student teams. In Split arrived students from 25 universities representing 14 European countries: Croatia, Austria, France,...

13-04-2013, 12:00, eng news
From the beginning, in Primorye disbanded more than three thousand IP - pay 34000 a year for them was not under force......
15-05-2013, 14:20, eng news
today. In the area of public transport by Nekrasov, 50 in the right lane of the carriageway slab due to the destruction of the manhole there was a failure of the roadway......

21-08-2013, 23:17, eng news
The head of Khabarovsk Alexander Sokolov made a statement to the media, in which he said that the mass evacuation of residents of Khabarovsk will begin when the level of the Amur River will reach 780...

16-08-2013, 17:32, eng news
In Suifenhe the first international exhibition of cross-border trade. It was attended by 938 companies from Russia and Asia-Pacific countries. Tourism Primorye interested in Chinese during the...

1-04-2013, 04:10, eng news
Gardeners can get a lump sum payment of travel suburban area of 3000......
9-04-2013, 15:01, eng news
Early in the morning on a bridge on the Russian island man, out of the car, climbed over the fence and into the water. Suicide in Vladivostok jumped off a bridge bridge guards noticed the man had...

31-07-2013, 20:16, eng news
To equip the seaside hospital with modern equipment to help deal with bronchopulmonary diseases, spent more than 137 million rubles. With the money acquired more than 170 items of special medical...
25-03-2013, 20:31, eng news
Working in Primorye through an army of brokers, Taobao has pulled on a major share of buyers from shopping centers. Traditional trade sensed danger, but so far little thought about the real salvation...