ЗНАКОМСТВА
КРАСОТА
ЗДОРОВЬЕ
ТУРИЗМ
АВТОНОВОСТИ
НОВОСТИ СПОРТА
"Investment Saturday" with the Savings Bank - for those who invest in their future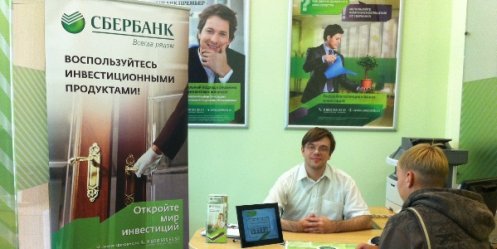 Photo: Savings

The offices of Sberbank in Vladivostok Arsenyev action to be held on April 13 "Investment Saturday." Bank employees tell customers how to value in investing to increase their capital.

In the offices of the Savings Bank customers can get more advice on all investment products and using specialist bank choose an optimal investment strategy, as well as be able to open a brokerage account for transactions on the MICEX.

- Sberbank today provides the potential investor opportunities multiply equity, the main thing - to choose the right investment tools, - says Roman Tyurikov, head of service in the financial markets Primorsky branch № 8635 OJSC "Sberbank of Russia". - When selecting the investment instrument is important to consider your current and future costs, current and expected income, the currency in which they arrive, the willingness to take risks, etc. I therefore recommend investkorzinu necessarily form their own view of all these factors, as well as the views of the competent specialist Savings ".

Remind you that in addition to the traditional holdings Sberbank of Russia offers a wide selection of options to multiply their personal wealth. List includes brokerage (share trading), mutual funds (mutual funds), unallocated metal accounts (OMC) in gold, silver, platinum and palladium (or gold /silver bullion), asset management. Customers who appreciate the combination of high yield and reliability, there is a complex products, including both deposit and mutual funds and /or impersonal metal account (DMA).

Campaign "Investment Saturday" will take place on April 13 from 11:00 to 15:30 hours at the offices of the Savings Bank at the following addresses:

Vladivostok - st. Red Banner, 59 tel. - 8 (423) 265-23-64

Arseniev - st. Lenin, 10b, tel. - 8 (42361) 4-46 - 62

would like more information please call - 8 (423) 264-85-04

1-04-2013, 11:10, eng news
As a result, a ticket to the Far stage of the competition won by the team from the orphanage Spassk-Far......

6-08-2013, 21:01, eng news
Yesterday, August 5 Dormitory residents on Sakhalin, 56 together with the organization "Brownie control" to work together to deal with the indifference of the management company. "Yesterday in the...

22-05-2013, 18:20, eng news
Schedule takes into account the elimination of impulses on highways identified in the hydraulic tests. (ADDRESSES) Terms are defined taking into account the repair, removal gusts...

10-09-2013, 19:00, eng news
September 10 at 1105 minutes to the Center for Crisis Management of the MES in the Primorsky Territory, it was reported that there was tilting container carrying capacity of 20 tons, 9 Lazo street,...

30-07-2013, 13:18, eng news
Seven residents of Primorye have won national awards. The decree signed by Russian President Vladimir Putin. As RIA «VladNews» the press service of the regional administration, the highest of awards...
14-06-2013, 21:16, eng news
In the course of customs control of goods exported to China, the inspectors Lesozavodsk customs office revealed that 414 and 1411 cubic meters of sawlogs from ash and oak are not declared. Forest in...

9-07-2013, 09:45, eng news
Arrived on the scene outfit DPS investigative team of the police and health workers. It is established that the car "Skoda Yeti" moving in the direction of Vladivostok. From the neighborhood to the...

26-08-2013, 23:32, eng news
August 302013 at the stadium "Avangard" in Vladivostok will host the International Championship of Mixed Martial Arts DRAKA. In the expected event will meet the strongest fighters from Russia,...

13-04-2013, 15:00, eng news
Cossacks and police together bear patrol service in the streets, holding joint preventive measures, as well as to detect and deter crime in the environmental field......
28-05-2013, 16:31, eng news
Investigators in the Primorye Territory has completed work on the criminal case against a bailiff. He is accused of fraud and embezzlement or misappropriation of funds. The police inspector in...