ЗНАКОМСТВА
КРАСОТА
ЗДОРОВЬЕ
ТУРИЗМ
АВТОНОВОСТИ
НОВОСТИ СПОРТА
"Investment Saturday" with the Savings Bank - for those who invest in their future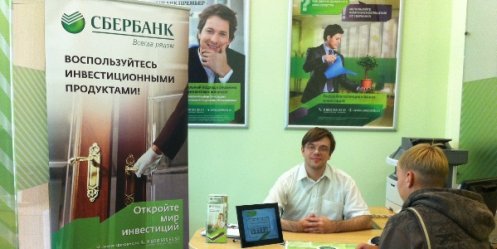 Photo: Savings

The offices of Sberbank in Vladivostok Arsenyev action to be held on April 13 "Investment Saturday." Bank employees tell customers how to value in investing to increase their capital.

In the offices of the Savings Bank customers can get more advice on all investment products and using specialist bank choose an optimal investment strategy, as well as be able to open a brokerage account for transactions on the MICEX.

- Sberbank today provides the potential investor opportunities multiply equity, the main thing - to choose the right investment tools, - says Roman Tyurikov, head of service in the financial markets Primorsky branch № 8635 OJSC "Sberbank of Russia". - When selecting the investment instrument is important to consider your current and future costs, current and expected income, the currency in which they arrive, the willingness to take risks, etc. I therefore recommend investkorzinu necessarily form their own view of all these factors, as well as the views of the competent specialist Savings ".

Remind you that in addition to the traditional holdings Sberbank of Russia offers a wide selection of options to multiply their personal wealth. List includes brokerage (share trading), mutual funds (mutual funds), unallocated metal accounts (OMC) in gold, silver, platinum and palladium (or gold /silver bullion), asset management. Customers who appreciate the combination of high yield and reliability, there is a complex products, including both deposit and mutual funds and /or impersonal metal account (DMA).

Campaign "Investment Saturday" will take place on April 13 from 11:00 to 15:30 hours at the offices of the Savings Bank at the following addresses:

Vladivostok - st. Red Banner, 59 tel. - 8 (423) 265-23-64

Arseniev - st. Lenin, 10b, tel. - 8 (42361) 4-46 - 62

would like more information please call - 8 (423) 264-85-04

28-05-2013, 16:31, eng news
Supporting small and medium-sized businesses in the Maritime region is given special attention - said the governor of the region Vladimir Miklushevsky in the Epistle to the Legislative Assembly....
18-06-2013, 18:31, eng news
Maritime Bay Novik can become a place of preparation for the Russian team for the Asian Games rowing - 2014 Russian rowers will be able to train in the Primorye Governor of the Primorsky Territory...

4-03-2013, 12:09, eng news
The contest will be an exhibition of work, where citizens can speak to the account of sculptural models......

25-04-2013, 16:20, eng news
April 23 in the area of border services in the area of the village residents were arrested Posiet Primorye, hunted sea cucumber. The poachers were detained by border guards in the boat guards found...

17-09-2013, 13:44, eng news
Dal'negorsk continues to amaze his paradoxical criminality. No sooner had the RIA «VladNews» to inform the readers about how a young man killed in this city of old taxi driver to take a ride in his...

17-09-2013, 12:01, eng news
In Artem police stopped the fight, which is going to take part in more than 100 people. Mass brawl averted in Primorye We initiators seized edged weapons, some of them went under arrest for 15 days -...
23-07-2013, 22:00, eng news
From 22 to 25 August in Vladivostok will host an international festival of music and creative conference "Rock Vladivostok» (Vladivostok Rocks). Rock Festival will be held in the capital of Primorye...

27-03-2013, 09:50, eng news
The tournament, organized by the Office of Youth Affairs of the city administration and the Club smart games Vladivostok, is an annual event and is held for the third time......
27-06-2013, 21:00, eng news
The director of the school in the Khasan district of Primorye is suspected of fraud. The school principal suspected of fraud According to investigators, two years ago, the suspect gave an order...

22-09-2013, 20:00, eng news
- Today, the Minister of Emergency Situations has decided to lift the state of emergency at the federal level with the two subjects - in the Amur and Jewish Autonomous Region. This is the first...