ЗНАКОМСТВА
КРАСОТА
ЗДОРОВЬЕ
ТУРИЗМ
АВТОНОВОСТИ
НОВОСТИ СПОРТА
"Investment Saturday" with the Savings Bank - for those who invest in their future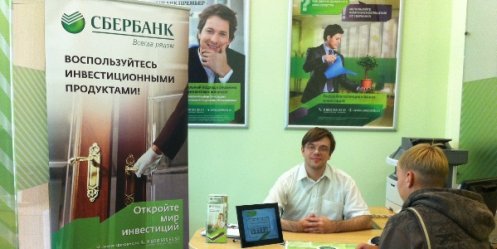 Photo: Savings

The offices of Sberbank in Vladivostok Arsenyev action to be held on April 13 "Investment Saturday." Bank employees tell customers how to value in investing to increase their capital.

In the offices of the Savings Bank customers can get more advice on all investment products and using specialist bank choose an optimal investment strategy, as well as be able to open a brokerage account for transactions on the MICEX.

- Sberbank today provides the potential investor opportunities multiply equity, the main thing - to choose the right investment tools, - says Roman Tyurikov, head of service in the financial markets Primorsky branch № 8635 OJSC "Sberbank of Russia". - When selecting the investment instrument is important to consider your current and future costs, current and expected income, the currency in which they arrive, the willingness to take risks, etc. I therefore recommend investkorzinu necessarily form their own view of all these factors, as well as the views of the competent specialist Savings ".

Remind you that in addition to the traditional holdings Sberbank of Russia offers a wide selection of options to multiply their personal wealth. List includes brokerage (share trading), mutual funds (mutual funds), unallocated metal accounts (OMC) in gold, silver, platinum and palladium (or gold /silver bullion), asset management. Customers who appreciate the combination of high yield and reliability, there is a complex products, including both deposit and mutual funds and /or impersonal metal account (DMA).

Campaign "Investment Saturday" will take place on April 13 from 11:00 to 15:30 hours at the offices of the Savings Bank at the following addresses:

Vladivostok - st. Red Banner, 59 tel. - 8 (423) 265-23-64

Arseniev - st. Lenin, 10b, tel. - 8 (42361) 4-46 - 62

would like more information please call - 8 (423) 264-85-04

20-08-2013, 18:46, eng news
In the coastal hinterland of the drama taking place worse than Shakespeare. You want to live, as they say, it's not only have to spin, but obviously take bad loans. People suffer, suffer banks A...
11-05-2013, 11:20, eng news
The Chinese side noted that the Russian Orthodox Church plays an important role not only in Russia, but all over the world, has a long history and enjoys the "broadest authority among the Russian...

11-03-2013, 02:30, eng news
Poor performance of the consignees in the ports leads to the accumulation in the ways of FE Rail freight trains waiting to unload......
17-06-2013, 14:45, eng news
9 June 1900 in the Primorskii regional centre of folk culture in support of an exhibition of computer graphics Tatiana Зорькиной «Life» will take place the concert of an author's song. Will...

3-04-2013, 03:20, eng news
how it is possible to fly to Moscow for 6000 rubles, but in Primorye in fact Roma - in the new issue of the newspaper......

5-05-2013, 15:20, eng news
On the square during the day will be the traditional festivities, and will complete today's holiday Great Easter Vespers, which will be held at 17 o'clock in the Cathedral of the Intercession....

17-04-2013, 14:00, eng news
The lines of the famous song about a black cat became prophetic for the heroine of our stuff - cat ringlets. (PHOTOS)......
17-06-2013, 14:31, eng news
Prosecutors Arsenyev recognized legitimate criminal charges against members of the traffic police. The mediator and the two officials detained. Police officers - persons involved in criminal cases...

16-07-2013, 16:04, eng news
In the duty of the linear control Vladivostok Russian Ministry of Internal Affairs on transport was reported intention villager Gorodechnoe Primorye lay an explosive device on a railway track near...

22-07-2013, 19:33, eng news
In the passenger seat of the moped were two friends - 16 and 17 years old. As a result of hitting a girl to ride mopeds, and one of her passengers received head injuries and were taken to the...