ЗНАКОМСТВА
КРАСОТА
ЗДОРОВЬЕ
ТУРИЗМ
АВТОНОВОСТИ
НОВОСТИ СПОРТА
Mini-office Savings Bank opened in the shopping center "Maxim" Vladivostok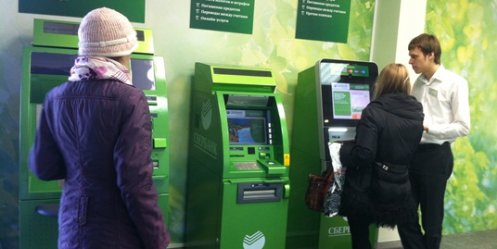 Photo: Savings

The shopping center "Maxim" in the east. Postyshev in Vladivostok, a new service point of Sberbank of Russia. Mini-office of the country's leading bank offers visitors a shopping complex range of services - from consumer loans to pay for public services.

The office has two ATMs and one information and payment terminal. With their help, you can remove or insert your card cash to pay for and receive a variety of information about your account. It is convenient that mini-office of the bank is working professional who willingly give advice on credit and savings of personal finance, will open a deposit, make a request to the consumer and even a mortgage.

- Currently in Primorye, as well as throughout the country, is implementing a comprehensive program to reformat the branch network of the bank - Olga says Dolgov, managing Primorsky branch № 8635 OJSC "Sberbank of Russia". - In particular, we are introducing a new format for service - is a compact mini-offices, which provide the users of the largest shopping centers most popular services of the bank.

Today in Vladivostok have been operating two mini-office Savings Bank - one located in the shopping center "Boom" (street Russian, 74a). Until the end of 2014 will increase the number of mini-offices in the regional capital to 5 pieces.

Reference:

Mini Office Savings Bank in the shopping center "Maxim" (Ave 100 anniversary of Vladivostok, 57 Est. Postyshev) is located on the ground floor (next to the store "Domotechnika"). Opening hours - from 8:00 to 20:00 hours.
8-07-2013, 18:15, eng news
discloses the murder of a minor. In Primorye disclosed killing of 14-year-old girl whose body was found July 12013 in a water-filled pit in the village of Primorsky Territory Border. As previously...

11-03-2013, 03:20, eng news
Prosecutors Chuguevsky region of Primorsky Krai approved the indictment of the criminal case against a minor defendant in preparation for the sale of drugs on a large scale. Minor in Primorye wanted...

8-07-2013, 13:01, eng news
С приветственным словом к участникам обратился почетный гость смены, заместитель начальника Управления ГИБДД УМВД России по Приморскому краю Юрий Колесников. Он пожелал ребятам успехов и поблагодарил...

2-07-2013, 16:15, eng news
«Золотая сотня» волонтеров Приморского края работает на следующих объектах: Международный пресс-центр, Международный медиа-центр, КСК «Казань-Арена», Стадион «Рубин», Деревня Универсиады, Стадион...

11-05-2013, 18:30, eng news
On Friday, May 10 about 16 hours in the village of beautiful ancient city in the Maritime region of an accident. In an automobile collision Toyota Ist Toyota Ipsum and killed three people, two in...

21-03-2013, 03:37, eng news
In 2013 the event is scheduled to perform on public roads of regional or inter-municipal value......

19-04-2013, 12:00, eng news
Igor Gubkin, which some consider an uncompromising fighter for freedom, and the other - a terrorist and a murderer in captivity has written many books and even made a movie......

2-04-2013, 09:20, eng news
52 points leave free medicines additionally opened today in Primorye. Additional pharmaceutical items for beneficiaries working in Primorye regional health department staff noted that there has all...

16-04-2013, 19:00, eng news
Participants will walk a virtual reflection on the theme - "Yul Brynner - who is it for us?" Pupils will see the monument of famous actors, opened in Vladivostok last year......

19-09-2013, 18:22, eng news
So, on September 21 will work loved by the citizens' Library under the open sky. " At this time in the open air will host the "tiger - a symbol of Vladivostok", which will attend the 20 municipal...