ЗНАКОМСТВА
КРАСОТА
ЗДОРОВЬЕ
ТУРИЗМ
АВТОНОВОСТИ
НОВОСТИ СПОРТА
Bimonthly purity begins today in Vladivostok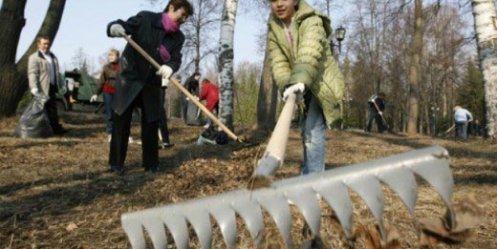 On April 10 in Vladivostok starts bimonthly health, announced the Mayor Igor Pushkarev.
Bimonthly conducted in order to improve the health and improvement of the status of Vladivostok, cleaning of roads, sidewalks, parks, adjoining areas of debris, it will last until May 31. And on April 20 of Vladivostok residents are invited to a citywide Saturday.
Within bimonthly will scale works on cleaning and landscaping, which will cover all areas - the main streets and yards, sidewalks and highways, transitions and squares. Participation in the event will be members of relevant organizations, such as travel services, asset management companies and companies specializing in the garbage disposal, and transportation companies, educational institutions, culture and health. It should be noted that to bring order to their territories must enterprise trade and catering, property owners and tenants of the buildings, as well as enterprises of all forms of ownership.
In particular, management companies must provide repair and painting of small architectural forms on the local area, delivery of land and seedlings for planting and stake beds, installing benches and bins at the entrances of apartment buildings. Transport companies will lead to the proper health and aesthetics of the rolling stock of public transport. MUPV "VPES" will work on cleaning the lighting poles from advertisements and labels, as well as provide sanitary cleaning of the fuel and energy complex (substations, boilers, boiler). OJSC "Electric transport" will hold traditional painting works catenary poles, renovation (painting and sanitary cleaning) tram trailers.
From 19 to 21 April at the incinerator and complex for the processing and disposal of solid waste in the creek Nameless will be free acceptance of waste.
The tradition to hold subbotnik and direct purity throughout the city - has been for decades. This year, the residents of Vladivostok are also invited to be active and to participate in the sanitation of the city, for example, tidy and weed your yard.
21-04-2013, 16:30, eng news
On April 16 in Vladivostok introduce an extra platform for exploring......

23-07-2013, 16:02, eng news
From 22 to 28 July in Croatia will be held XII European Championship for student teams. In Split arrived students from 25 universities representing 14 European countries: Croatia, Austria, France,...

13-04-2013, 12:00, eng news
From the beginning, in Primorye disbanded more than three thousand IP - pay 34000 a year for them was not under force......
15-05-2013, 14:20, eng news
today. In the area of public transport by Nekrasov, 50 in the right lane of the carriageway slab due to the destruction of the manhole there was a failure of the roadway......

21-08-2013, 23:17, eng news
The head of Khabarovsk Alexander Sokolov made a statement to the media, in which he said that the mass evacuation of residents of Khabarovsk will begin when the level of the Amur River will reach 780...

16-08-2013, 17:32, eng news
In Suifenhe the first international exhibition of cross-border trade. It was attended by 938 companies from Russia and Asia-Pacific countries. Tourism Primorye interested in Chinese during the...

1-04-2013, 04:10, eng news
Gardeners can get a lump sum payment of travel suburban area of 3000......
9-04-2013, 15:01, eng news
Early in the morning on a bridge on the Russian island man, out of the car, climbed over the fence and into the water. Suicide in Vladivostok jumped off a bridge bridge guards noticed the man had...

31-07-2013, 20:16, eng news
To equip the seaside hospital with modern equipment to help deal with bronchopulmonary diseases, spent more than 137 million rubles. With the money acquired more than 170 items of special medical...
25-03-2013, 20:31, eng news
Working in Primorye through an army of brokers, Taobao has pulled on a major share of buyers from shopping centers. Traditional trade sensed danger, but so far little thought about the real salvation...