ЗНАКОМСТВА
КРАСОТА
ЗДОРОВЬЕ
ТУРИЗМ
АВТОНОВОСТИ
НОВОСТИ СПОРТА
Bimonthly purity begins today in Vladivostok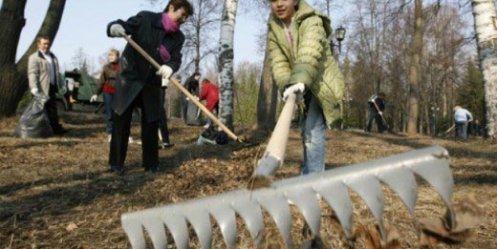 On April 10 in Vladivostok starts bimonthly health, announced the Mayor Igor Pushkarev.
Bimonthly conducted in order to improve the health and improvement of the status of Vladivostok, cleaning of roads, sidewalks, parks, adjoining areas of debris, it will last until May 31. And on April 20 of Vladivostok residents are invited to a citywide Saturday.
Within bimonthly will scale works on cleaning and landscaping, which will cover all areas - the main streets and yards, sidewalks and highways, transitions and squares. Participation in the event will be members of relevant organizations, such as travel services, asset management companies and companies specializing in the garbage disposal, and transportation companies, educational institutions, culture and health. It should be noted that to bring order to their territories must enterprise trade and catering, property owners and tenants of the buildings, as well as enterprises of all forms of ownership.
In particular, management companies must provide repair and painting of small architectural forms on the local area, delivery of land and seedlings for planting and stake beds, installing benches and bins at the entrances of apartment buildings. Transport companies will lead to the proper health and aesthetics of the rolling stock of public transport. MUPV "VPES" will work on cleaning the lighting poles from advertisements and labels, as well as provide sanitary cleaning of the fuel and energy complex (substations, boilers, boiler). OJSC "Electric transport" will hold traditional painting works catenary poles, renovation (painting and sanitary cleaning) tram trailers.
From 19 to 21 April at the incinerator and complex for the processing and disposal of solid waste in the creek Nameless will be free acceptance of waste.
The tradition to hold subbotnik and direct purity throughout the city - has been for decades. This year, the residents of Vladivostok are also invited to be active and to participate in the sanitation of the city, for example, tidy and weed your yard.

12-04-2013, 12:10, eng news
Lesozavodsk prosecutors in Primorye has reviewed, the results of which revealed that in the area do not respect the law in terms of ensuring free access of wheelchair users to social infrastructure....

3-09-2013, 16:30, eng news
Yesterday in Vladivostok on two illegal warehouses police seized 40 tons of non-certified alcohol, the press service of the Ministry of Internal Affairs on the PC. On bottles that were found on the...

28-04-2013, 11:00, eng news
Access to such a database would allow traffic police to deny a permit, it can be claimed and other authorities in issuing permits......

12-07-2013, 20:47, eng news
Igor Pushkarev examined new medical equipment in hospital, talked to employees, and congratulated the young mothers on the birth of babies. Despite the fact that in 2013 health care is passed into...

9-07-2013, 12:30, eng news
The mobile laboratory was admitted to hospital six weeks ago as part of the modernization program of health care. As the chief doctor Sergei Tamaev Lazovska hospital, the cost of mobile fluorography...

22-07-2013, 12:17, eng news
As it turns out, in the Primorsky Krai most damage is not applied nature of the businesses of offenders and even poachers: Last year about 15000 environmental violations committed, above all,...

17-08-2013, 17:31, eng news
Due to the difficult flood situation on the territory of a number of subjects of the Far Eastern Federal District, Office of the General Prosecutor of the Russian Federation in the Far Eastern...

19-09-2013, 15:55, eng news
Investigative agencies TFR of the Primorsky a criminal case against 35-year-old man. He is suspected of committing a sexual assault. Pervert detained in Vladivostok According to investigators, on...

1-08-2013, 14:01, eng news
According to her, the hotels in Cape Stormy and Ship Quay and open the possibility of convention and exhibition plan: "The region will be more likely to pass large-scale events, exhibitions,...

26-08-2013, 09:15, eng news
As of August 25 in the flood affected 25 villages. Due to the rise of water in 23 villages were flooded in 1002 houses, which are home to 4450 people, including 1072 children. In addition, in 4044...