ЗНАКОМСТВА
КРАСОТА
ЗДОРОВЬЕ
ТУРИЗМ
АВТОНОВОСТИ
НОВОСТИ СПОРТА
Bimonthly purity begins today in Vladivostok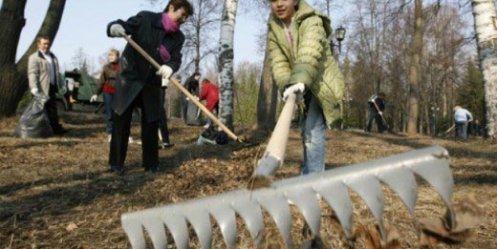 On April 10 in Vladivostok starts bimonthly health, announced the Mayor Igor Pushkarev.
Bimonthly conducted in order to improve the health and improvement of the status of Vladivostok, cleaning of roads, sidewalks, parks, adjoining areas of debris, it will last until May 31. And on April 20 of Vladivostok residents are invited to a citywide Saturday.
Within bimonthly will scale works on cleaning and landscaping, which will cover all areas - the main streets and yards, sidewalks and highways, transitions and squares. Participation in the event will be members of relevant organizations, such as travel services, asset management companies and companies specializing in the garbage disposal, and transportation companies, educational institutions, culture and health. It should be noted that to bring order to their territories must enterprise trade and catering, property owners and tenants of the buildings, as well as enterprises of all forms of ownership.
In particular, management companies must provide repair and painting of small architectural forms on the local area, delivery of land and seedlings for planting and stake beds, installing benches and bins at the entrances of apartment buildings. Transport companies will lead to the proper health and aesthetics of the rolling stock of public transport. MUPV "VPES" will work on cleaning the lighting poles from advertisements and labels, as well as provide sanitary cleaning of the fuel and energy complex (substations, boilers, boiler). OJSC "Electric transport" will hold traditional painting works catenary poles, renovation (painting and sanitary cleaning) tram trailers.
From 19 to 21 April at the incinerator and complex for the processing and disposal of solid waste in the creek Nameless will be free acceptance of waste.
The tradition to hold subbotnik and direct purity throughout the city - has been for decades. This year, the residents of Vladivostok are also invited to be active and to participate in the sanitation of the city, for example, tidy and weed your yard.

1-08-2013, 19:31, eng news
As the press service of the AP computer, children's associations will be able to receive state support. Consequential amendments to the regional law "On youth policy in the Primorsky Territory" took...

2-08-2013, 20:01, eng news
According to the magazine "Forbes", Russian Prosecutor General Yuri Chaika July 18 to the Prime Minister of Russia Dmitry Medvedev a letter in which he accused the Russian air inflating the prices of...

22-03-2013, 09:40, eng news
First vice-president "of the Russian Union of Engineers' Ivan Andrievsky on ways to increase the popularity of Russian universities......
22-05-2013, 13:40, eng news
In Primorye, is home to about 130000 people with disabilities......

8-05-2013, 08:20, eng news
In the region, partly cloudy, no precipitation. Patchy fog. Wind southwest moderate. Air temperature +12 +32 ° C......

18-05-2013, 18:20, eng news
Electors: "Candidates must prove that all words and promises will not remain only on paper."......

18-03-2013, 10:55, eng news
unique instruments. Unique traditional Russian songs sounded in Vladivostok, performed by famous musicians. (PHOTOS)......

24-04-2013, 10:10, eng news
In Nakhodka took place Championship of Primorsky Krai in orienteering. A route with compass and map in his hands ran over 150 participants aged 12 to 60 years. (PHOTOS)......

3-09-2013, 16:32, eng news
Recall that the newspaper "Vladivostok", "Arguments and Facts Primorye" radio "Lemma", "ViBiSi", 8-Channel, news agencies "Primore24" and Vladnews announce action: "Enter into the Guinness Book of...
25-06-2013, 17:00, eng news
The procedure of transfer of land plots and objects of military bases, located in the city of Vladivostok, from the order of the Ministry of defense of the Russian Federation in a municipal property....