ЗНАКОМСТВА
КРАСОТА
ЗДОРОВЬЕ
ТУРИЗМ
АВТОНОВОСТИ
НОВОСТИ СПОРТА
Bimonthly purity begins today in Vladivostok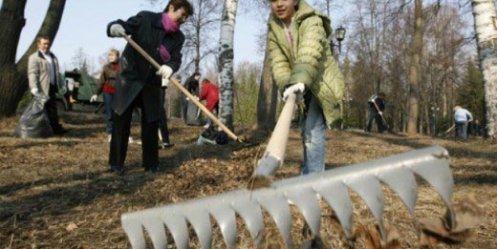 On April 10 in Vladivostok starts bimonthly health, announced the Mayor Igor Pushkarev.
Bimonthly conducted in order to improve the health and improvement of the status of Vladivostok, cleaning of roads, sidewalks, parks, adjoining areas of debris, it will last until May 31. And on April 20 of Vladivostok residents are invited to a citywide Saturday.
Within bimonthly will scale works on cleaning and landscaping, which will cover all areas - the main streets and yards, sidewalks and highways, transitions and squares. Participation in the event will be members of relevant organizations, such as travel services, asset management companies and companies specializing in the garbage disposal, and transportation companies, educational institutions, culture and health. It should be noted that to bring order to their territories must enterprise trade and catering, property owners and tenants of the buildings, as well as enterprises of all forms of ownership.
In particular, management companies must provide repair and painting of small architectural forms on the local area, delivery of land and seedlings for planting and stake beds, installing benches and bins at the entrances of apartment buildings. Transport companies will lead to the proper health and aesthetics of the rolling stock of public transport. MUPV "VPES" will work on cleaning the lighting poles from advertisements and labels, as well as provide sanitary cleaning of the fuel and energy complex (substations, boilers, boiler). OJSC "Electric transport" will hold traditional painting works catenary poles, renovation (painting and sanitary cleaning) tram trailers.
From 19 to 21 April at the incinerator and complex for the processing and disposal of solid waste in the creek Nameless will be free acceptance of waste.
The tradition to hold subbotnik and direct purity throughout the city - has been for decades. This year, the residents of Vladivostok are also invited to be active and to participate in the sanitation of the city, for example, tidy and weed your yard.
20-06-2013, 18:02, eng news
As practice shows, to weapons (legally, in a sense), in Vladivostok can get any man, even a mentally ill. And not easy to get there, and get it in the legitimate use. A fresh example: in the city of...
28-06-2013, 16:45, eng news
The man told the officer on duty, that for those few hours, yet he was not at home, apartment, located on the second floor, slipped into the unknown and stole appliances. The victim assessed the...

10-07-2013, 21:17, eng news
In Primorye, continues to operate a program of modernization of pre-school education. 1 billion rubles for these purposes will be allocated from the regional budget, and the region will receive 804...

23-05-2013, 11:31, eng news
May 22 Primorsky Governor Vladimir Miklushevsky announced that the Primorye will not participate in a pilot project for the introduction of the Russian social norms. For utilities. Social norm in...

24-07-2013, 22:02, eng news
Thus, at the moment he became the eleventh potential candidate. Eleven - it's the number of candidates have already applied for registration in the electoral commission, the newspaper "Vladivostok"....

27-04-2013, 13:50, eng news
Operating at Protection deputies cleared the park area from last year's leaves, dug up and prepared for planting flowers beds, painted curbs and benches......

11-07-2013, 17:48, eng news
On Saturday, July 13 White Bear, Bunny and Leopard will take part in sports and incendiary dance performance, which will begin at 12:00 at the Sports waterfront, next to the fountain, then moved to...
27-06-2013, 16:32, eng news
Under his leadership, the Symphony orchestra of Lorraine fulfill cello Concerto D. Shostakovich's Third Symphony S. Prokofiev and Overture P. Tchaikovsky «1812». - For me this is not the first...
16-05-2013, 18:31, eng news
In Nakhodka Customs in respect of local prosecuted under the Criminal Code, "Smuggling drugs on a large scale." Customs officers detained Finds Drugs in March this year, during the inspection of a...

4-09-2013, 23:33, eng news
Center for Contemporary Art "Dawn" with the support of the Museum (Moscow) will present the exhibition "Reconstruction of noise." The opening will take place tomorrow, September 6 at 15:00. This...