ЗНАКОМСТВА
КРАСОТА
ЗДОРОВЬЕ
ТУРИЗМ
АВТОНОВОСТИ
НОВОСТИ СПОРТА
"Mummy Troll" released heroes "of the Fourth trolleybuses"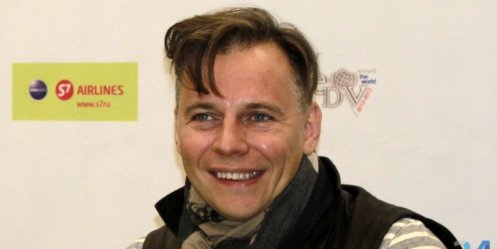 Photo: Anatoly Filatov

April 15 there is a new video of which has been removed in Vladivostok. It became known, who, besides musicians thousand extras to appear in the frame (VIDEO).

From published on the official channel group YouTube a short video of "Heroes music video" The fourth trolley, "Who are they?" it becomes clear that in the frame of the clip for the song, is conquering the capital charts, we can see a very unusual "active membership."

Thus, stated the following characters: the leader of "2MAN tion. 100 on. " and colleague Ilya Lagutenko project "weasel" Leonid Shtitelman , He's Slap, journalist and co-author Lagutenko on "Tiger Trilogy" and "Vladivostok-3000" Vasily Avchenko , Musician, perhaps the very first of "Troll" Albert Krasnov , Head of Vladivostok Igor Pushkarev , Children's choir "clear voice", who took part in a concert in Vladivostok MT this year.

Recall during the filming of the video group leader Ilya Lagutenko transformed into a sort of "pied Piper": went before an impressive crowd in a skirt and a flute, controlling the masses.

Then, in January, the team directed by thousands of people marched up the main street after the vehicle crew. In the middle of Lagutenko led the enthusiastic fans in the direction of the city administration. Here, greeted with Ilya, the procession joined Mayor Igor Pushkarev. Take part in the video mayor invited himself Lagutenko.

" For the city is very important that a film set video was Vladivostok, hometown Mumiy Troll , - shared his impressions of what is happening mayor. - Vladivostok really changes, becomes special city, and well, that hundreds of thousands of people to disclose some people who were born here and get their creative energy. And our task is to make sure that such projects in Vladivostok became more. We are ready to help them implement ".

Then widely publicized filming ended around Palo building - a former academic building TSUE.

13-05-2013, 09:20, eng news
The province night cloudy, light, sunny rain, cloudy day, sometimes a little rain. Wind south umerennyy.Temperatura air at night 0 +10 ° C, day +3 +20 ° C......

4-07-2013, 14:17, eng news
Здесь прошла пресс-конференция «Дети и наркотики». В ней приняли участие ряд ведущих специалистов края в данной области, среди которых А.В. Личковаха - уполномоченный при губернаторе Приморского края...
26-03-2013, 15:51, eng news
The duty of the police in Vladivostok last night it was reported that the street Ovchinnikov, 12 third entrance about a man in a jogging suit and flak jacket with wires in his hands scares passersby....

10-04-2013, 15:01, eng news
In the course of the next inspection staff Rosselkhoznadzor found in dairy products, red caviar, meat and meat preparations dangerous bacteria. The products found in Primorye dangerous bacteria...
4-05-2013, 16:20, eng news
Participants motorcycle clubs and bikers single for a few hours have gathered in the center to see people and be seen. (PHOTOS)......
23-05-2013, 11:20, eng news
Information service of Radio "Lemma" - News in the full range!......

5-03-2013, 06:00, eng news
Primorye residents owed tax of about 17 thousand rubles. The requirements to pay off debts man did not react, and the bailiff went to his home. The debtor would confiscate husky puppy Debtor was not...
17-05-2013, 12:20, eng news
Classes are held on weapons training in several training locations. The soldiers perform exercises target practice with machine guns, sniper rifles, anti-tank hand grenade and grenade launchers,...

19-09-2013, 11:16, eng news
Fire in Vladivostok on Birch Street on September 18 at 0054 in the remote Fire Department received a report of Vladivostok on fire in an apartment on Birch Street. After 6 minutes the place of fire...
21-06-2013, 22:30, eng news
This action was organized on the instructions of the head of Vladivostok Igor Pushkarev. Citizens will be able to write down their congratulations already today, June 21 from 18 to 20 hours. And from...