ЗНАКОМСТВА
КРАСОТА
ЗДОРОВЬЕ
ТУРИЗМ
АВТОНОВОСТИ
НОВОСТИ СПОРТА
Divers looking for the body of a suicide MES in the Eastern Bosphorus Strait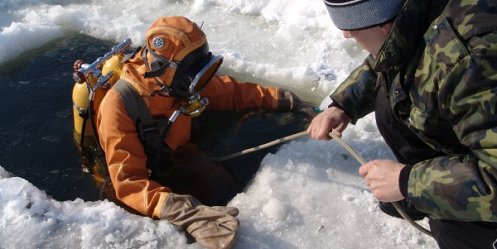 Rescuers EMERCOM in Primorye have not been able to find at the bottom of the Eastern Bosphorus body 27-year resident of Vladivostok.
Recall that today around 5:00 27-year-old Dmitry P. went to the bridge, stopped his Toyota Crown and jumped into the water with lifelines . Is nearby police tried to stop the young man from irreparable step, but he did not listen to them. As told in the comments IA Primore24 expert help in this case could only help advance professional and psychotherapist.
Add that this tragic event was the first (hopefully, the last) episode in Russian suicide bridge. It is assumed that the security measures at the bridge crossing will be strengthened.
21-06-2013, 17:45, eng news
Will open the season of street basketball traditional and the most popular Cup of Primorsky Krai. Competitions will pass in basketball center «Sparta» on the station Садгород. Command, you can safely...

19-08-2013, 23:33, eng news
All visitors can go on a tour of the objects of the APEC summit. Sign up for a tour, please call 208-78-80. As RIA «VladNews» the press service of the Primorsky Territory Administration, excursions...

19-07-2013, 18:48, eng news
The complainant said that a man broke into the store wearing a mask and threatening with a pistol, demanded to give daily revenue. Once the attacker was distracted store security guard knocked the...

11-09-2013, 04:12, eng news
In 1963 the Government of the USSR, it was decided to establish the Navy Marine Corps units. In accordance with the decision of the Government in 1963390 motorized infantry regiment, which was...

13-09-2013, 12:30, eng news
THEATRE Pacific Fleet Pacific Fleet in Theatre. September 15. "The lights of Paris." Beginning at 16. PRIMORSKAYA PHILHARMONIC September 14. Great Hall. The concert program "Music of the movie."...

4-03-2013, 10:40, eng news
Route "Ore Dock - The Turn" will be paved, in addition will be built new bridges. In Primorye zaasfaltiruyut track "Ore Dock - The Turn" These works will spend 2.5 billion rubles for the program...

4-03-2013, 02:36, eng news
As a result of such action 10 drivers - perpetrators were not brought to the statutory responsibility and escaped punishment......
17-05-2013, 14:20, eng news
This year, the Kuril Islands will visit about 30 visa delegations from Japan. The Russian side will travel to Japan, the first group of the Kuril children, they will visit Tokyo......

29-03-2013, 09:00, eng news
To provide postal services in Primorye company has purchased 13 new vehicles, two mobile post offices, post offices five reconstructed and held ongoing repair 30 houses......

10-07-2013, 14:31, eng news
At the meeting, a guest from Vancouver talk about culture, movies, and music. The songs with a guitar in a live performance. "This meeting - a good opportunity to practice your English and meet new,...