ЗНАКОМСТВА
КРАСОТА
ЗДОРОВЬЕ
ТУРИЗМ
АВТОНОВОСТИ
НОВОСТИ СПОРТА
The President signed into law the penalty for a mate in the media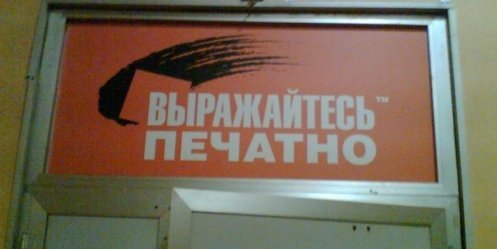 Russian President Vladimir Putin signed the Federal Law "On Amendments to Article 4 of the Law" On Mass Media ", and Article 1321 of the Code of Administrative Offences." It is reported by ITAR-TASS quoted the Kremlin press service.

"The law was adopted in order to establish the administrative responsibility for the production and distribution of media products containing foul language" , - The press-service.

Federal law in the Article 4 of the Law "On Mass Media" list of prohibitions to prevent the abuse of freedom of mass media, the words "and material containing obscene language," and in the Code of Administrative Offences of Article 1321 "Violation of the order or distribution media products, "added part 3 with the new members of the offense, establish administrative responsibility for citizens, officials and legal entities for the production and distribution of media products containing foul language.

The penalty for citizens will be from two to three thousand rubles with confiscation subject of an administrative offense for officials - from five to twenty thousand, for legal entities - from 20 to 200 thousand rubles as of confiscation.

Federal law passed by the State Duma on March 192013 and approved by the Federation Council on March 272013.
24-04-2013, 19:30, eng news
The "Dudes - our Soviet retro" will be out of shape a photo shoot, but with elements of theatrical presentation......

12-08-2013, 16:16, eng news
Several tourists from Vladivostok suffered in a tour bus accident while relaxing on the famous Thai resort town of Pattaya, they are under the supervision of doctors. The bus, carrying 30 people...

28-03-2013, 05:00, eng news
inhabitants. Regional parliament will form a working group to determine the order of the survey population on such controversial issues......
21-05-2013, 09:20, eng news
Large-scale events on this day planned in Vladivostok. There will be matches championship and the championship of the city, a football tournament involving amateur teams, teams, businesses and...

31-07-2013, 20:34, eng news
This schebenochnomastichny asphalt that has better characteristics as compared with conventional asphalt and consequently increases the life of the road. At the facility operates buses - paver and...

22-03-2013, 12:10, eng news
Russians. Tax specialists can easily obtain information on account numbers of citizens. But their access to data on the cash flow of accounts will be limited......

1-08-2013, 13:46, eng news
At a meeting of the Maritime Administration of staff to liquidate the consequences of the cyclone that hit the Maritime region in late July. The cyclone caused considerable damage to the littoral...
22-06-2013, 22:45, eng news
Пациент с наркологическим заболеванием за обозначенное вознаграждение должен был стать "чистым и здоровым"......

16-05-2013, 14:30, eng news
In the Thursday, May 16 at the regular meeting Primorsky Territory Administration discussed the renovation of buildings in secondary schools. According to Alexander Zubritsky, director of the...

8-03-2013, 13:27, eng news
Ideologist "Expedition-Trophy" told about dangerous and joyful moments of extreme racing, held from Murmansk to Vladivostok......