ЗНАКОМСТВА
КРАСОТА
ЗДОРОВЬЕ
ТУРИЗМ
АВТОНОВОСТИ
НОВОСТИ СПОРТА
In Primorye, the doctor gave a fake sick for 6000 rubles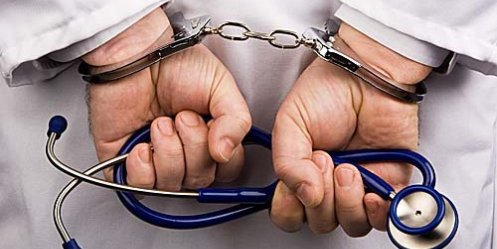 Investigative agencies of the Investigative Committee of the Russian Federation in the Primorsky Territory criminal case on the fact of obtaining a medical infectious languor KBUZ "Artemovskaya Hospital № 2" bribe (Part 3. 290 of the Criminal Code).
According to the investigation, in March 2013 the defendant, carrying a reception in his office, received a bribe in the form of money in the amount of 6000 rubles for the compilation to the obviously healthy citizen sheet of temporary disability.
Currently, in a criminal case under investigation activities aimed at collecting evidence base and charge.
Crime officers found the MOI of Russia for the Primorye Territory.

25-05-2013, 15:20, eng news
Today's action gave the citizens a good mood and a pleasant sense of belonging to the transformation of Vladivostok. (PHOTOS)......

18-07-2013, 11:47, eng news
Senator led the region reported that the preparations for holding the first regional festival of sport, dedicated to the 75th anniversary of the Maritime Provinces. Sports Festival will be held in...

20-08-2013, 14:01, eng news
In addition, the evening's program are planned for the second issue avtozhurnala Auto Control. Awaits guests at the event displaying the best yachts and luxury supercars Vladivostok, brands such as...

7-08-2013, 17:45, eng news
The final chord of the Far Eastern festival entitled "We are here forever," dedicated to the 75th anniversary of the Khasan events will be held in Vladivostok. The event will take place on August 11...
18-05-2013, 17:20, eng news
Each guest will be able to pick up krasnouhih turtles, take a picture with them and with the lemurs, and everyone who has a home aquarium, will be presented at a live fish......
26-06-2013, 21:15, eng news
Maritimes parliamentarians supported the first reading of a law on the Public Chamber. Salaries of doctors will increase annually by the Governor na20% in the first reading a document approved 32...

19-05-2013, 13:30, eng news
Primorsk heating networks are moving to the second stage hydraulic testing of heat - from May 20 to June 3 will experience heating energy coming from the central steam-boiler. At this time, there...

4-03-2013, 09:11, eng news
As a result of the armed conflict with the Soviet side killed 58 people. Border guards have shown in this confrontation endurance, stamina and self-control......

11-05-2013, 18:30, eng news
On Friday, May 10 about 16 hours in the village of beautiful ancient city in the Maritime region of an accident. In an automobile collision Toyota Ist Toyota Ipsum and killed three people, two in...

25-07-2013, 15:18, eng news
In Primorye, at the request of the prosecutor's duty to forest user remedying environmental damage in excess of 4 million. Seaside interdistrict environmental prosecutor's office and the law...